Barrel aged, Kentucky Native and Winter Warm Up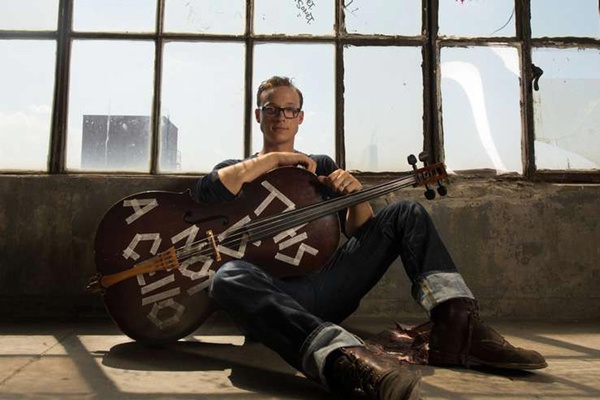 Chris Aaland - 11/30/2017
With the calendar flipping to December this week, it's a joyous time of year for booze hounds. First, Durango Craft Spirits unveils its long-anticipated Cinder Dick Colorado Straight Bourbon Whiskey on Friday. Owner and distiller Michael McCardell has been sitting on his first barrels for a few years now. He recently offered me a small sample, which I sipped straight, on the rocks, and in an Old Fashioned with splashes of bitters and maraschino cherry juice over ice. I found the Dick to have an initial burn on the tongue, with a smooth, smoky swallow and faint, pleasant banana esters released in its finish. It's an excellent addition to his product line that includes the award-winning Soiled Doves Vodka and Mayday Moonshine. And talk about keeping it local: All of DCS' grains and malts are grown regionally, from Ute Mountain Ute blue corn to Colorado Malting Co. products from the San Luis Valley. McCardell even donates his spent grains to local farmers for livestock feed. Let "Chuckles," as he's known to his friends, pour you a stiff one.
Speaking of Chuckles, he fancies the occasional pint of ale – being located within walking distance of Animas Brewing, Carver's, Steamworks and BREW will do that to a man. On Monday night, he called me raving about a new barrel-aged Oktoberfest at BREW Pub & Kitchen.
"It's one of the best beers I've ever had," Chuckles said repeatedly. So I called BREW's brewmaster, Erik Maxson, for the dirt.
Maxson recently blended two years' Oktoberfests aged in whiskey barrels. The first barrel was one that he'd used for previous agings, which imparts some unique flavor qualities of the older barrel. "It has a little tartness and fruit character," said Maxson. This year's Oktoberfest was barreled in September. "The fresh barrel livens it up a little bit," he said after blending the 15-month and two-month-old batches. "I think it's spectacular. It's just a little bit tart with a nice hint of the sweet, tart, stone-fruit cherries and a really nice soft malt presence." It's also incredibly drinkable at around 7 percent ABV. Fill your goblet now – only six kegs exist of this tonic.
Other new offerings at BREW include Horace, a foreign stout; Ezra, an ESB served on nitro; and Ullr, a pale ale with hops as strong as a Norse god. While I take my Scandinavian heritage seriously, and like Ullr, it's Ezra that caught my fancy. I've always been an ESB guy, and the creaminess of the nitro head make this an unbelievable choice.
Since this week marks the first Friday of December, that means Firkin Friday at Steamworks. This month's offering is the frisky Salty Dog, which gets tapped at 3 p.m. "A Salty Dog has traditionally been made with gin, though more commonly made with vodka these days," brewer Chad Quinn, creator of this month's firkin, said. As part of his Salty Dog recipe, he opted to return to the more traditional gin and reduced it with grapefruit juice and salt. The alcohol in the gin cooked off, leaving the juniper flavor and aroma. "This reduction was then added to the firkin with our Prudence Session IPA," Quinn said. "The end result should be a sweet yet balanced beer with just the right bite and dryness from the hop and juniper oils."
Cellist Ben Sollee is a rising star on the American circuit, and he brings his outfit, Kentucky Native, to the Animas City Theatre at 9 p.m. Sunday. He broke out playing trance blues with Otis Taylor, then collaborated with banjo superstars Be?la Fleck and Abigail Washburn and fiddler extraordinaire Casey Driessen in Washburn's Sparrow Quartet.
Later work included Jim James of My Morning Jacket, numerous album releases, festival appearances and tours (he recently opened for Martin Sexton at the ACT). I've seen Sollee a handful of times at festivals, and his music incorporates Gypsy jazz, African rhythms and Appalachian folk.
Hip-hop and electronic music is back at the ACT at 9 p.m. Saturday with the Winter Warm Up featuring Nikolai. A recent graduate of the Virginia Military Institute, Nik has turned varied influences like Bob Marley, Bob Dylan and Outkast into a unique brand of hip-hop. One of his VMI years was spent studying abroad in Madrid, where he found himself in a recording studio. His five Madrid songs found their way onto SoundCloud, and a career was launched. Also on the bill are Astrologic, Sub Horizon, Rize tha Bell and Brain Spiders.
One of my favorite up-and-coming local bands, Sunny & the Whiskey Machine, holds court at the Balcony Backstage at 9:30 p.m. Fronted by singer/multi-instrumentalist Sunny Gable, bassist Guy Ewing and dobro player Jeff Moorehead, the trio plows the fertile fields of bluegrass and Americana and plants the seeds of Gable's own songwriting. If you go, pick up a copy of their debut EP, "New American Dream" – 'tis the season for stocking stuffers, after all.
Colorado Gives Day takes place Tuesday, and it's a wonderful opportunity to support valuable nonprofits across the state. In our own neck of the woods, more than 30 La Plata County non-profits have registered, including several that enhance the music and arts community – groups like the San Juan Symphony, Music in the Mountains, Durango Choral Society, the Be FRANK Foundation and my employer, KSUT Public Radio. Other participating local nonprofits include those in the environmental, education, social services and historical preservation areas. Visit Coloradogives.org, where you can filter the list of hundreds of nonprofits to your chosen region, county or area of interest.
The Sheridan Opera House announced a huge show for new-grass fans recently, as Railroad Earth will play at 9 p.m. Fri., Jan. 5. The New Jersey jam band has become festival favorites at Telluride Bluegrass and rarely plays small venues anymore, let alone in our own back yard. Tickets went on sale Nov. 17 and this one will surely sell out quickly. Other recently added Sheridan shows that have gone on sale include Sunsquabi (Fri., Feb. 9) and Monophonics (Sat., Mar. 10).
Elsewhere: The Missing Lynx brings their blend of rock, funk, blues and reggae to the Animas City Theatre at 9 p.m. Friday; and Malai Llama plays the Balcony at 9:30 p.m. Saturday.
Wine is fine, but whiskey's quicker? Email me at chrisa@gobrainstorm.net.