Capitol Steps, Puentes and the Blues Box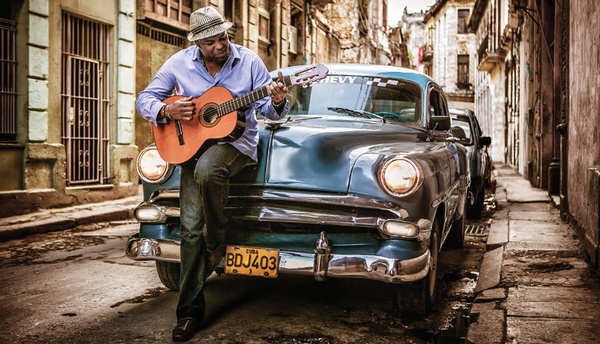 Chris Aaland - 11/01/2018
I've been a member of the Fourth Estate since 1987, when, as a college sophomore, I was assistant editor of the FLC Independent. For most of those years, I dabbled in the media in one way, shape or form: editor, reporter, columnist, freelance writer, music critic, publicist, DJ or sports broadcaster.
I am not, despite what the President of the United States may tell you, an enemy of the people.
Looking back at the last 30 years, I recall several true enemies of the people. Al Qaeda and Isis come to mind. So do Russia, North Korea and Iran. And, far more frequently today than we'd like, domestic terrorists are the enemy of the people.
Anderson Cooper is not the enemy of the people. Nor is Rachel Maddow, Bill Maher, John Oliver or Chris Cuomo.
Think about it: Last week alone, a racist who hated African-Americans murdered two black shoppers at a Kentucky grocery store after unsuccessfully trying to break into a mostly black church; an avowed #MAGA Trump nut job in Florida mailed 15 pipe bombs to Democratic senators, donors, celebrities and media outlets; and a white nationalist burst into a Pittsburgh synagogue and executed 11 worshipers at point blank.
These are the enemies of the people, Mr. President. The media is not.
America has the chance for a mulligan this Tuesday. Please vote.
As if the real world antics of our leaders aren't funny enough, the Capitol Steps bring their political satire to the Community Concert Hall at 7:30 p.m. tonight. Billed as the only comedy troupe in America that attempts to be funnier than the United States Congress, The Capitol Steps have been putting the "mock" in "Democracy" for 37 years. The Steps were founded in 1981 by a group of current and former political staffers during the Reagan years, tasked with staging a nativity play for Sen. Charles Percy's holiday party. As the story goes, they searched the entire Congress and couldn't find three wise men and a virgin. No party or political ideal is safe from their bipartisan wrath.
Adonis Puentes & the Voice of Cuba Orchestra returns to the Community Concert Hall at 7:30 p.m. Wednesday. Puentes has earned international acclaim as a son?ero, singing Cuban ballads backed with Spanish guitars and African rhythms. He performs a myriad of Latin music, ranging from Cuban jazz to rumba to salsa. I'm only familiar with two of Puentes' albums, "Sabor a Cafe?" and the brand-new "Dicen," but both have become favorites of mine. Puentes and company will also drop by KSUT at 1:06 p.m. Wednesday for a live KSUT Session. If you're not familiar with Puentes' sound, this will be the perfect appetizer for the evening's main course.
A group of all-star local blues musicians will perform for The Blues Box: A Prohibition-Themed Musical Event benefitting Pagosa Peak Open School at 7 p.m. Saturday at the Archuleta County Fairgrounds. The Blues Box will transport attendees back to the prohibition era of speakeasy bars and music. The band, Blue Haas & the G-Men, includes vocalist Haas, guitarist Kirk
James, drummer D.C. Duncan, bassist Evan Suiter, keyboard player Jack Maynes and sax man Bob Hemenger, along with an assortment of special guests. The speakeasy includes period cocktails served in mason jars, wine and local beer, plus photo booths for mug shots and lovers under a paper moon. The event will be staffed by such speakeasy regulars as bartenders, hat & coat checker and a cigarette girl, just like it was nearly a century ago.
San Juan Symphony brings "Bernstein and Brahms" to the Community Concert Hall at 7:30 p.m. Saturday. Under the baton of Thomas Heuser, the SJS will explore joyful compositions by Leonard Bernstein and the glorious and majestic work of Johannes Brahms. There's also a 3 p.m. matinee performance Sunday at the Henderson Performing Arts Hall at San Juan College in Farmington.
The Animas City Theatre hosts a cycling celebration and mixer from 5:30-7 p.m. tonight (Thurs., Nov. 1). Celebrity guests include cyclists Sepp Kuss, Christopher Blevins and Howard Grotts, who are competing at the highest levels nationally and internationally. Other accomplishments include the FLC Skyhawks' second USA Cycling College Mountain Bike national championship in a row (and 24th national title in FLC cycling's history), last month's Colorado High School Cycling league race on Durango Mesa and more.
It's that time of the month again! In anticipation of the chilly days of mid-autumn, Steamworks rolls out holiday spices for Snapping Goose when it taps its monthly firkin at 3 p.m. Friday. "A few years ago, chef Sean Clark turned us on to an incredible beer and food pairing: Spruce Goose and ginger snap cookies," head brewer Spencer Martin said. "It was so good we thought it might make for a great firkin as well." The Spruce Goose is Steamworks' seasonal ale that is literally brewed with fresh spruce tips harvested in the San Juan Mountains. For the firkin, Spruce Goose was brewed with ginger, cinnamon, nutmeg and molasses, all reminiscent of the classic cookies to make for a rich holiday treat.
Finally, tickets will go on sale at 10 a.m. Friday at henrystratertheatre.com for the rescheduled Joan Osborne concert, which will take place Sat., April 20 (Cool! 4/20!) at the Hank. Originally slated for last June, the eight-time rock and blues Grammy nominee had to cancel her Colorado tour at the last minute due to a family emergency. Everyone who purchased a ticket received a refund through the Strater, so there's no preferential treatment once tickets go on sale Friday. Approximately 225 general admission tickets will be available, and they'll probably sell out quickly. Osborne is touring in support of her "Songs of Bob Dylan" album, meaning you might get the chance for the sing-along "everybody must get stoned." The show also celebrates the swan song for Durango Acoustic Music, which produced live concerts for the past 29 years.
The best thing I heard this week is Willie Nelson's new single, which is a plea to Beto O'Rourke's people to "Vote 'Em Out." America's favorite stoner grandpa debuted this in Austin at a free concert and Beto rally and the #MAGA crowd has been apoplectic ever since.
The biggest gun we've got is called the ballot box? Email me at chrisa@gobrainstorm.net.