Orange crud, alien invasion and the Nile Project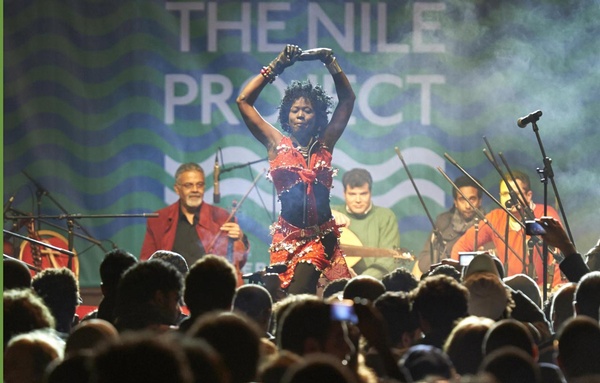 Chris Aaland - 02/02/2017
I must admit, it's taking a bit of effort to get into the Snow-down spirit this year. The daily Draconian displays by Dr. Evil, Mini-Me, Frau Farbissina and Scott Evil (played by Trump, Pence, Conway and Spicer) got me down, man. That and a 10-day bout with some sort of a nasty virus that's led to a double inner-ear infection, burning throat, cough and voice raspy enough to make me call in backup for an on-air Blend shift on KSUT. A script of antibiotics and a shot of steroids in the ass at least got me to the Magical Musical Mystery Tour on Wednesday.
I witnessed the lack of joy at last Friday's nearly sold-out concert by Jonatha Brooke at the Henry Strater Theatre. People were polite and quietly listened to Brooke's urgent songs – some political, others personal. They clapped after each song and stood for an encore. Despite a handful in the crowd proudly wearing their pussy hats, it wasn't the celebratory call to arms that the previous week's women's marches were. Rather, folks seemed demoralized by the un-American ban of immigrants from seven Muslim nations ... ironically, a directive that allowed immigration from the homelands of any of the 19 9/11 terrorists, 18 of whom hailed from countries in which our president owns properties.
Maybe a week of drunken shenanigans is what we all need. Maybe Snowdown will shake us out of our doldrums, which is what it's intended to do. Grab your putters and I'll see you at Durango Craft Spirits on Saturday at their hole in the Outlaw Josey Pete's Golf Tournament. Repubs and Dems alike will rejoice in Amy and Chuckles' vodka and moonshine cocktails.
The Animas City Theatre takes a rare trip down the Americana superhighway tonight (Thurs., Feb. 2) when it welcomes Martin Sexton and opener Ben Sollee. Sexton is no stranger to Durango, having performed here at least a half-dozen times before. A vocalist of rare range and sensitivity, his tunes evoke the simple beauty of everyday people, much like John Steinbeck's novels or Norman Rockwell's paintings. Sollee is simply a trip ... a cellist and singer-songwriter who dabbles in bluegrass, folk, jazz and classical. I've seen him perform both solo and with Abigail Washburn's Sparrow Quartet. Doors open at 7, with the show starting an hour later. Get warmed up next door at Cuckoo's at the free Snowdown Wings Eating Contest at 3 p.m. Or simply be a voyeur and watch contestants sweat bullets in agony.
It's one of those freaks of nature when a Firkin Friday falls right smack dab in the middle of Snowdown. At 3 p.m., the Steamworks crew taps Peanut Butter Cup Stout ... just an hour after the Waiter/Waitress Race takes place in the parking lot and a half-hour before a new event, Pantyhose Bowling. Peanut Butter Stout is based in Backside, an award-winning oatmeal stout with dominant chocolate, roasted coffee and toffee flavors. "We've created seductive candy magic fermenting with cocoa and powdered peanut butter," said head brewer Ken Martin. Miss the action and you can still taste the suds up at Purgy's at 3 p.m. on Fri., Feb. 10.
Of course, BREW Pub & Kitchen doesn't get shut out on Snowdown with events nearly every day. While there, make sure to sample Erik Maxson's three new offerings: Wilson, a Belgian double; Kevin, a refreshing California IPA bursting with fruit and hops; and the Navigation Fail Pale, with proceeds benefitting La Plata County Search & Rescue.
The Risan Project throws a free apres ski Snowdown Party Saturday from 4-7 p.m. at the Ska Brewing World Headquarters in Bodo Park. Risan Media produces events throughout Colorado every winter with music, snowboard films and partners from the cannabis and outdoor industries. This year's winter Risan Project tour features the Colorado band, Salem, performing with film premiers of Absinthe Films latest snowboard film, "AfterForever," plus ski and snowboard videos from Inspired Media and Luca Rolli, cannabis animation from Nug Nation and Mary Jane's Medicinals and educational videos from the Marijuana Policy Project and AIARE. The film will be screened at 4, followed by the Salem acoustic duo. Make sure to snag a pint or two of the official Snowdown Beer, Dark Lager. I can vouch for this one after slugging a couple of pints and a bomber last week.
If you want to escape the madness of downtown on Friday, trek up to the Unitarian Universalist Fellowship on San Juan Dr. for a performance by Quadrivium, featuring Charissa Chiar-avallotti (soprano), Kerry Giner (mezzo soprano), Erik Gustafson (tenor), Cory Close (tenor) and Michael Hix (baritone). The show time for the world-class chamber vocal quintet has been moved to 7:30 p.m. to allow attendees the chance to witness the Snowdown Firework! (6 p.m. sharp) and the Light Parade (immediately following the Firework! display).
Life doesn't end with Snowdown, the Super Bowl and your Monday morning hangover. At 7:30 p.m. Tuesday, the Community Concert Hall hosts the music collective The Nile Project, presenting a unique opportunity for locals to experience the culture of the Nile River basin. It's more than just music – although there's plenty of that. From its debut concert, captured live on the 2013 release, "Aswan," The Nile Project established itself as something completely new. Buzzing timbres and ingenious polyrhythms support vocals in more than 10 languages by artists from the 11 Nile countries. Instruments separated a millennia ago are reunited and pushed to new extremes. It's also a learning experience. The Nile, the world's longest (4,258 miles) and most iconic river, has captivated the imagination of billions throughout time. The mighty river flows north-ward through diverse landscapes, climates and cultures before emptying into the Mediterranean Sea. Almost half a billion people live there, a figure projected to double in the next 25 years, taxing the river's ability to supply water while creating geopolitical conflicts and environmental disasters. Learn more at a free panel discussion at 7 p.m. Monday, where resource sustainability in the Nile River and Animas River basin will be explored.
This week's Top Shelf list – and all the beers I will hoist this week – is dedicated to one incredible musician who took his own life last week: Allman Brothers Band drummer Butch Trucks. Blue Skies to you, Butch, and thanks.
Don't fly Mr. Bluebird? Email me at chrisa@gobrainstorm.net.