Partying in the Park, Wailin' Jennys and Grant Farm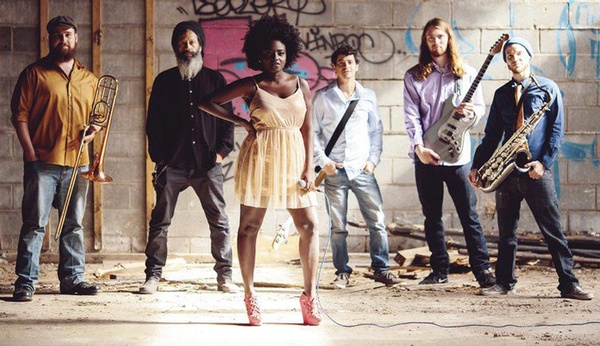 Chris Aaland - 07/19/2018
KSUT's 15th annual Party in the Park opens the gates at Buckley Park at 5 p.m. Friday, this time featuring a pair of rising stars in assorted world music genres. Since its inception, KSUT's midsummer fling has focused on dance music rather than the folksy Americana acts that drive its Music Blend. Past performers have included the likes of the Iguanas, Subdudes, New Orleans Suspects, Todo Mundo, the Stooges Brass Band and Shinyribs, among others. Signature cocktails from Durango Craft Spirits, tasty sangria courtesy of Wagon Wheel Liquors and the omnipresent Ska brews will be again be sold to fuel the party.
Headliner the Big Takeover is a ska and reggae band based in New York's Hudson River Valley, and has been gaining momentum since forming in 2007. Led by powerhouse Jamaican-born female vocalist NeeNee Rushie, the Big Takeover focuses less on post-punk ska and more on roots reggae and Motown while retaining the trombone-and-sax energy of ska. KSUT has regularly played the band's latest album, "Silly Girl," ever since Rushie and company's energetic Durango set a year ago. The Big Takeover's new single, "Rainboots," continues where "Silly Girl" left off.
Albuquerque's Latin powerhouse group, Baracutanga, opens the show. This septet arranges traditional South American rhythms with such influences as huayn?o, cumbia, Middle Eastern darbuka, Afro-Cuban bata, Afro-Peruvian festejo and Andean zampon?as. Like the Big Takeover, an energetic female voice powers the group. Peruvian songstress Jackie Zamora is the band's beating heart. Bolivian multi-instrumentalist Kilko Paz (son of famed Bolivian activist Silvia Rivera Cusicanqui) and Ecuadorian multi-instrumentalist Carlos Noboa set the tone musically, aided by an inventive cast on guitars, horns, flutes, accordions, vibes and other percussion. Their debut record, "Importados," is catchy and diverse.
The Community Concert Hall produces a rare summer show when the Wailin' Jennys return at 7:30 p.m. Tuesday. Nicky Mehta, Ruth Moody and Heather Masse form the trio that sings classic folk music with three-part harmonies and good, old-fashioned melody. Their most recent album, "Fifteen," was released last October and included an absolutely stunning version of Tom Petty's "Wildflowers." We got our advance copy in radioland before Petty's shocking death, and the Jennys' rendition helped us eulogize the rock & roll legend. The song was a timely reminder of both the beauty of music and the fragility of life. Not that they're a one trick pony; the Jennys have been swinging for the fences since 2004.
Grant Farm returns to town Saturday for a 9:15 p.m. show at the Animas City Theatre. Fueled by the flatpicking wizardry of Tyler Grant, his namesake band has quietly and steadily risen in the Colorado jamgrass scene the past five years or so. Grant first appeared on our radar as a member of the Emmitt-Nershi Band a decade ago, playing bass and occasional lead guitar. I recall him picking at an all-night campground jam at RockyGrass around that time, as he jammed alongside former members of the Broke Mountain Bluegrass Band. He cemented that reputation by playing a lengthy Durango Bluegrass Meltdown late-night set at the Durango Arts Center several years later. After three studio releases, Grant Farm dropped its first live set, "Meeting on the Mountain: Live Volume 1" earlier this year, recruiting such guests as Todd Schaeffer (Railroad Earth), Bill Nershi (String Cheese Incident), John Magnie (the Subdudes) and former Durango wordsmith Benny "Burle" Galloway. If Tony Rice and Bryan Sutton sat in the first chairs of the last wave of bluegrass guitar heroes, then Grant, Jon Stickley and Trey Hensley are leading the pack of current up-and-comers.
Get there early on Saturday, as a relatively new local band, the Smelter Mountain Boys, opens. A project spearheaded by newcomer Corey Clark, the Boys focus on traditional bluegrass. Brendan Shafer, of the Six Dollar String Band, focuses on Scruggs-style banjo rather than the clawhammer he's known for. Steve Labowskie, formerly of the Scrugglers, leaves his washtub bass at home to stretch out on a full Kay bass. Pete Donahue plays mandolin, and Shafer's Six Dollar mate, Tony Holmquist, often joins on fiddle.
The popular free Concerts @ the Park series is winding down, with its second-to-last show of 2018 taking place at 5:30 p.m. tonight (Thurs., July 19) with Dublin-based I Draw Slow. The quintet formed in 2008, blending old-time Appalachia, Irish and bluegrass into a style that appeals on both sides of the pond. Ever since, they've drawn favorable comparisons to Gillian Welch and Allison Krauss. They first came onto my radar in 2014 with their album, "White Wave Chapel." I highly recommend them.
Local promoter I-Gene has always showcased local talent, and this week is no different. At 9 p.m. Friday he brings Pagosa Springs-based rockers Ragwater to headline a two-band bill at the ACT. Their eponymous debut, produced locally by Scooter Smith, is chock full of boisterous guitars and glorious harmonies that beckon back to hard rock's '70s heyday. There's a bit of the blues, a little jam and even some rural funk on the collection. Opening band is the Casual Fridays.
Then, at 9:30 p.m. Wednesday, Liver Down the River makes its triumphant return to the ACT. I can't get enough of this group. What started as a bluegrass jam between mandolin player Patrick Storen and fiddler Emily Winter has grown into a full-on funkadelic beast. What sets them apart from others is their passionate following, first evident at overpacked club gigs around town. There's an energy between the band and crowd reminiscent of Yonder Mountain String Band at the turn of the century. The StillHouse Junkies, fresh off their mainstage appearance in the Telluride Bluegrass Band Competition, opens.
Music in the Mountains is winding down (Friday's Pops Night is sold out, as is tonight's chamber performance by the Julius Quartet), but tickets remain to the final five shows taking place through next Saturday, July 28.
Finally, Telluride Americana Fest is in full swing at the Sheridan Opera House. If you're one of the lucky ones, you'll get to see Dave Alvin & Jimmie Dale Gilmore, Chris Smither, and others this weekend.
The best thing I heard this week wasn't on record, but rather the stunning performance by the Nightowls last Saturday night at the MITM festival tent at Purgatory. The nine-piece Austin ensemble had the largely white-haired crowd jumping to the sounds of Motown, Prince and their own originals.
You belong somewhere you feel free? Email me at chrisa@gobrainstorm.net.