Sticks N' Thorns, Tiny Universes and big teen-agers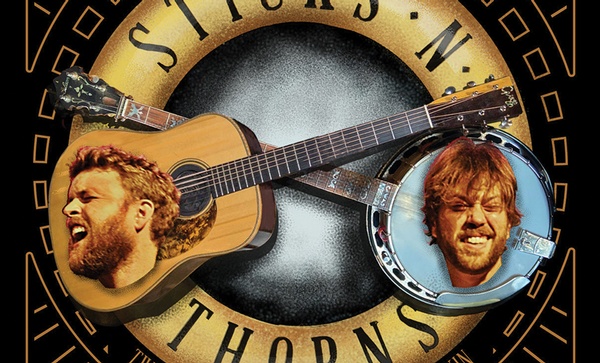 Chris Aaland - 02/13/2020
The Broke Mountain Bluegrass Band was a cultural explosion that took the San Juan Mountains by storm in the mid-2000s and forever changed the landscape and history of newgrass music in our state. Three local kids – Anders Beck, Travis Book and Robin Davis – were college kids exploring bluegrass music and learning from a wise old sage, Benny "Burle" Galloway. They soon met a couple of Carolinians – Jon Stickley and Andy Thorn – at a late-night festival jam, and Broke Mountain was formed.
Over the course of a few short years, they explored their instruments (Beck and Book were just learning to play dobro and the bass), entered band contests at RockyGrass and Telluride, played the occasional festival, recorded an album and went their separate
ways when bigger bands with better paychecks came calling.
In the decade-plus since, there have been Colorado Playboys tours and the occasional Broke Mountain reunion with other musical kinfolk. At last summer's Telluride Bluegrass, Broke Mountain reformed for a main stage set that ranked among the best things I've
ever seen live in Town Park. I sat next to Kaye Book, Travis' mom, in the poser pit while the usual bluegrass suspects from around the Four Corners moshed across the fence behind us. It was a damn-near religious experience and not a dry eye in the house. My, how these guys had grown musically since the last time I saw them on stage together.
Thorn was the first to depart Broke Mountain when he left in 2005 to join the Larry Keel Experience. A few years later, he bolted westward to round out the Emmitt-Nershi Band with Drew Emmitt and Billy Nershi (founding members of Leftover Salmon and the String Cheese Incident, respectively) and up-and-coming guitarist Tyler Grant. Things obviously clicked between Thorn and Emmitt, as an invitation to join Leftover Salmon as banjo player followed. Leftover's banjo spot had been in a constant state of flux ever since the death of founding member Mark Vann. Such notable pickers as Matt Flinner and Noam
Pikelny had filled the void before Thorn enlisted.
Stickley was next to depart. He played mandolin for the Biscuit Burners, electric guitar for Shannon Whitworth and bass for Town Mountain before forming his own Jon Stickley Trio. With the latter, he's forged jazz, Latin and world sounds with bluegrass to mine a vein similar to David Grisman.
Book auditioned for bassist for a Nashville collective called The Stringdusters. An infamous legal challenge from a band with the same name resulted in the Grammy-winning group we now know as The Infamous Stringdusters.
Beck and Davis stuck around for a few years forming an Americana/newgrass outfit called The Wayword Sons with their mentor, Burle. A mainstage spot at Telluride Bluegrass and an album followed, but the two each wandered. Beck was recruited by Greensky Bluegrass to round out their sound and that group has emerged as a tour de force in the jam band world. Davis moved to Nashville briefly and toured with Ralph Stanley II for a short spell before returning home. After anchoring a number of local bands through the years, he's now found his place in the Robin Davis Duo.
A much-anticipated reunion takes place at 8 p.m. Friday when the Sticks N' Thorns tour lands at the Animas City Theatre. Davis will join them as their Durango bluegrass family gets 3/5 of a Broke Mountain reunion. It's sure to sell out.
The Denver-based electro/funk/hip-hop group, TNERTLE, takes the ACT stage at 8:30 p.m. Saturday. Trent Campbell (midicontrollers, bass) and Kyle Ayervais (drums) met in their 7th grade jazz band class in 1999 and have been playing in an assortment of bands together ever since. After graduating from high school, they attended the Berklee College
of Music before forming TNERTLE in 2012. They've since added a horn section and guitars, with frequent appearances by guest vocalists and instrumentalists. Telemetry opens the show.
KBong – the stage name of multi-instrumentalist Kevin Bong – brings reggae with ska, surf and acoustic undertones to the ACT at 8 p.m. tonight (Thurs., Feb. 13). A past member of the reggae band Stick Figure, KBong is considered one of the top keyboard players in reggae today. He's released a pair of albums – 2014's "Hopes and Dreams" and 2018's "Easy to Love You" since leaving Stick Figure. The Cali reggae, surf and psychedelic outfit Sensi Trails kicks off the music.
Get ready for a funky jam if you're heading up to Telluride this weekend as Karl Denson's Tiny Universe plays Club Red at Mountain Village on Sunday and Monday nights. The sax-playing singer fronts the Tiny Universe as if he's preaching the gospel. His energy and spirit are contagious while his songwriting serves a larger message of fellowship across generations, genders, religions and cultures.
Also up in T-Ride is the 21st annual Telluride Comedy Fest, which takes place tonight through Sunday at the Sheridan Opera House. Headliners include Nick Kroll and Natasha Leggero, plus many more comics. A complete lineup is available at sheridanop erahouse.com.
The San Juan Symphony's celebration of Beethoven@250 is still a week off (Feb. 22 in Farmington, Feb. 23 in Durango), but music lovers can get a better understanding of what the SJS has in store when maestro Thomas Heuser previews the concert at a "Musically Speaking" event at 6 p.m. Wednesday at the Four Leaves Winery. The event is free.
And just like that, I have a teen-ager – Otto turned 13 yesterday. I can't begin to explain how proud I am of him. We've shared countless days in the field chasing pheasants, quail and grouse. In my past career in intercollegiate athletics, he was my constant companion setting up for games. Today, he more than pulls his weight in concert and festival production. When we host KSUT Parties in the Park, Otto busts his butt from 8 a.m. until the last note of the night assisting with set-up and breakdown. At age 11, he introduced Town Mountain as emcee at the Durango Bluegrass Meltdown and joined me the past two years welcoming acts from the stage. Along the way, he's scored goals, touchdowns and three-point baskets, pitched two innings of relief to earn a save in a little league playoff game and learned to play the saxophone, all while earning Honor Roll each semester.
I love you, Otto.
Life is a dream? Email me at chrisa@gobrainstorm.net.