How to train like a local
A LOCAL'S GUIDE TO RIDING THE IRON HORSE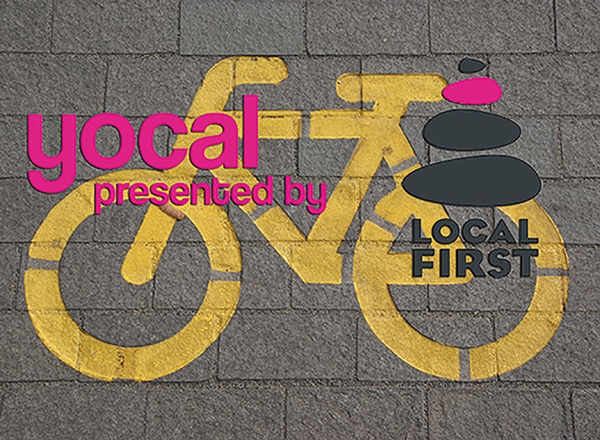 Jennaye Derge - 05/23/2019
I caught myself calling my bicycle "my baby" to someone the other day. As in, I care for my bicycle as much as someone cares for their actual baby. Was this a bit of a hyperbole? Yeah, probably. But giving an inanimate object the same credentials as someone's child might be O.K. when you've emptied out your bank account for it and have a mild panic attack whenever a stranger reaches for a touch.
My bicycle is akin to my child because we've been through so much together. It has transported me to first dates and back home from breakups. To job interviews, and last days of work. It's taken me home from the bars, to meetings, weddings, and hundreds of job sites, and has transported everything from my groceries to camping necessities.
One time, I loaded up an entire party's worth of beer in my bicycle bags, and they didn't even explode.
I've ridden in torrential thunderstorms, winds, and snow. Ridden in dresses, costumes, and high heels. Avoided pot holes, humans, dogs, deer, and even a baby bear.
So yeah, my bicycle is pretty close to "my baby" because we've seen it all and I really don't know what I'd do without it. Perhaps this is dramatic, but if it were to ever be lost or stolen, I can promise you that when I'm done ugly crying about it, I will put its picture on the side of any milk carton I can find.
What I probably won't ever do with my bicycle though is race it. I've never had any desire to pin a number on lycra or pass by anyone on my bike without an exchange of pleasantries. I don't want to stand on a podium, although I would love to spray a bunch of champaigne on people. So you probably won't find me racing the train this weekend during the Iron Horse. Where you will find me though, is standing at the sidelines cheering for all my friends, with a non-exploding beer in hand and "my baby" nearby.
HOW TO GET READY FOR THE IRON HORSE LIKE A LOCAL
Flip through a magazine at the dentist's office and see a photo of a cyclist. Think, that person is super fit, I want to be that person! Go home and find your old bicycle from eons ago, dust it off, and go get a tune up.
Local recommendations: Mountain Bike Specialists, Durango Cyclery, 2nd Ave. Sports, Pedal the Peaks, San Juan Cycles
Walk around the bike shop while your bike is getting tuned, but get distracted by that shiny new bicycle over in the corner. See five more bikes that you have to have and then test ride all of them. Pull out your checkbook to buy all six but then remember that trip to Hawaii you promised your family. How mad would they be if Hawaii was canceled?
Local recommendations for money talk: To the Penny, Tafoya Barrett and Associates, Priority Financial Partners, Fredrick Zink & Associates
Decide to buy just one bicycle instead of all six and plan a 40 mile ride on your brand new bike that very day. Make it five miles to Ska Brewing, hang up your bike on a rack and have a beer.
Local recommendations for that bike rack: PutUp Bike Racks
Local Recommendation for lunch: The Container at Ska
After you have a few beers, decide that you're ready to race the Iron Horse Bicycle Classic because you're a professional cyclist now, and that's what all the pros do. Check the weather for Iron Horse weekend and note that it will be snowing like it tends to every year.
Local recommendations for jackets: Pine Needle Dry Goods, Backcountry Experience, Durango Outdoor Exchange
Ride the race even though you never really trained for it.
Local recommendations for post ride body work: Thrive Chiropractic, Wellspring Acupuncture & Oriental Medicine, Hope Chiropractic, Absolute Physical Therapy
Local recommendations for post ride feast: The Roost, The Red Snapper, The Ore House