2019 Hardrock taps out
Snow, avi debris, high flows force cancellation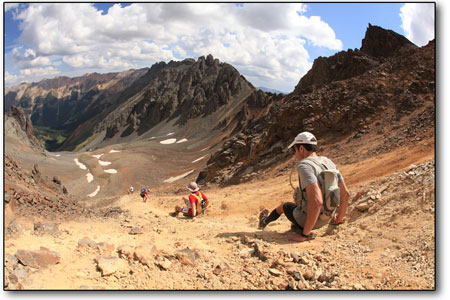 Looks like El Niño will be the winner of this year's Hardrock Hundred. Historic snowfall, avalanches, avalanche debris, an inability to reach certain aid stations and uncertain conditions have forced race organizers to call it quits on this year's race.
"After an extensive process, it became clear that the uncertainty associated with the condition of the course and the issues that the uncertainty caused among our organizational components meant we could not organize and administer a safe and meaningful 2019 Hardrock Hundred Endurance Run that was consistent with the standards and values Hardrock has become known for," Run Director Dale Garland said in a press release. "While snow and snow-water equivalent levels looked to be dropping to manageable levels, other issues such as unprecedented avalanche debris, unstable snow bridges and high water all contributed to us reaching the tough final decision."
Race organizers announced the decision Monday morning, noting that snow, debris and other obstacles existed on more than 40 percent of the course. According to organizers, the decision to cancel was based on course reconnaissance, trail reports, and input from local Bureau of Land Management and Forest Service officials.
This will mark the third time the race has been cancelled in its 27-year history. Other cancellations years were 1995 (too much snow) and 2002 (forest fires).
All runners entered in the race will have the option to roll their entry over to the 2020 or withdraw their entry slot and receive a full refund. Entrants must notify Garland by July 12 at: dale@hardrock100.com if they wish to withdraw. Otherwise, they will be considered to have elected to roll over their entry to 2020. Any withdrawals after July 12 will receive the usual 50 percent refund. The wait lists, as they stand on June 10, will also roll over to 2020 and any slots that open up will be filled from them. There will not be a lottery for the 2020 Hardrock and no additional applications will be taken. Runners will not be required to do another qualifier to run the 2020 Hardrock.