A DIFF-erent approach
Durango Independent Film Festival moves to the small screen for 16th annual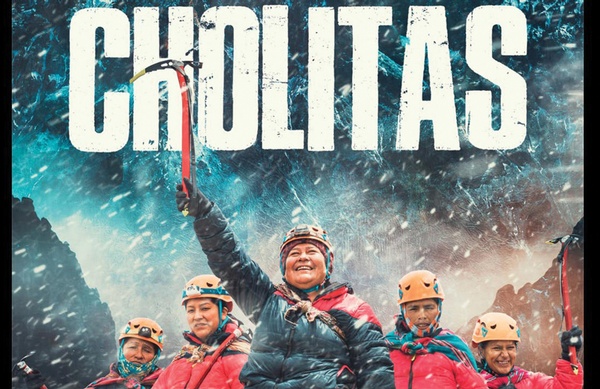 Missy Votel - 02/25/2021
It's a bittersweet 16th birthday for the Durango Independent Film Festival this year. Although COVID has put a damper on live festivities, the good news is the show will go on – at least virtually. The entire festival, including ancillary events, will move to the small screen this year, showing for an extended 10-day run with cheaper, family friendly ticket options.
"We know that it's been a hard time for everybody, so we wanted to make the pass prices affordable," Durango Film Executive Director Joanie Leonard said. "Plus we expanded the festival to 10 days to give people more time to watch films."
This year's online festival runs Wed., March 3 – Fri., March 12, and features 99 films, from shorts to documentaries to full features, including Native Cinema, adventure and a kids "Reel Learning" program. There will also be a full slate of Zoom Q&A sessions, morning "Coffee Talks" with filmmakers and evening "quarantinis" for those who want a peek behind the scenes. "We're doing everything we can to keep the festival feel," added Leonard.
Eager to keep filmmakers involved, DIFF organizers said they were forced to get creative this year on ways to engage filmmakers and the audience.
"We invited all of our filmmakers to Zoom sessions so we could meet them and answer any questions that they had," DIFF marketing guru Cindy Coleman said. "Many of them said they'd been accepted to festivals and then never heard another word from the festival. They've been incredibly receptive to us reaching out."
Another advantage to going virtual this year, the DIFF can be "attended" by anyone in the United States.
"Each year we sell passes to festival goers from all over the United States, so we wanted to continue to be inclusive and open up our viewing audience to all states," Leonard said. "Some filmmakers have even requested we open up their films to other countries as well. We're thrilled to say that only one film is geo-blocked to Colorado residents only, at the request of the distributor."
There are three price options for passes this year: $55 for a Virtual 5-Pack; $85 for a Virtual All-Access Pass; or $15 for individual tickets. In addition, passes can be used to watch with an entire household.
For a complete film and event schedule or to buy passes, go to www.durangofilm.org. Meantime, here's a few best bets from this year's festival:
---
Features:
• "Freeland" (80 mins. United States)
With the legalization of marijuana, what has happened to all the "black market" pot growers? "Freeland" follows the story of Devi (Krisha Fairchild) a Humboldt County, Calif., weed farmer who's been breeding legendary pot strains for decades on her remote homestead. When cannabis is legalized, her idyllic life is thrown into disarray as she is forced to confront the rapidly changing industry and fights to go legal in an increasingly hostile landscape.
• "Give or Take" (103 mins. United States)
Martin is a pragmatist who's checked the boxes of an acceptable life yet feels disconnected, especially from his father, Kenneth, who Martin could never quite figure out. Their relationship gets more complicated when Kenneth comes out after the death of his wife, finding love with a younger man, his lawn guy, Ted. The two are living together in Ken's house on Cape Cod when Ken suddenly dies. Martin goes home to sell the house while sharing it with Ted. Grieving, the two men circle each other, butt heads, and negotiate how to remember the different man they both loved.
• "Texas Red" (84 mins. United States)
Inspired by a true story, an African-American man named Texas Red is hunted through the Mississippi winter wilderness in 1940 after an unlawful raid on his cabin leads to the death of a young white man. Barefoot and unarmed, Red (played by Grammy-nominated blues singer Cedric Burnside) and his partner, the Oklahoma Kid, must do everything they can to survive freezing temperatures and stay ahead of the posse of sheriffs, vigilantes and federal law enforcement to make it to salvation.
---
Documentaries:
• "Eddy's World" (19 mins. United States)
An engaging portrait of Eddy Goldfarb, a 98-year-old toy inventor who brought us such classics as the "chattering teeth." Watch how Eddy embraces creativity and optimism to not just look incredibly young but young at heart.
• "Piano to Zanskar" (86 mins. United Kingdom)
Facing a future in retirement, a 65-year-old piano tuner Desmond O'Keeffe takes on the most challenging delivery of his career: transporting a 100-year-old Broadwood & Sons piano from London to a faraway Buddhist village 14,000 feet above sea level, deep in the Indian Himalayas. The expedition takes him through a world on a brink of change, filled with equal measure serenity and hardship.
• "We are all in This Together" (70 mins. United States)
During divisive times in America, a man sets off on a cross-country bicycle journey, with no food, no money and the hope of gaining a better understanding of human connection. After traveling through 23 states and having conversations with all walks of life, he learns there is much more that brings us together than separates us. 4
---
Shorts:
• "Malakout" (11 mins. Iran)
Music was his passion … love was his masterpiece. A piano player tries to bring his wife back to life, but the deal awakens the devil inside him.
• "The Mirror" (23 mins. Australia)
When a young girl discovers a mysterious mirror in the basement of her ailing grandmother's house, she accidentally opens a portal into war torn Nazi-occupied Poland.
• "No Backsies" (10 mins. United States)
A couple with kids and a single woman have very different experiences during the lockdown of 2020.
---
Adventure:
• "Chronicles of Gnarnia: The Rex Chadwick Story" (34 mins. United States)
A sports mockumentary about the controversial (purely fictitious) life of U.S. Ski Team superstar and bad boy, Rex Chadwick. Follow along on this spoof of the ski bro culture and film genre through a series of parallel interviews with family, friends, scorned lovers and other professional athletes as the story of a sports legend who "could have been" unfolds. From adrenaline-induced highs to devastating lows, the questions remains ... can the human spirit rise from the depths of disaster?
• "With Spirit" (52 mins. United States)
Endurance athlete Chelsey Magness has experienced some of the toughest adventure events in the world ... but perhaps none as challenging as becoming a mother. After losing one twin during birth and beginning to raise the other, she returns to where it all began: the Patagonian Expedition Race – one of the most rugged and grueling expedition races on the planet. Pushing her mind, body and spirit to their limits, she races across the Patagonian wilderness for seven days in an attempt to beat the environment, the competition and her grief.
• "Cholitas" (80 mins. South America)
With their distinctive bowler hats, long braids and colorful pleated skirts, the "Cholitas" are among the most iconic symbol of the Central Andes. Travel along as five indigenous Bolivian Cholitas embark on a quest to climb the highest mountain in the Americas, Argentina's Aconcagua (22,838 feet). But these women are more than brave women, they are a symbol of female liberation and empowerment who see the mountains as a space to feel free, happy and alive. Their adventure offers inspiring insight into what it is to live traditionally and in harmony with Mother Nature.
---
Native Cinema
• "Almost an Island" (59 mins. United States)
Elmer Goodwin was raised in a sod igloo, wearing animal skins and traveling by dog sled. Now he rides a snow machine and his children are half-white. This multi-generational portrait shows an Inupiaq family preserving its subsistence lifestyle despite the dramatic threats facing Arctic Alaska.
• "Earl Biss: The Spirit Who Walks Among his People" (96 mins. United States)
A master painter and descendant of great Crow chiefs, Earl Biss (1947-98) brought inherent, ancient spiritual power to his dynamic oil paintings in the 20th Century. With talent and fortitude, he became part of a renowned core group of artists that birthed the Contemporary Native Art Movement. Recognized as "the greatest colorist of the 20th Century," follow his joyous, bold, tumultuous journey to success in the fine art world.
• "Nolan: Here nor There" (80 mins. Canada)
The coming-of-age tale of a Nolan, a young man growing up on a reservation in the throes of a suicide epidemic. His mother, fearing for his life, sends Nolan to live with family in Fort Qu'Appelle, in southern Saskatchewan. While there, Nolan meets a quirky girl who becomes unwitting support as he navigates personal grief and finds his place in history. n