Extreme makeover
Historic Idarado mining structures to undergo restoration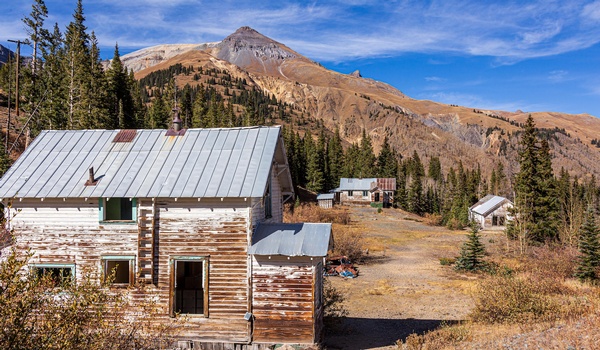 You've probably passed them a million times: the decrepit white structures just to the north of Red Mountain Pass. Belonging to the Idarado Mining Co., the four buildings just got a new lease on life. Last month, Idarado donated the structures to Ouray County for the purpose of shoring up the historic structures. The houses were originally built in the late 1880s/early 1900s as housing in the once-booming ghost town of Eureka, northeast of Silverton. In 1948, Idarado moved 10 of the houses to the current site on Red Mountain to be used as offices, temporary employee housing and a clinic, according to a story in the Silverton Standard. This was no easy feat, as Red Mountain Pass was a dirt road at the time. A Montrose company did the moving, which required dynamiting through the narrow road in some spots.
The four structures that now stand are all that remain. They will be fixed up and maintained by the Ouray County Historical Society, which took over ownership Oct. 26. The Trust for Land Restoration helped negotiate the deal. It is estimated it will take two years to complete the repairs, which include foundation stabilization, rebuilding roofs, removing asbestos, repairing siding, and mitigating lead paint. The county will also need to negotiate with the Forest Service, which owns land on which two of the houses sit.
But first, the Ouray County Historical Society must raise funds to cover the work, estimated at $100,000. Organizers are hoping it will be a worthwhile investment, helping to preserve the area's mining heritage while drawing in visitors. To learn more about the project and its history, go to www.restorationtrust.org.