Funny business
Comic Uprising tickles Durango's funny bone while giving aspiring comics a shot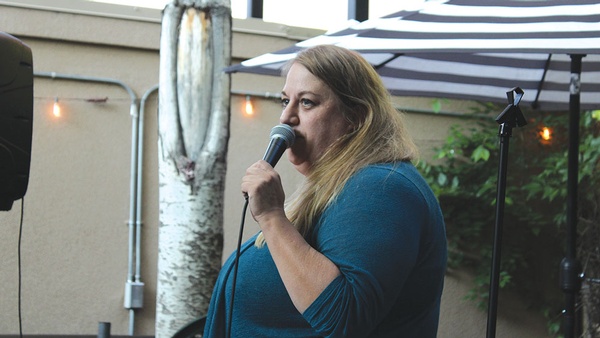 Jonathan Romeo - 08/04/2022
A bowling alley, a Trader Joe's, an arcade bar, a petting zoo – Durango may be lacking some of the niceties of larger towns, but one thing we're in no short supply of, surprisingly enough, is a standup comedy scene.
It's true – in Durango, there are currently three established comedy shows a week, a mix of open mics and more structured shows. And that's not to mention occasional events at venues around town, like Durango Arts Center and the VFW. There is even the Four Corners Comedy Festival, which will bring 75 comedians to town Sept. 29-Oct. 2.
So what – or who – is behind these events? Turns out, most of it is the product of a group of local comedians that has evolved over the years and recently formed Comic Uprising.
"We do have something very unique here in Durango," Jill Carlson, one of the founders of Comic Uprising, said. "Durango actually has a pretty good reputation in comedy outside of Durango. But no one in Durango knows about it."
Oddly enough, Durango has boasted a robust comedy scene for quite some time. Even before the pandemic, there were about five open mic nights per week. (My personal favorite, in the interest of full disclosure, was the madness and chaos at El Rancho, with a mix of people earnestly trying to sharpen their skills and drunk dudes thinking they were the funniest person in the room … when they were so very, very not).
Comic Uprising was founded in September 2019 by Carlson and David Oakley (former Steamworks employee now living in Atlanta), who hoped to offer more chances for comics who wanted to give standup a shot. "We had a different vision of what comedy should be," Carlson said. "We wanted to make sure there wasn't any gatekeeping, and everyone had a chance to try this thing we all love."
But then, of course, the pandemic hit, derailing all that momentum. In a way, however, the break in live performances allowed the organizers of Comic Uprising a chance to regroup and reset. Now it's blowing up. Aside from local interest, Carlson said the Four Corners Comedy Festival, which started in 2017, had just 49 comics apply in 2021. This year, it was 156.
"It's going to be a big deal," said Carlson, adding comics will come from all over the country.
Carlson, for her part, is seen as the "mom" of the group, which she said is probably deserved. "I boss them around and tell them what to do," Carlson jokes. "I've been doing comedy off and on 15 years, so, when they come with bad material, I'm the one who says 'Don't ever say that on stage again.'"
Carlson grew up in Cortez but discovered standup while attending law school in Kansas. Or, to be more accurate, accidentally discovered, because she thought she was going to a bar for karaoke. It was, in fact, an open mic comedy night. But, they offered a free drink if you went onstage, so she went for it.
"I've always been an entertainer since I was a child, and I just enjoyed making people laugh," she said. "And there's also a therapeutic element to it. It's a nice way to take a break from everything going on and laugh for two hours and go back to the horrible stuff later. It's a free therapy session."
When Carlson returned to Cortez after college, she started attending open mics around the area. Wanting to build up the scene in a more organized way, people told her an established comedy scene wouldn't last in Southwest Colorado. Big mistake. "That's the best thing to motivate me," she said. "Tell me something won't happen."
Now, Comic Uprising hosts an open mic at 11th Street Station on Tuesday nights and a comedy show Sunday evenings at Olde Tymers Café (a third show on Thursday also at Olde Tymers is on hiatus until Fort Lewis College students return in the fall). The group also puts on events in Dolores and Cortez. And, more and more comics from outside the area are making it a point to tour through Durango. (Quick aside: an open mic at the Starlight Lounge on Mondays is run separately.)
Most importantly, the response locally has been amazing, Carlson said, with new comics coming out of the woodwork. "I've been in a lot of comedy scenes, and Durango's scene in general is one of the most supportive," Carlson said. "Anyone who wants to get on stage should."
One such comic is Andy Mathews, who hosts the new show "Laugh Out Loud" at Old Tymers Café on Sunday evenings. Mathews grew up in Durango, but his family moved to Illinois when he was 8 years old. He moved back a few years ago and, recently, got into standup.
"I knew I was funny, but there's a huge difference between being the funny one in your friend group and making anyone, in any group, laugh," he said. "But I said, 'I bet I can get up there and make all these people laugh,' and I went up there, and it worked. There's hardly anything like the adrenaline rush."
The old saying in comedy is that you are sure to bomb your first few times onstage, but, if you stick with it, eventually the jokes and stage presence comes (insider tip: Mathews said jokes about Texans are usually always a hit with a Durango crowd). Mathews said the hardest part for him becoming comfortable onstage was just learning not to care and being himself.
"You just have to delete that part of your brain that cares for five minutes," he said. "Comedy is like cliff diving: you're scared on the way up, you're scared looking down at the water, but once you jump, it's the most fun you've ever had."
Mathews' "Laugh Out Loud" show is unique in that it features a different theme each week, such as "Uhhmmerica Stories," which was held around July 4, and "Censored Sex Stories." This past Sunday, for "Generational Curses," there was plenty of healthy, cathartic Baby Boomer bashing (shoutout to the Boomer who went onstage, took the mic from a performer and started rambling about herself, like a true Boomer).
"I wanted to have a show that's accepting and accessible to all people," Mathews said. "And on top of that, I wanted to create a space to foster creative and new joke- writing."
Jadrien Long, who grew up in Gallup, has been to just about every single open mic night and show since he moved to Durango about six years ago. Having battled with addiction, he found standup as a healthy outlet and focus, a rather common experience for many comedians.
"I was in a very dark place, but eventually I started to make friends in the scene and felt I was actually part of a community and had people around me that actually cared about what was happening in my life," he said. "That was a huge influence."
Despite some growing pains onstage, Long stuck with it. "The amount of times my ego has been broken by standup comedy…," he jokes, not able to actually put a number on it. "But this is my new addiction. It's what I replaced everything else with."
Brian Nystrom moved to Durango about 10 years ago from Farmington with one dream in mind – no, not entertaining a crowd onstage; being a lifty at Purg. After a big breakup and feeling isolated, however, Nystrom found himself at an open mic night.
"My friend's wife called me a pussy and said 'Get up there,' which I did, but I blacked out," he said. "But I've grown since then. It's given me purpose, and I've found a friend group. If you're a lost soul that happens to be funny – and you have to be funny – standup is a refuge for outcasts."
To be sure, Carlson sees the Durango comedy scene as a training ground for comics and as a feeder program once they're ready to move on to bigger cities.
And, coincidentally, it's worked out that way for her. Originally, Carlson wanted to pursue a career in entertainment, but in college, she became a single mother and instead went for a law degree. Now that her son is older, Carlson has been able to put more energy into comedy, and her efforts have paid off. She has been playing gigs in Atlanta, Las Vegas and Tulsa. And now, she's moving to Phoenix to finally give her dreams of comedy a go and be closer to an airport to travel. She says she's leaving Comic Uprising in good hands.
"I had talked myself out of this being a reality for me; I thought I was too old and my time had passed," she said. "But now I know I'm wrong about that. So I'm going to try it and see what happens. But it is hard letting go." •