Gimme shelter
Meeting the face of homelessness in Durango
Donna Hewett - 12/12/2019
I spot a few cars parked along the road near the Purple Cliffs. I pull over, messing with my purse and worrying about locking the doors.
My husband told me I shouldn't go up there alone. But I said why not?
The first people I run into is a group of young children tenderly hanging freshly knit scarves and gloves on low, brittle branches.
"These guys are the chief knitters and the cutters of scarves. Little one is named Love," Martha Sander says. She and her friend Chandra Townsend knit together. Martha also runs a nonprofit called Lifeguard, a group that helps young mothers.
She said her group brings between 10 and 30 pairs of gloves and scarves to the encampment each week. "We're here today to replenish. It's supposed to be cold tonight. Wet. It's one of the simple things you can actually do. It's a very little thing but it's a very important thing," says Martha.
Along with her kids, Chandra has brought a crock of hot chicken soup. It's in the back of her van, and to go with it, a ginormous, beautifully braided loaf of bread.
"Tell them to come have lunch," she says.
With the children following several yards behind, I take a sharp, very gooey path toward the cliffs. We come to a landing with a large, bulging tent. A tall man steps out. His name is Eli. He's not young. And he'd rather not have his picture taken. If life is tough because he has a "bad ID," he does have the right to build a fire.
"If it's 32 degrees or below you can a have a fire for survival," he tells me. "The fire department is aware. We do be very cautious with it. They know that."
How else does he stay warm? With "lots and lots of blankets," he says. "Most of us have little buddy heaters that operate on propane. We have a church who comes out once a week to refill them."
That would be Durango Vineyard, a mobile church in town that currently holds regular services at Escalante Middle School. The congregation has distributed more than 30 heaters in the past month.
Here comes his tentmate, a prettily pimpled 19-year-old from Kansas. She's carrying Harlow, the neighbor's brown Australian shepherd puppy, who suddenly breaks free. She seems extremely happy. I ask her how long she's been homeless. "Since before the 4th of July, I guess." She gives me a broad, beautiful smile. "But we don't really consider ourselves homeless. We're more home free."
Eli smiles and gently explains that they could get a place and stuff in town but prefer to live life out here, compared to real society. "Kinda like living back in the olden days. Some people will say they're living home free, but they're really not here by choice. It happens to the best of us," he says.
I tell him about Chandra's chicken soup.
"Oh, I'm good," he says with a slight roll of the eye. Suddenly I'm reminded of a philosophy professor I had at UT at Austin. A grand guy, but in a godly sort of way.
His young friend (her name never came up) has offered to take me over (south) to the main camp. She gently tells me to step on the leaves rather than plunging directly through the black ooze.
We, along with the knitter family, come upon Tim Sargent. He's like a throw-back circus barker from Barnum and Bailey: red bearded; bright smile; tons of good will.
"How's everybody? ... Welcome to the Purple Cliffs Community. I love to see the children," he says. "How you doing guys? Look right over there (to the cliffs.) Isn't it pretty? I wake up to that every morning!"
They stare at him like he's the real Pied Piper. He holds court in front of the Community Tent, a huge ice-fishing tent donated by the Vineyard Church. They use it to have a warm place in the day, share meals and help new people get acquainted.
I peek in. A couple of guys are relaxing around a heater, and a youngish couple is organizing in the kitchen area. There's a soft scent of cheap weed and warm beer.
Jacob and his chef wife, Jessica, are what you call success stories. Former camp managers, they finally got housed in a sliding-scale condo behind the old Sweeney's Restaurant on Highway 550, north of town. They're here today, and every week, to help clean, organize and find out what's needed.
"We spent 31⁄2 years camping in the snow with these guys. So, yeah we can sympathize. We do what we wish would have been done for us," Jessica, 38, says. She's wholesome with dimples and pretty, long hair.
To get housing was an arduous affair for her. "You sign up with Social Security, get on a wait list. Fill out lots and lots of paper work. You have to prove that you're low income; that you are in a place of hardship," she says. "I didn't have anything whatsoever, so it was really easy to prove."
She's originally from south Florida, so winters have been a new thing for her.
Back out in the trenches, Tim continues his speech.
"These people are kind hearted and generous. They'd give you the shirt off their back. We're not all what you think we are. We're not just a bunch of drunken bums, just a bunch of worthless people," he says. "We're actually human beings."
He says he receives Social Security, but it's not enough to rent an apartment. "But it's enough to keep me in food and warmth, and keep me close to god and that's where I need to be."
"That's beautiful," says Chandra.
He says he prefers the connections of his outdoors lifestyle. "If I was living in a house I'd be a shut-in. You'd never see me, because I'd be inside my house watching TV like everyone else does."
The kids stand with their mouths wide open. We hear a dog barking and some chopping sounds farther up the hill – a perfect excuse to tally onward.
After a short hike, we come upon a peaceful-looking guy with an orange dog. His name is Andrew, the dog, Bonehead. He's dogsitting for a friend. "We're just hanging out. He gets separation anxiety," Andrew says.
In his former life, Andrew was a carpenter living in Tahoe.
"When I left in '06, they were boarding up windows on brand-new stores. There was tumbleweeds going down the street. Just like ghost town," he recalls.
He explains the different "neighborhoods" of the encampment. "There's three distinct wrinkles. We're the older folk camped out here. There are the younger, more high-spirited folks next door. The first canyon is for the people who don't want to walk so far, I guess. Were kinda spread out. Room for everybody."
He's part of the group that was driven off the former campsite near Hogsback. After being at the Purple Cliffs for a couple months, he considers himself the "curator" of the mountain. "I help people who are out of circumstances, in distress," he says. "These mountains are wicked cold. People die all the time. All the time ... a lot of them are just drowning in their own puke from alcohol. People don't say anything about it. They just bury the bones."
That's pretty much where Vineyard Church steps in, the concern being that people were losing life and limb last year due to the cold, according to Jeff Sutherland, the church's missions and outreach coordinator. "The Purple Cliffs' location being finalized helped us feel like we could engage with them more easily and consistently," he says via text.
The church will continue to refill propane tanks all winter and serve breakfast on Saturday mornings. But after that?
"We're looking at what doing this continually throughout the year would look like," he says. "We don't want to assume we know what is most useful to them."
According to Andrew, those things are tarps, water and food. He said he has heard the city is working on getting a trolley stop there, which will also help.
They'll celebrate Christmas up here. "God presents everything right there if you're patient enough to sit and wait. You can't push issues. You gotta wait until it lands," he says.
Chandra, who has followed me up, offers him some bread and soup. He takes both and runs some up to his friend, but not before saying thank you.
We thank him too. Everyone is so darned polite here.
More dogs are upon us. They whine for food. I stumble my way back down to the Community Tent, where Tim is still talking. My shoes are so caked with mud I'll have to remove them in order to drive home.
I thank Tim on my way down.
"Hey, thank you for shining the light."
"No problem," I say.
Somebody's got to be the lamp. Right?
Camper Tim Sar- gent, the unofficial "greeter."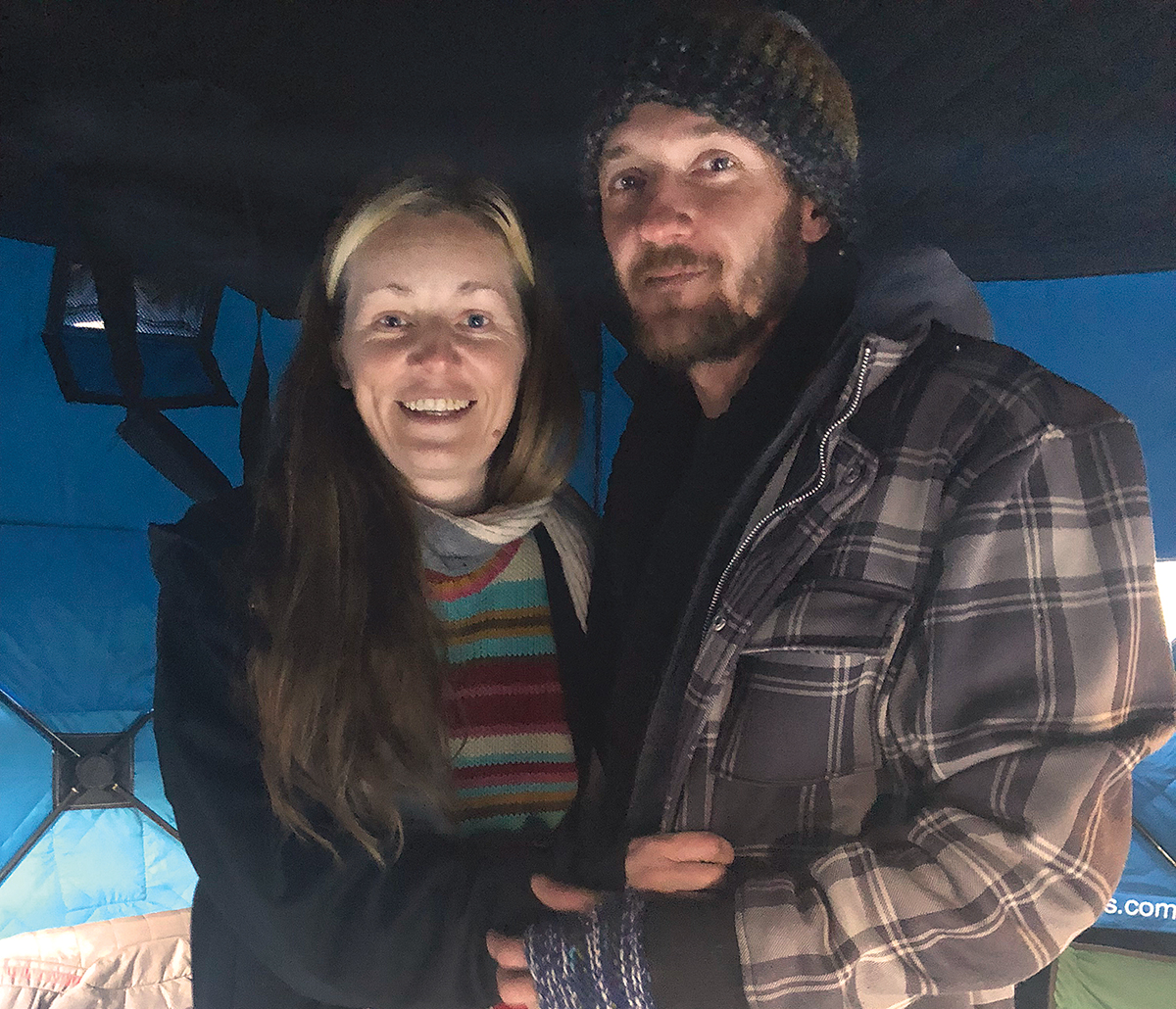 Homeless "success sto- ries," Jessica and husband, Jacob, spent 31⁄2 years camp- ing before they finally se- cured housing. They return to the camp every week to help clean, organize and see what's needed./Photos by Donna Hewet