In it for the long run
Durango Running Team seeks to put local ultra scene on the map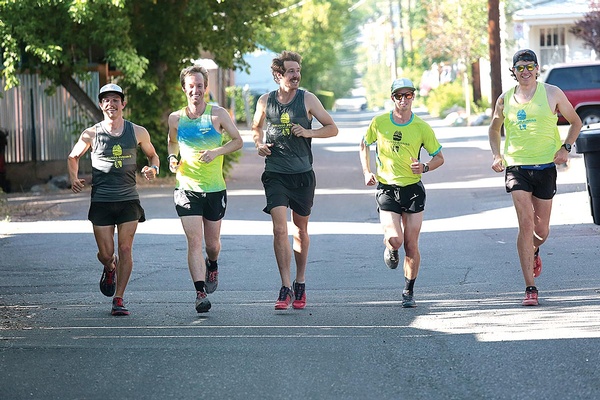 Missy Votel - 07/05/2018
If you're out for a leisurely jog, easing back into trail season after a smoky hiatus, and get passed by a gaggle of lean-legged guys and gals in matching neon shirts like you're standing still, don't worry. More than likely, it's Durango's newest entrant into the elite endurance athlete scene: the Durango Running Team.
This close-knit group of a dozen or so trail runners formed last winter, mostly out of a need for camaraderie and that competitive training edge that can come only from trying to beat your best buds.
"Whitner and I had run together and always thought it would be cool to have a running team," 26-year-old Jordan Kremer said of he and running partner and fellow team member Whitner Chase. (Who incidentally has one of the best running names ever.) Both had run in college and recently moved to Durango for work and were surprised to find a vibrant running scene here.
"I knew nothing about Durango except the train," said Chase. "There are so many great runners here, and a lot of the faster runners are already running together anyway, so we thought we may as well formalize it."
And why the heck not? After all, Durango's already got its share of biking teams, swimming teams, skiing teams, hockey teams and pickle ball teams (probably). Then, of course, there's other nearby running teams, like the Flagstaff-based Coconino Cowboys, which often share the same starting line with the local runners.
"We thought we may as well apply a name to it and get some recognition," Kremer said. "We threw out the idea and everyone seemed supportive."
Of course, among the first to jump aboard the running wagon was Durango Running Co. owner and extreme runner par excellence, Brett Sublett.
"It is a group of really talented and adventurous runners," said Sublett, who has coached the Skyhawks Cross Country team for the last four seasons and was a pro runner
himself from 1994-2005. "I am trying to help them out to showcase their talents at races and adventures around the Southwest. Some of these men and women deserve legitimate sponsorship ... Hopefully I can help them to reach the next level."
In addition to offering advice on everything from nutrition to training, Sublett also offers killer discounts on shoes and offers up his College Drive store as an impromptu meeting place. In fact, the group's first official monthly meeting last December was held at the store – there is a picture commemorating the occasion hanging on the store's wall.
But Sublett's support goes way beyond offering a place to hang out. He bought the team their spiffy neon running jerseys, helps with race travel expenses and even footed the bill for one of the runners, Kathryn Ross, to fly to Poland for a race.
This was no ordinary race, mind you. Ross, 27, was recently selected as a member of the U.S. Mountain Running Team and was taking part in the World Long Distance Mountain Running Championships in Karpacz, Poland, on June 24. (Unfortunately, a nagging injury reared its ugly head during the 36km course. That, combined with biting 30-degree winds, forced her to tap out early.)
Ross isn't the only team member making waves on the ultra-running scene. In fact, the team pretty much cleaned up at the Jemez Mountain Trail Run, held May 19 north of Santa Fe, with team members taking first, second, fourth and seventh. They also finished first and third in the Memorial Day Weekend Narrow Gauge 10-miler, and Kremer just finished his first 50km, the Golden Gate Dirty Thirty in Black Hawk. One team member, Brendan Trimboli, is training for the Hardrock 100 on July 20-22 (Yes – the race is on!)
"It's neat to go to a race and see all these Durango folks at the top," Chase said.
But this isn't to say the team doesn't have its share of fun. In fact, this is their fun. Outside of running, one team member is through-hiking the Continental Divide Trail, and one recently biked to Seattle from Durango for a wedding. A group of team members is preparing to make an attempt on Denali and another is preparing for an assault on the fabled Nolan's 14 in August. The 100-mile route across the Collegiate Peaks gains more than 90,000 in vert and has only been completed by about 30 semi-crazed, pulmonarily blessed folks.
And they certainly aren't afraid to carbo-load with a few beers after the "fun" is over. For example, on member Holden Rennaker's 27th birthday, which happened to be on March 17, they ran the Hogsback – 27 times. (For the record, that's 12 hours of nonstop activity and 19,000 feet of elevation gain.) Then, since it was St. Patrick's Day, they went out for cold beers – and what was certainly a cheap buzz.
"I didn't last long," recalled Kremer.
Kremer admits the 416 Fire and associated trail closures and smoke have been a challenge as far as training goes. Members have still been training, adjusting their schedules to run later in the day and taking advantage of the weekends to hit the high country for some longer runs.
"We're hoping for rains soon," he said. "We're optimistic."
Because what are teammates for, but to push each another when the going gets tough? This can be especially important for a sport as solitary as running, when on those cold winter mornings, it's just as easy to pull the covers over your head as it is to pull on the running shoes.
"Being part of a team has elevated my growth as a runner and a person and made me more successful," said Kremer. "It's a lot harder to get up and run if you know you're running alone."
In addition to everyday running buddies, team members also fill the crucial role of pacing each other during big events. They're there to tell a joke, offer some peanut M&Ms, take the racer's mind off the pain for a little while, or maybe even just share in it.
"You just gotta know on these longer runs that you're going to get negative. That's why you need a crew, to keep you going," said Kremer.
For more on the Durango Running Team, check them out on FB.
---