Open to the public?
Forest Service rule change could cut public comment out of the equation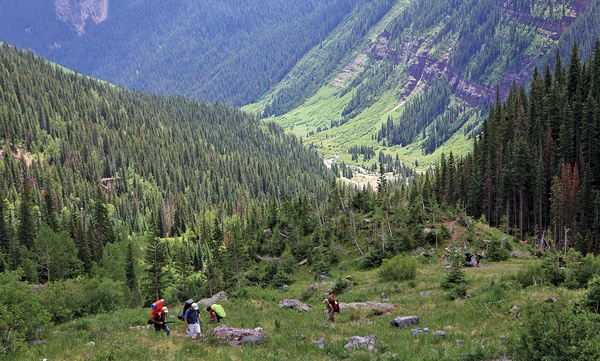 Tracy Chamberlin - 06/27/2019
The rules are about to change when it comes to public input on public lands. Officials with the U.S. Forest Service say a new rule – published in the Federal Register on June 13 – will make things more efficient for the agency. But, others wonder what exactly would be sacrificed on the altar of efficiency.
The new rule is a revision of the National Environmental Policy Act, or NEPA. Over the years, specific NEPA rules and regulations have been updated and refined to keep up with changing times and advancing sciences, the last of which occurred in 2008. However, this rule change would give Forest Service officials far more discretion when it comes to deciding which activities and projects need environmental analysis and public input – and which ones do not.
"I think the Forest Service is suffering a crisis of conscious of what the agency is all about," Susan Jane Brown, public lands director and staff attorney for the Western Environmental Law Center, said.
Playing by the rules
The new rule is all about something called "categorical exclusions." According to Forest Service documentation, categorical exclusions are defined as "activities that agencies have determined, from analysis and experience, to not have significant environmental impact and, therefore, do not require extensive environmental analysis."
An example could be if the agency was looking to officially recognize an existing hiking trail on Forest Service land not currently recognized. Under the new rule, it could skip the public scoping, public comment period, environmental analysis and other steps currently required by NEPA.
The Forest Service would still have to publish a public notice of the final decision in an official document called the Schedule of Proposed Actions, but that is all. There is no requirement in the new rule for any other public announcements, nor is it specific on how quickly the notice should be published following a decision. It could come immediately, weeks after, even months after or longer.
In addition, by the time word got out about the final decision, there would be no way for the public to get involved – other than filing a lawsuit.
Brown said it will lead to more litigation. "The only option the public has is to go to federal court," she added.
Forest Service officials have pointed out that categorical exclusions are not new to the agency. What's different is that the Forest Service is proposing to add some new exclusions and expand existing ones.
These exclusions are related to special uses, infrastructure, restoration and the ability to rely on categorical exclusions already approved by other federal agencies.
One example of a special use exclusion could be a guided hiking trip along approved trails in the Weminuche Wilderness; an infrastructure project could be decommissioning a rarely used and poorly maintained Forest Service road in the San Juans; and, a restoration project could be removing beetle-kill trees from the Rio Grande National Forest via commercial timber harvesting.
The new rule does have various restrictions to the exclusions, like the harvesting of beetle-kill trees would be limited to 4,200 acres or less. But, one thing that concerns conservationists is that under the new rule the Forest Service would be able to link or stack multiple exclusions. The harvesting of beetle-kill trees on 4,200 acres, for example, could be approved right next to a project where 5 miles of new road could be built to access those lands. And, the public would only find out after the final decision was made.
Why now?
Essentially, the agency's reasoning for adding more of these categorical exclusions is wildfires and an ever-growing backlog of paperwork.
First, the Forest Service is spending more and more of its budget on fire suppression each year. According to the agency, fighting wildfires made up 16 percent of the budget in 1995. Last year, it was 57 percent of the budget.
As wildfires become larger and more common, the Forest Service has had to reduce staff not related to fire suppression and shift funds from other programs – even fire mitigation projects like prescribed burns or the removal of fuels like diseased or dead trees. This issue is something Brown, in particular, has been putting the spotlight on for years.
Relief came in 2018 when Congress passed legislation designating fire suppression funds to come from a different source under the Federal Emergency Management Act, or FEMA. "They were spending so much money to suppress
fires," Brown explained. "Now that Congress has shifted the way the Forest Service pays for fire suppression, it'll come out of a different account."
Forest Service officials have acknowledged the funding changes and admit it helps. But, they still have 80 million acres of fire mitigation projects waiting to be addressed.
In addition, agency officials claim it's not enough to tackle the backlog of more than 5,000 applications for special use permits that are holding up 7,000 businesses and keeping 120,000 jobs from being filled.
An example of a special use permit that could fall under the new categorical exclusions would be a guided hiking trip into the Weminuche. Rather than spend agency funds on environmental assessments and public comment, officials with the San Juan National Forest would have the ability to approve the permit.
According to the Forest Service, an environmental assessment takes, on average, almost two years, while the categorical exclusion process takes about seven months.
"I don't think the answer is to take it out of the public's hands," Brown said.
Discretion and decisions
Not every project that falls under the new categorical exclusions would skip the public comment or environmental assessment steps. It's entirely up to the discretion of the Forest Service office in charge.
During a webinar Tuesday on the rule change, agency officials said they expect that the regional offices will be responsive to public interest on a specific project. If the decision-makers feel the public would be interested in commenting or they feel the project could greatly impact the environment, they can initiate the environmental assessments and public input process on their own.
What concerns conservationists is that they are not required to. "These changes would create loopholes to increase the pace and scale of resource extraction, including logging
and mining, all while limiting the scope of public awareness and input," a press release from the Western Environmental Law Center reads. "The new categorical exclusions would allow the agency to move project planning behind closed doors by cutting out the public from the decision-making process."
Although the proposed rule would not apply retroactively to any Forest Service projects, many past decisions related to trails and roads in the San Juan or Rio Grande national forests could have been eligible for the type of categorical exclusions the rule looks to create.
When asked if some of the Forest Service's recent decisions – for example, concerning the Village at Wolf Creek – could've qualified for categorical exclusions under the new rule, Brown said some of what is being proposed could affect projects like that in the future. The Forest Service used to be a restorative agency, she explained, with an eye on rebuilding the nation's natural landscape and protecting public lands. "This administration has really forced the agency to back down on that approach," she added. "This is not what the land, or the public, wants or needs."