Popping tags
With the increasing cost of, well, everything these days, one bright spot has emerged in and around Durango – the rising popularity of shopping at local thrift stores.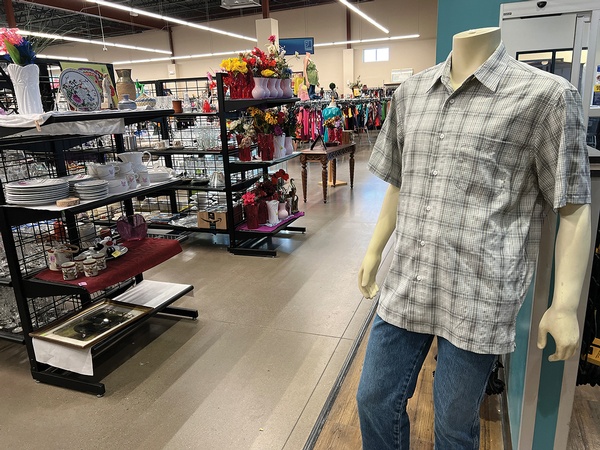 Jonathan Romeo - 06/02/2022
With the increasing cost of, well, everything these days, one bright spot has emerged in and around Durango – the rising popularity of shopping at local thrift stores.
Whether you're buying groceries, filling up the tank or trying to pay the rent, inflation and the increasing cost of living has put serious pressure on Coloradoans' budgets. Add on supply chain issues brought on by COVID-19, and you'll find saving money while trying to live in Durango is no easy task.
Just this week, the Colorado Health Foundation released a report that said Colorado residents believe the rising cost of living is the top problem facing the state. And in April, inflation remained near a 40-year high.
We could go on, but we think you get the picture.
To help ease the strain, people are increasingly turning to an old favorite – thrifting. According to one research study, the second-hand market is projected to double in the next five years and become a $77 billion industry (mind you, this was from Resale Report, which advocates for thrift shops).
Luckily for us here in Durango, we have plenty of secondhand and consignment options that not only save you money but also ease the toll that production of new items takes on the environment. And local resale stores are seeing the surge.
"We have had an uptick in sales," Georgia Stillwell, director of First United Methodist Thrift Shop, said. "And it just makes sense."
Goodwill, a nationwide nonprofit, reported its highest revenues ever in 2021. Chris Romero, a manager at Goodwill in Durango, said that spending fervor was felt here, too.
"We've been getting good business since things started opening back up (from the pandemic)," Romero said. "And we've also had a solid stream of donations. We've just been very busy."
It seems every consignment shop in Durango has its own niche. The First United Methodist Thrift Shop, Goodwill and La Plata County Humane Society's Thrift Store (which did not respond for comment) sell the standard array of everything from clothing and random decorations to dishware, Carpenters albums and old frames with pictures of families long gone.
"We've always been happy to be of service to lower income families (who are particularly impacted by things like inflation)," Stillwell said. "But increasingly, we're seeing more people from that middle class bracket, too."
Joanna Tucker, who owns children's consignment store Sprout, has been in business on College Drive since 2005. She said the business always experiences ebbs and flows, but since the pandemic, Sprout has seen business increase in multiple ways.
For one, people had more time at home during shutdowns, which allowed them to clear out all the stuff they've accumulated over the years. As a result, Sprout has seen customers bringing in more items to sell. On the flip side, customers want to cut costs across the board. And, it became apparent after the pandemic people wanted to spend their money more on experiences than buying stuff.
Sprout is uniquely positioned, Tucker said, because the store sells to kids, who obviously go through clothing quickly.
"This new generation has a mindset of conserving their money… and also being more sustainable and eco-friendly," Tucker said. "I think thrifting and consignment have become more in the front of their mind, and they're considering it now more so than in the past."
Down the street at Reruns, which has both a clothing boutique and home furnishing store, it's much of the same, said owner Laura Rickard.
"Right after the pandemic hell, there was definitely a lot of people coming in saying, 'We're so glad you made it through' and wanting to support our local business," Rickard said.
Reruns also rode the wave of people wanting to spend more time outside, which translated into more outdoor furniture sales, Rickard said. That may have tempered slightly, with the spring's horrendous winds, dust bowls and wildfire smoke.
"That fervor maybe died off, but yes, people are wanting to support local, small town," she said.
At ReLove Consign & Design, which sells furniture and décor downtown, owner Paige DeNier said the store has been incredibly busy with all the new people moving to Durango looking for furniture. With supply chain issues, which can delay orders up to a year, more people are looking for secondhand items in the meantime.
"A lot of the time, people will cancel their orders if they want what they're looking for here, or they'll consign it back to us," DeNier said. "So it's been really great for us."
And we'd of course be remiss to not mention what every Durangoan is obsessed with – outdoor gear. Driven by unprecedented demand with the outdoor craze brought on by the pandemic, and further exacerbated by supply chain issues, outdoor gear prices have reached record highs.
Just for example, Chase LaCroix, a manager at Durango Outdoor Exchange, said raw material for tent poles has been in short supply, leading to shortages. And, he said DOE's paddleboard company (which makes new paddleboards) took five months to receive a shipment.
All this, of course, has turned people toward second-hand items.
"It has been our biggest year ever," LaCroix said.
LaCroix added that a big part of that growth has been younger people wanting to buy used to lessen their impact on the environment. But also, a lot of people were out of work during the pandemic, and wages haven't caught up with the cost of living in Durango, so quality, pre-owned gear is a good economical choice as well.
"The duality of that dynamic is what's attracting so many people to shop used," he said.
But in addition to saving pennies, buying used can reduce carbon emissions, save resources like water and energy, and also prevent perfectly good items from ending up in the landfill. Not to mention that some new items come from factories with, let's say, less than ideal conditions.
"Part of the reason why I love this job so much is the sustainability aspect," United Methodist's Stillwell said. "We're recycling used items for people in the community and getting those items to people who still have use for them." ?
* Full disclosure: The Durango Telegraph contacted just about every consignment shop and thrift store in town for this story, and the ones who responded were included. Further, this reporter has no allegiance to any one store. It's been well-documented his fashion is dictated by what clothes his mother – I mean "Santa" – buys for him at Christmas, as well as whatever clothing is left behind by visiting friends.