Power in numbers
LPEA not alone in bid for buyout cost from Tri-State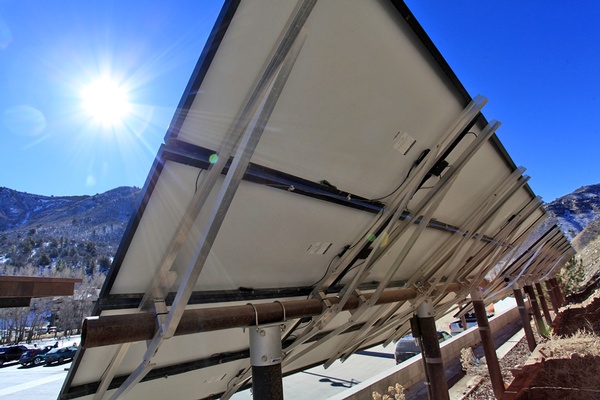 Tracy Chamberlin - 12/05/2019
La Plata Electric Association has been trying to increase local renewable energy production for the past several years. The struggle hasn't been finding projects or opportunities to do so, it's been the cap.
Under its contract with Tri-State Generation and Transmission, a wholesale energy provider, LPEA is required to purchase 95 percent of the electricity it needs from Tri-State – leaving only 5 percent the coop can produce locally from renewables.
LPEA has been at that limit for almost as long as it's been working to increase it. One of its first moves was to ask Tri-State to simply increase the cap to 10 percent, which was denied.
LPEA also considered taking advantage of a federal program under the Public Utility Regulatory Policies Act , which could exempt certain renewable energy endeavors from the cap. But that option was left in limbo by the federal agency overseeing it, the Federal Energy Regulatory Commission, or FERC.
After another rural coop used this program, Tri-State tried to recover funds it lost by raising rates. FERC denied the move, and Tri-State asked the agency to take another look at the case, but it never did. Since no one knows if Tri-State would ever be able to recover the funds, most companies shy away from the program. The unanswered questions leave too much risk on the table.
However, another option to exceeding the cap is a partial contract, which means LPEA could get far less than 95 percent of its electricity from Tri-State.
The third, and final option, is a contract buyout. This would mean LPEA pays Tri-State to get out of its contract entirely. The coop could then produce its own power or purchase it on the open market.
Each option has its risks and rewards, but the coop can't even begin to debate those until it knows exactly how much it would cost to buy out all or part of its contract. This is exactly what LPEA is trying to find out – and, it's not the only coop that is.
Together we stand
United Power, an energy provider serving more than 250,000 customers outside Denver, has also asked Tri-State how much it would cost to buy out its contract.
United submitted its request to Tri-State earlier this year, and LPEA this summer. Neither party was able to get an answer before Tri-State placed a moratorium on all partial contract and buy-out cost discussions late this fall.
It was the last straw for United and LPEA, and both ended up filing a complaint with the Colorado Public Utilities Commission on Nov. 5. The coops asked the commission to force Tri-State to come up with a price. After all, it's not the first time Tri-State needed to figure it out.
In 2015, Kit Carson Electric Cooperative, a Taos-based energy provider, bought out its contract from Tri-State. And, earlier this year, Delta-Montrose Electric Cooperative also bought out of its contract.
The most recent scene in LPEA's saga took place on Nov. 20 when the PUC decided to consolidate the United Power and LPEA cases.
"I think it adds a little more strength to the case," LPEA CEO Jessica Matlock said.
The next step is for all three parties to agree to a hearing date, which she'd like to see happen before March.
According to Lee Boughey, senior manager for Communications and Public Affairs with Tri-State, the power provider is going through a significant transition.
It services 43 coops across four states – Wyoming, Nebraska, Colorado and New Mexico – and is trying to move toward cleaner and more flexible energy production. This move to clean energy comes with uncertainty, and plenty of bumps in the road.
"It's critical we have a stable environment for our rate settings and contracts," he explained.
Boughey said a Contract Committee was created to look into the requests for partial contracts and buyouts, and he expects the group to make recommendations before Tri-State's annual meeting in April.
Walk and chew gum
LPEA is still considering all its options, according to Matlock, including working to increase the 5 percent cap, move to a partial contract or pursue a contract buyout.
"All three are still on the table," she added.
As the Southwest Colorado coop waits for movement with the PUC cases, though, Tri-State has given way – at least, a little bit – on the 5 percent cap. In November, the power provider announced a new program that would exempt community solar gardens from the cap.
"It's an early outcome from our Contract Committee," Boughey explained.
For LPEA, this could mean up to 2 megawatts of solar power added to its energy portfolio. However, under Tri-State's rules for the program, the project would need to be owned and operated by the coop for its members. It couldn't be privately owned.
Even as Tri-State tries to make room for more renewable energy – having most recently closed its 100-megawatt, coal-fired Nucla Station in September – it might not be enough.
Matlock said it's not just about being carbon free – the coop's goal is to reduce its carbon footprint by 50 percent from 2018 levels by 2030. It's also about keeping it local.
Local control provides economic benefits for LPEA's members, would be more adaptable to new technologies, and provide a much more resilient network.
"There are opportunities in our own service area to generate renewable energy," she said.
From hydro-electric, solar, wind and biofuels, LPEA's service territory could source all the energy its members need.
"It's not clear that we would have to buy our energy from open markets," she explained. "We just want the option to look at all opportunities for our future."
---