Rage in the sage
Jonathan Thompson's new book, Sagebrush Empire, dives deep into SE Utah public land battles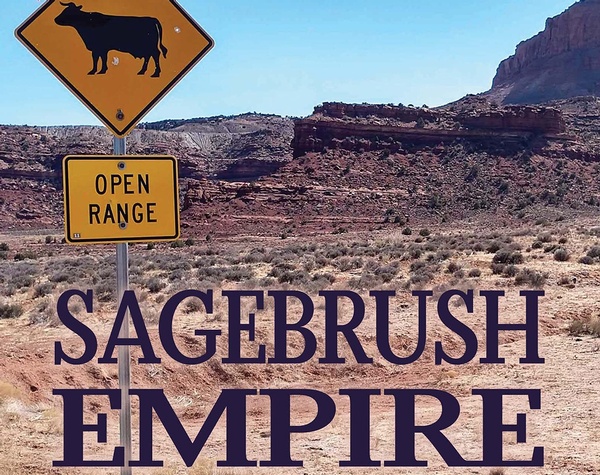 Jamie Wanzek - 09/30/2021
Jonathan Thompson's new book, Sagebrush Empire: How a Remote Utah County Became the Battlefront of American Public Lands, gives light to San Juan County, Utah's, public land battles in classic Thompson form – a mix of humor and investigative honesty.
To tell the complicated history of public land battles in southeastern Utah county, Thompson describes a hand painted sign hanging in Durangoans Mark Franklin and Rose Chilcoat's living room, which says, "Live like someone left the gate open." Without context, the sign makes no sense. If you know their story, though, Thompson writes, "you might wonder why the hell these people have the sign up at all."
On April Fools' Day in 2017, the couple were headed to Valley of the Gods when Franklin closed a cattle gate in San Juan County, resulting in multiple felony charges and years of court battles. The ranchers who owned the gate accused Franklin and Chilcoat of trying to kill their cattle by cutting them off from water. Franklin, for his part, said he closed the gate absent-mindedly (another part of the corral was open, so no cattle were actually cut off from water). Regardless, the charges soon became a political fracas targeting Chilcoat, a "Great Old Broad" best known for her environmental activism, which included fighting public land grazing in and around San Juan County.
This ordeal wasn't an isolated incident in Thompson's eyes but rather an escalation of public land battles afoot in San Juan County for decades. In Sagebrush Empire, Thompson uses Chilcoat and Franklin's story, which he calls "GateGate," to describe a deep-seated war over public lands in southeastern Utah. And, San Juan County is used as a microcosm for understanding the complicated and opposing attachments to public lands across the West.
But Thompson also threads the indigenous history of the land with that of white settler colonization and the Mormon Church.
"People have lived and loved and died and built and created here for a dozen millennia or more," Thompson writes. "Some stayed, some moved on, and now just fifteen thousand or so remain all of them tied, in one way or another, to the extraordinary landscape. And yet, there are also people deeply divided along ideological, racial, political, and cultural lines. In some ways, San Juan County is like a microcosm of the western United States, maybe even the nation as a whole, only taken to the extreme."
Thompson, who grew up in Durango, writes with clarity and honesty about his subjects through decades of reporting as an environmental journalist and editor at High Country News. Now, he writes about "western lands and communities in context" weekly through his newsletter, The Land Desk (which also regularly appears in the Telegraph).
In Thompson's 2018 book, The River of Lost Souls, he used the Gold King Mine spill to explain the history of the Animas River and its relationship with the extraction industry over the ages while weaving in his connection to the area. In Sagebrush Empire, he uses a similar, if not identical, structure to tell San Juan County's history of public land battles. As a gifted historian and journalist, Thompson gives perspective and voice to the complicated places he calls home.
Thompson refers to it as "public land paradox" when reflecting on his relationship with the land. The rhetoric surrounding public land is well intentioned, he notes, but inherently problematic – it creates a sense of entitlement and, most importantly, ignores the history of the land. We must not forget our public lands are stolen lands. Thompson dispels the long perpetuated myth that Ancestral Puebloans disappeared from the landscape, when in fact, they splintered off into other tribes such as the Hopi and Zuni. As Thompson follows this rhetoric through history, he ties in modern day issues, such as the Navajo Nation's relationship with the Aneth oil fields and the ongoing battle over Bears Ears National Monument.
And Sagebrush Empire is not without important criticism of white settler colonialism.
Recounting the rise in white settlers to the area, Thompson walks the reader through the violent chapters and political flare-ups surrounding land management and ownership in San Juan County since the arrival of the Mormon Church. He includes the history of the Sagebrush Rebellion, its seeds in the Mormon Church, while building into current politics – the resistance to Bears Ears National Monument, voting rights for Native Americans and the Recapture Canyon protests in 2014. This history is used to bring context to anti-monument backlash in the area for more than a century.
"There is no homogenous, monolithic San Juan County way of life, or for that matter, rural or ranching culture," Thompson writes. "Just as there is no single urban culture. San Juan County is a diverse place, with myriad ways of life and customs."
Thompson breaks up the book by including his relationship with the Cedar Mesa area – from trips to Comb Ridge to family river trips on the San Juan River. Some stories are reflections; some are full of humor and voice. More often than not, it includes honest recounts of trips into the backcountry that have gone awry and the lessons learned. In one chapter, he compares the Hole-in-the-Rock expedition with his own half-starved adventure through Grand Gulch, using the two storylines to tell the varying perspectives and experiences the place holds.
Thompson's ability to give equal attention to both sides of history feels like his gift as a writer. We find truth there, especially as we move forward and come to understand each other and a changing West.