The fight for a starry night
Combating light pollution in Durango, Silverton and beyond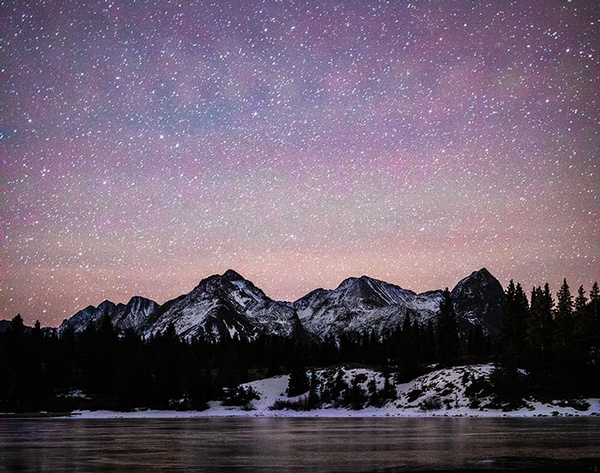 Elizabeth Barrett - 05/19/2022
"Remember to look up at the stars and not down at your feet," advised the brilliant physicist Stephen Hawking, encouraging us to be curious and find sources of inspiration. The night sky has long served as a source of myth and mystery for the human species, something everyone, from rich to poor, could share and revel in. But in recent times, with electric lighting spreading across the planet, the stars are becoming a rarer sight. Eighty percent of Americans see only murky darkness when they look up at the stars – for them, the Milky Way is obscured by light pollution. This affects us, and the species around us, in many more ways than we can imagine.
But more and more, cities and towns across the country are doing something about this loss of the night sky. Silverton recently passed a resolution for the town to switch to lower-Kelvin lighting in order to decrease light pollution. Durango has had a dark sky ordinance in place for nearly two decades. But what do regulations like this mean for the community? How successful have they been? We consulted some local experts to find out.
Protecting the nocturnal world
Bettymaya Foott, director of engagement for the International Dark-Sky Association, stressed that light pollution does more than ruin a pretty view of the stars. "Think about adding artificial light to a habitat as the equivalent of bulldozing a rainforest," she said, reminding us that every species is impacted by it in some way.
Many birds, for instance, use stars, moonlight and other "celestial cues" to migrate overnight, said Foott. When they see a brighter, closer artificial light, they are drawn to it instead, leading them to lose their sense of direction. In their confused state, they are vulnerable to predators and other dangers that they wouldn't normally have to face. The same goes for moths, which use the moon as a guide in nature. While the moon is a reliable beacon that moves in a predictable manner, our lights are not – moths can circle street lights for hours, thinking they are flying in a straight line.
On the coast, light pollution also confuses creatures like sea turtles, an already endangered species, which follow the sun and moon when nesting and hatching. Bright, artificial lights and human presence can scare mother sea turtles away from nesting spots. After hatching, baby sea turtles usually follow the reflection of moonlight on the ocean. Now, they instead can be lured by city lights inland, toward countless dangers.
Too much artificial light at night is also doing us humans more harm than good. According to an article by the Dark-Sky Association, circadian cycles are disrupted by too much light, especially blue light, which at night tricks our bodies into thinking it's daytime. This leads to insomnia and a decrease in melatonin production, causing a whole host of additional problems and increasing the risk of everything from anxiety and depression to cancer. Blue light isn't just coming from screens, either. Lit-up advertising and overly bright public lighting also emit it.
But, thankfully, combating light pollution is a cause almost everyone can get behind. "We all love to see the stars … this is a non-partisan issue," she said. Plus, she added, this is the easiest type of pollution to fix: it can be removed – literally – at the speed of light.
The benefits of dark skies go beyond the physical, to economic ones as well. Astrotourism has proven to financially benefit communities, especially those certified as Dark Sky Places. Unlike some tourists, visiting stargazers are guaranteed to spend the night, generating more income for local restaurants and hotels. A 2019 Missouri State study on astrotourism predicted that dark-sky tourists on the Colorado Plateau will spend $5.8 billion in the next 10 years, raising wages and creating thousands of new job opportunities. Especially for small, nature-oriented towns, dark skies can make for a brighter future.
What's in the ordinance?
Durango is mostly ahead of the game when it comes to combating light pollution. In 2004, after advocacy from the public, Durango adopted a dark sky ordinance.
Regulations for dark-sky appropriate lighting don't aim to take away all light at night – human safety is still the utmost concern. Instead, the intent is typically to improve existing and new fixtures. The emphasis isn't on less light but on better, well-directed lighting.
The ordinance in Durango today applies to all commercial and public lighting, as well as multi-family residences. For them, all light sources must be shielded, pointing only at the ground, and disruptive glare must be eliminated. Since the adoption of our ordinance, most fixtures have been changed to fit these requirements.
"Even the antique style lights that they've got downtown and on the River Trail – the actual bulb is recessed up into the top of the lamp," Dick White, a retired professional astronomer and former City Council member, said. "They look like these wonderful old street lamps, but they are designed very differently."
Under the ordinance, roof lights, searchlights and "nuisance lighting" are also forbidden.
Another important part of the ordinance is keeping light usage to necessary hours. In addition to limiting light pollution, this also helps conserve energy. Businesses must have their lights off by an hour after they close, or by 11 p.m. In the mornings, they can turn them on at 5 a.m. or an hour before they open.
Single and double family residences are exempt from the ordinance, as well as holiday, airport and emergency lighting. This can cause some hiccups, particularly in residential areas. "It's not uncommon to look out a window and see a neighbor's porch light shining in your eyes, or some backyard light that's not shielded just shines up into the sky and all the way down the block," commented White. He thinks this is one of the ordinance's major shortcomings, and it doesn't look like the regulations will be updated anytime soon.
For now, said White, it's important to make sure we comply with existing ordinances and use lighting wisely – only when and where it is needed. Although it's not always required, dark sky advocates insist everyone should do their part if we want to reduce light pollution as a community.
Regional regulations
On April 25, the Town of Silverton adopted its own dark sky resolution, which will ultimately decrease the amount of light pollution the town emits. This was an effort created and largely driven by Silverton local dark sky advocate Cole Davenport, along with others from Silverton and neighboring communities. Davenport decided to advocate for this regulation when he saw that towns like Ridgway had done the same. "I like to … point (my telescope) up to the skies and educate, and also learn," he said. "I wanted to preserve the light and antiquity of Silverton." Davenport added that the resolution's benefits go beyond reducing light pollution. "We're solely (relying on) tourism, so (the stars) would bring a new tourist attraction to our community that will help educate our community," he said.
Davenport hopes that this will lead to Silverton being certified by the International Dark-Sky Association, or IDA, as an official "Dark Sky Community." A growing number of communities in Colorado and the surrounding regions have achieved this certification, including Ridgway, Norwood, Nucla, Naturita and more. According to the IDA website, towns hoping to be Dark Sky Communities must show "exceptional dedication to the preservation of the night sky through the implementation and enforcement of a quality outdoor lighting ordinance, dark sky education and citizen support of dark skies." Dark Sky Communities do more than just change out their lightbulbs – the starry night becomes a part of their culture. Davenport believes that Durango also could become a Dark Sky Community, with some time and effort.
Optimistic about Silverton's ability to meet these goals, Davenport submitted the town's application quickly after the resolution's adoption. According to him, most communities are certified within three years. Down the road, he'd like to see that taken one stop further to seeing the area designated a Dark Sky Reserve.
According to the IDA, a Dark Sky Reserve is similar to other Dark Sky Places but encompasses a larger area – at least 270 square miles. Since they cover so much land, reserves must be formed through a concerted collaboration between various land managers, agencies and municipalities. Currently, there are only 18 certified reserves in the world, and only one, Central Idaho, is in the United States. Advocates are trying to create another, potentially the world's largest, in Colorado. If certified, the reserve would cover about 4,200 miles of land. The core area would potentially be located in the Rio Grande and Pike-San Isabel national forests, between South Fork and Salida.
"Hopefully, with the chapter of the IDA that we have here in Southwest Colorado and the big push for Colorado to be the biggest Dark Sky Reserve, we might be able to push this faster," Davenport said. "Let's preserve this long-lasting thing that our ancestors have always looked up to."
Dark sky advocates want to remind us that limited lighting will not blind us. Instead, they say, it will open our eyes to a whole new world.