What goes around
China's policy change inspires local recycling revolution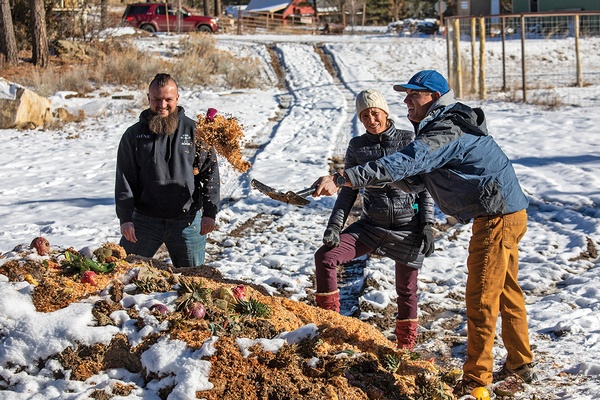 Tracy Chamberlin - 12/19/2019
China introduced a new policy in 2017, called National Sword, which limited the contamination of recyclable materials to what those in the industry called an impossible standard of just 0.5 percent.
This sent the recyclable commodities market into a downward death spiral. Suddenly, the price for sorting and processing bales of used plastics, cardboard and mixed paper became so costly some communities were forced to send the materials straight to the landfill – or simply stop taking them at all.
Even the city of Cortez had to tell residents in 2018 they could no longer accept newspapers.
Fortunately for Friedman Recycling, the company that sorts Durango's single stream recycling, it had space at its plants in Albuquerque and elsewhere to store the unwanted bales until the market began to improve.
Although Durango-based Phoenix Recycling is a much smaller, local operation, owner and operator Mark Thompson was also able to hold bales for several months until he could find buyers for the material.
"The bad news is the commodities are worth just a fraction of what they were," Thompson said. "The good news is things have stabilized somewhat, and we are able to move stuff out."
For many involved with residential and commercial recycling across the country, it was a wake-up call for how dependent everyone in the West had become on China to take the world's waste and turn it into the latest disposable trinket.
It was also a reminder that "recycle" was actually the last step of the three "Rs:" reduce, reuse, recycle. Reduce and reuse come first. Or, as one local recycling guru likes to say: refuse, reuse and recycle.
"I think refusing has to be the No. 1 thing," Sarah Musil Burris, founder of The Bag Project, said. "It's just a matter of stepping back and looking at what we buy."
After working for two years to keep plastics from devastating the world's oceans with the marine conservation organization Sea Shepherd, Musil Burris realized maybe she could do more for her cause by keeping it local.
So, she started The Bag Project in 2017. The idea is to turn T-shirts into reusable grocery bags. By recycling the old garments instead of sending them to the landfill, Musil Burris could help curb the tens of thousands of plastic bags local residents use every day.
At both north and south City Markets, customers go through about 35,000 plastic bags a day. But so far, The Bag Project has made just 4,500 of the crafty T-shirt bags – found in bins near the entrance to both stores – for shoppers to use. It may be just a fraction of what the community goes through, but it's a start.
Recycling isn't just a way of feeling good about dropping the Amazon cardboard box into the blue bin – or sending Musil Burris your old T-shirts. It can also be a way to boost the local economy while at the same time curbing what's headed to the dumpster.
And, for some, starting small can lead to big things.
When Table to Farm Compost began in 2016, the business model was simple – offer Durango residents a way to compost organic waste instead of putting it in the trash.
Each week, Monique DiGiorgio, who runs the composting business alongside Taylor Hanson, brings customers a bucket to fill with food scraps to be picked up and turned into nutrient-rich soil to grow new food.
Over the years, DiGiorgio's not only grown a solid customer base, she's been able to expand the program to local school cafeterias. The latest partnership for Table to Farm is with the farm at Twin Buttes and Albertsons grocery store. Working together, the three take food scraps from Albertsons to a composting facility at Twin Buttes, where organic waste is turned into soil used at the farm.
"It's exciting to have three businesses all working together to reduce our community's waste stream and to create a closed- loop environmental and economic system," Hanson said.
A closed-loop system is one of the best ways to keep things local. In fact, according to the annual State of Recycling in Colorado report, it improves Colorado's economy by creating local jobs, bringing in tax revenues and helping the environment.
The report is a collaborative effort from Eco-Cycle, a national nonprofit recycler, and CoPIRG, a nonprofit, public interest advocacy group. It looks at how much waste is being recycled or composted, both at state and local levels.
And, it turns out, even as China's National Sword policy was causing upheaval in the global recycling world, Durango made some recycling gains. The city was awarded a Gold Medal by the report's authors for being the best citywide recycler outside the Front Range, diverting 33 percent – more than any other rural community – of its waste away from the landfill.
The state is not doing as well, lagging far behind the national average with just 17 percent being diverted compared to 35 percent for the nation.
"Despite some all-star community efforts, Colorado continues to be one of the worst states at recycling and one of the most wasteful states in the country," the report reads.
Part of the reason for the dismal number is that seven out of 10 of the state's largest cities don't offer convenient curbside recycling to residents, including Colorado Springs, Aurora, Greeley and Pueblo.
Durango, on the other hand, has continued its curbside recycling program in spite of the industry's recent challenges.
Director of City Operations Levi Lloyd attributes much of that to Friedman Recycling. He called the company a consistent partner, never wavering in its commitment to the city. "I think that helped us weather the storm," he added.
It's been almost three years since China's National Sword program forever changed the world of recycling. Companies were forced to produce higher quality products and search for new markets, while individuals were forced to rethink recycling altogether.
"Maybe we've taken a big hit in the last couple years, but we're still here," Thompson explained. "And, things will continue to get better."