Wicked ways
City looks for solutions to impending budget shortfalls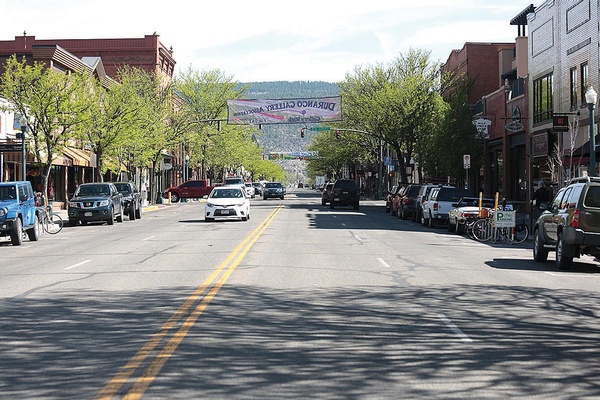 Tracy Chamberlin - 05/10/2018
There's no way around it. The City of Durango is looking at a budget shortfall of about $1 million by 2020, which is less than two years away.
Not only will this deficit increase every year, it doesn't include improvements to city facilities or even some basic maintenance needs. Things like a new police station (with a price tag of about $19 million); improvements to the storm water system (a $1 million annual need that becomes clear every time it rains downtown); and simple road maintenance and sidewalk repairs are separate.
All of these additional needs stack up to the tune of $200 million.
For the past several years, any funding shortfalls were covered by the city's general fund balance, which is like its savings account. But, that well is drying up.
At the same time costs are increasing for the city just like they are for residents. From electric bills to salaries to water and sewer, rising costs mean the bottom will drop out on Durango's budget. It's only a matter of time.
No one – not city officials or city councilors – disputed this during a Council meeting Tuesday night. The only question on the table was how to tackle the problem.
It's the textbook definition of a wicked problem.
Not to be confused with Dorothy's enemy in the pointy hat, a wicked problem was first coined in the 1960s by former Berkley professor Horst Rittel and later solidified in a paper he co-authored in the 1970s.
A wicked problem is one that cannot be solved, only managed. Like homelessness, affordable housing or the opioid epidemic, there is no simple solution to a wicked problem.
Even when solutions are tried, they typically lead to more problems. It is always a trade-off. That's what makes them so wicked.
For the City of Durango, the wicked problem on the horizon is finding a way to keep giving residents the basic services they've come to expect without taxing them out of the community.
"The expectation is to tame this wicked problem," Assistant City Manager Amber Blake said at the meeting. The answer: a tax initiative on the November ballot.
Not only are city officials concerned about the impending deficit, there's also a battle brewing over ballot space. The city will not be the only one looking to ask voters for something in coming years.
In November 2019, the Durango 9-R school district as well as the state are expected to put their own tax increases on the ballot.
If the city doesn't come to voters this November or, at the latest, next April, they could find themselves behind the eight ball – fighting for funds, failing to get votes and still facing forced cuts.
What Blake and other city officials are hoping to do is keep the momentum gained through their "Engage With Your City" campaign right into November. This campaign began in February and continues through the summer. The next event is a Community Meeting from 5-7 p.m. on Thurs., May 17, at Ska Brewing.
"If we are unable to pass something in November or in April, the budget you will be receiving for 2019 will require cuts," Blake explained to Council.
There's been little support for cuts – from both residents and city officials.
After getting feedback from more than 100 people at two previous community meetings, and receiving just over 400 responses to an online survey and thousands of comments from residents, city officials said the takeaway was that people like what they've got in Durango.
When asked what they would be willing to cut if they had to, the most common responses included the city's TV channel and video service DGOV (a savings of $8,000), public art (about $24,000), and recreation programs (which mostly pay for themselves and would reduce costs by only about $140,000).
"The community is willing to pay more to maintain what we have," Blake explained.
So, city officials moved on to the other side of the coin – making more money.
Bringing in more to support basic services and start tackling the $200 million in capital improvements likely means raising taxes in addition to smaller increases in fees and fines.
Some of the smaller revenue generators discussed at Tuesday's meeting included raising the cost for business licenses, building permits and the rate for the Spring and Fall Cleanup – which is covered by a fee added to utility bills – from $1.50 per month to $3.
Those sources wouldn't bring in enough to make a real dent in the deficit, so talks turned to taxes – property, sales and lodgers' taxes.
As for property taxes, the current rate in the city is 2.507 mills. The rate for La Plata County, which city residents also pay, is 8.5 mills. These rates are low compared to other communities in Colorado, but only a sharp increase would make a difference with the budget.
An example brought up at Tuesday's meeting was an increase of 8 mills, which would raise the property taxes for a median-priced home of $350,000 by $222 a year and raise an extra $4.35 million for the city.
The City's Finance Director Julie Brown said property taxes currently make up a small portion of the city's general fund. The majority of Durango's funding
comes from sales tax. Raising the rate for sales tax, however, is something Durango Mayor Sweetie Marbury is not interested in.
"That's your groceries, your kid's shoes – that's a big hit," she said Tuesday night. "I would never support a sales tax."
The City Council also briefly discussed the lodger's tax, but no decisions were made. The plan is to continue taking input from the public and prepare specific numbers for the upcoming meeting on May 17, so residents can see exactly what any proposed tax increases would mean in their daily lives.
They'll continue the discussions at their next study session later this month before starting to narrow down ballot language. These are the first steps to bringing a tax question to voters in November and finding ways to tame the wicked problem.
"This is really good to get aggressively in front of this," City Councilor Dean Brookie said. "This needs to be on the ballot this year."