Famous fossils
Old bones can be a town's movie stars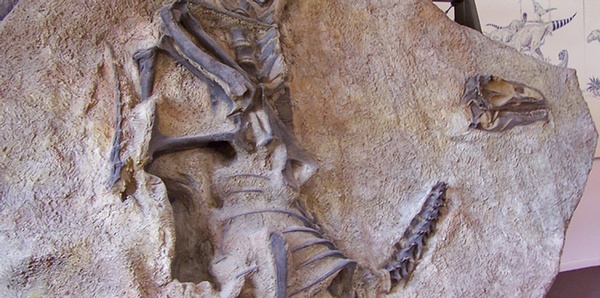 Adam Larson - 05/11/2023
The prehistoric past can perk up the present. When woolly mammoth bones were found in my hometown in Wisconsin years ago, they became the centerpiece of one of our local museums. Today, they continue to attract visitors and serve as one of the city's informal symbols.
Unfortunately, the story across much of the fossil-rich West is more abandonment than local fame. During the late 19th century, paleontologists made huge finds in the region, excavating specimens of famed dinosaurs like Triceratops, Stegosaurus, Diplodocus and Allosaurus.
But like many would-be movie stars, the bones ended up leaving their rural sites to find fame in the big cities. Left behind were holes – literally.
It took time for the West to stake its claim to keeping some fossil finds at home. Countless fossils, for example, have been exhumed in Wyoming since the late 19th century, but the University of Wyoming Geological Museum in Laramie didn't have a single mount of a Wyoming dinosaur until 1961.
One reason was money. Even today, a town might be located right next to spectacular fossil sites, but limited municipal budgets can make it hard to keep the lights on in a museum.
Yet everyone benefits when at least some fossil finds stay put. In many cases, they are discovered not by paleontologists but by ordinary citizens. In 2006, oil workers in Wyoming happened upon giant white bones, recognized their importance and called in experts. The bones were part of an enormous, 11,600-year-old Columbian mammoth.
Thankfully, that mammoth is now on public display at the Tate Geological Museum in Casper. The landowners whose property contained the mammoth bones thoughtfully chose to donate them.
Once in local museums, fossil displays give people in the area examples of the bones they might come across, and a place for them to contact if they find something unusual. When locally found fossils stay local, they also connect people to their prehistoric heritage and encourage them to donate discoveries to local museums.
But there's more: fossils help the local economy by attracting visitors. Once local museums start drawing a crowd, they can help pay for themselves while also indirectly contributing to schools and roads. According to the Americans for the Arts, tourism from museums and other cultural nonprofits generates $5 in tax revenue for each dollar they receive in government funding.
Thankfully, a lot has changed since the first fossil hunters descended upon the West in search of prehistoric dinosaurs, mammals and more. Fossil fans in the West no longer have to travel hundreds or thousands of miles to see incredible discoveries in their home states.
For example, in Ekalaka, Mont., population 399, the Carter County Museum hosts an annual "Dino Shindig," which attracts paleontologists from across the country and hundreds of other visitors.
As Carter County Museum director Sabre Moore told the documentary series "Prehistoric Road Trip," the Shindig shares groundbreaking science and includes the landowners who made the discoveries possible.
At the Wyoming Dinosaur Center in Thermopolis, population 2,725, visitors can see fossils of dinosaurs large and small, tour active dig sites and even take part in the digs themselves.
"I like that we're a destination for folks coming to Thermopolis," Levi Shinkle, collections manager at the Wyoming Dinosaur Center and a Thermopolis native, said. "We're a small museum, but we're often in the same conversations as the large museums."
In North Dakota, the State Fossil Collection is on a quest, in the words of founder John Hoganson, to put "a fossil exhibit in every town." The program has helped put up more than two dozen paleontology and geology exhibits across the state, from Pembina, population 512, to Lidgerwood, population 600, to Bowman, population 1,470.
Sharing a home where the dinosaurs once roamed definitely adds to local pride. When the Museum of the Rockies in Bozeman, Mont., obtained a second large Tyrannosaurus rex, it put the second one up on display in the museum as "Montana's T. rex," and they loaned the other to the Smithsonian in Washington, D.C., where it's now known as the "Nation's T. rex."
Sharing the riches of the West's past – right here in the West – enriches everyone.
Adam Larson is a contributor to Writers on the Range, writersontherange.org, an independent nonprofit dedicated to spurring lively conversation about the West. He is a former editor of the Wyoming Dinosaur Center's newsletter.
11/30/2023

We may sound like a broken record (if anyone remembers what a record is) but some things bear repeating: winter wildlife closures on certain public lands in Durango go into effect starting Dec. 1. The closures will remain in effect through the end of April to protect wintering deer and elk who have a much harder time surviving than you with your down puffy, warm house and stocked fridge. Just saying.
11/16/2023

KDUR's Cover Night returns this winter, featuring the music of Neil Young
11/09/2023

What's the status of the Hesperus Solar project?
11/02/2023

How Christmas turned into a four-month affair
Read All Stories in the Pole