Ask Rachel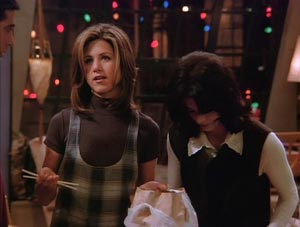 Dear Rachel,
I have a horrible confession to make. Every year during the family get-together, I fake my period. I start complaining maybe two days before so my kids and my hubby can note my distress. Then, anywhere from 30-45 minutes into the family get-together, I excuse myself and head home to a carton of egg nog and a flask of Jack. It's my holiday gift to myself. So I'm wondering, can you recommend anything else to make my me-day even merrier and brighter?
-HoHoSolo
Dear Menstrual Krampus,
My god. You're like the Grinch, only more magnificent. He stole Christmas from the Whos. You're stealing Christmas for yourself. I think this plan of yours is a more genius way to escape the fam than the traditional let's-go-to-a-Christmas-afternoon-movie. Honestly? The only ways I can see to improve your day are a second carton of nog. And maybe some lactose pills.
– Bottoms up, Rachel
DearRachel,
I am fed up with Christmas cards that arrive at my house showing smiling faces of people I hardly know, babies I've never met, and cats I'll never pet. I'm supposed to feel touched that someone thought of me during the holidays. But these atrocities always arrive with computer-printed address labels and not so much as a hand-scrawled signature. What is wrong with people who can't send a simple card with at least your name personalized on it?
– Photo-Bombed
Dear Current Resident,
You're thinking about this all wrong. You're being given the perfect opportunity to pretend you are far more social than you are. Most of us are stuck buying picture frames and leaving in the photos of the models if we want our home decor to appear non-psychopathic. You, on the other hand, have a custom-made refrigerator mosaic that will last you the whole year through (or even longer if you cover up the "2018" with fridge magnets). It's the gift that keeps on giving.
– Say cheese, Rachel
Dear Rachel,
The deer in my neighborhood have killed at least two dogs now this year. I know we're supposed to live in harmony with the wildlife, and I'm as pacifist as any non-vegan, but this situation is getting seriously out of control. Heck, I would run over the deer myself, if I could afford the body shop repair fees. Is there something I can do to deter these pests from town, or at least keep them away from my own dog's yard?
– DeerHunter
Dear John,
Well, this decidedly holiday-flavored Ask Rachel just took a turn for the morbid. I'm with you that the deer are menaces (unless they're not, but you never know from moment to moment). They're really dangerous in mating season though. I can't authorize you to shoot them or run them down like Santa's retired reindeer. But maybe you can fake a period. That seems to keep all kinds of trouble at bay.
– In heat, Rachel