Ask Rachel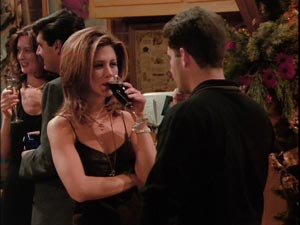 Dear Rachel,
With all the remakes and sequels getting made, I'm wondering when we'll start to see the slate of John Hughes remakes. I've started to realize that dude had his hands on every '80s movie ever made. And even if this is sacrilegious, let's be honest ... a lot of his work is due for an update. I mean, you can't even watch "16 Candles" in public anymore, between the overt racism and the date raping.
- Hughes With Me?
Dear Retread,
You also can't watch "16 Candles" in public anymore because of copyright laws regarding public performances of commercial works. But your point stands. I recently rewatched "16 Candles" for the first time in a lot of years, and I think I understand why women experience such a constant mind-f—. We grew up on this crap! Rather than remaking them all, let's just let them fade into the sunset. Except for "Home Alone." That was Hughes' finest hour.
– Thirsty for more, Rachel
Dear Rachel,
I can't be the only one who received gifts I'll never wear, never use and never want to see again. Is there a statute of limitations on these things? Like, do I need to ensure that the gift-giver sees me wearing these stupid shirts at least once before I can drop them at the thrift store or try to return them without tags or receipts? Or can I just clear out my life now and start the new year fresh?
– Ungrateful Bastard
Dear White Elephant,
As the gift-givee, you have full ownership of whatever you received. I say clear it out now, or else it'll become one with the back of your closet, and you'll be stuck with it the next time you move. Unless, of course, these gifts are distinctive, like a hand-embroidered poncho from your Aunt Petunia. Then you have to be careful not to take it to the same thrift store she frequents. You might even have to donate it out of town.
– On the road again, Rachel
Dear Rachel,
I dislike New Year's resolutions. The new year is a totally arbitrary time to decide to
change your life, and the resolutions never stick. The only resolution I want to make is not to make any resolutions. But in sticking to my resolution, I've already broken my resolve not to have any resolutions. The paradox is making me start to question my own existence. And that's no way to start a new year. Help!
– Philosophically Quandaried
Dear Deep Thinker,
You say you want no resolution? Well, you know, we don't all want to change the world. You tell me that it's no solution? Well, you know, we don't all want to change the world. But when you talk about deconstruction, don't you know that you can count me out. Don't you know it's gonna be all right, all right, all right. Now, if you got a real solution, well, you know, we'd all love to see the plan.
– I can make remakes too, Rachel