Ask Rachel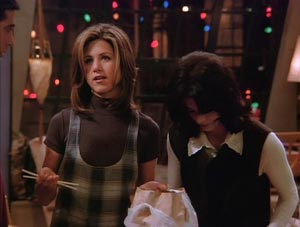 Dear Rachel,
As cold and flu season rolls in, I'm willing to do just about anything to prevent myself from catching the bugs. I can't believe that things like crystals or sage-burning do a darn thing, but my friend swears by onions. Not eating them, just putting them around the house like she's warding off vampires. I'd laugh it off, but I wonder if that mythological vampire bit has roots in reality. Should I give it a shot?
– Flu Bugger
Dear Bad Breath,
Sounds to me like propaganda from the onion union. I mean, putting onions around your house can't hurt, right? Unless you're allergic to onions. Then it might hurt a lot. I must say, it's possible the onions would make a difference. At least, I've never read a study that said they don't work. Kind of like how you can't prove to me that aliens don't exist, or that Roseanne and Rosie O'Donnell aren't the same person. That said, maybe you should just get a flu shot.
– Doctor recommended, Rachel
Dear Rachel,
Are you familiar with the graphic that depicts the right of way on trails? Bikes yield to both people and horses, and people yield to horses. Where do dogs fit on this graphic? And would dogs even be able to understand it? Seems like bikers should yield to dogs, because bikers not yielding to dogs means I now have a dog terrified of bikes. But maybe they ought to yield to people? Who outranks the other, dogs or horses? I'm struggling to sort it out.
– Wrong of Way
Dear Traffic Jam,
Let's disregard that dogs are supposed to be on leashes. Because if we're honest with ourselves, Durango dogs don't even have leashes. I say dogs should yield to everyone. And not because they're bottom beasts on the totem pole. But because every dog I've ever hiked with spends more time rummaging through underbrush and digging up ground squirrels and rolling in cow turds than actually, you know, walking on the trail. Bikers should still yield anyway, though, because scaring dogs is just wrong, man.
– Share the trail, Rachel
Dear Rachel,
I'm getting tired of feeling like I'm supposed to leave a review for every little thing. It was OK when my only reviews were on eBay. Now, you can review every restaurant, every Airbnb, every haircut. It's ridiculous. I choose not to review, but honestly, I'm fascinated by all the people who do it. Who has that much time? Who feels the need to give a rating to every hamburger they ever eat? And most of all, why?
– Five Star Bewilderment
Dear Reviewer,
Sure, it's ridiculous. But it's also performance art. I have a relative, married into the family, who reads aloud one-star reviews of strip clubs in Vegas. If you haven't read these, you really should. Tales of robbery and deceit. Reports of ugly strippers and uglier bouncers. Rooms where the bright lights are accidentally turned on for fleeting moments. Let's just say, if there ain't onions out in these places, they definitely couldn't hurt.
– One star, Rachel