Ask Rachel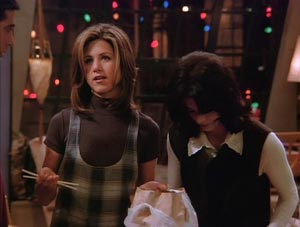 Dear Rachel,
I'm preparing myself for Wimbledon. Got the fridge stocked with strawberries and cream and whatever the hell Pimm's is. But even though I'm balls about tennis, I have no clue what the scores mean or why they're so jacked up. Love-15-30-40? Deuce and advantage? How does this happen in an otherwise value-driven world? It makes no sense, and I'll enjoy life better knowing why it's the way it is.
– Love All
Dear Hawkeye,
What are numbers, anyway, but arbitrary assignations to make sense of quantity in a qualitative world? Sure, you can get all reasoned about your "math" and your "logic," but really, even those are constructs made up by our monkey brains to make sense of this illusion we call "life." That's why I can get behind any counting system that includes "love." Everything starts with love, babe. The sooner you accept that, the more joyful you'll be.
– New balls please, Rachel
Dear Rachel,
The posted signage along the rail-road tracks through town leads me to think that anyone walking on
the tracks is trespassing. But rail-road tracks are made for walking down. Ideally with a bindle and a harmonica. And I see people on the tracks every time I walk the river trail. Is this whole "trespassers will be prosecuted" thing an empty threat? Or are there really secret railroad police lying in wait to ambush unsuspecting ramblers all the livelong day?
- Casey Jonesin
Dear Chattanooga Coocoo,
No one takes posted signage seriously.
In this case, the "No Trespassing" signs are a primo example of covering-your-butt: if you get flattened by the Silverton train, the railroad can put both hands in the air and say, "We told him not to trespass!" Incidentally, this is true for most posted signage. Except that whole "no shirt, no shoes, no service" one. Believe me, I know.
– Dinah won't you blow? Rachel
Dear Rachel,
I grew up with the Teen-age Mutant Ninja Turtles. Not literally, of course – the turtles are way too busy and immature to raise a heathen like me. But I lost touch with them around 1993, and then I apparently found a really comfy rock to live under, because the Turtles did not fade away like I figured. I've missed something like three animated series, not to mention an entire generation's worth of tie-in merchandise. Bring me up to speed, dudette!
– Hero in a Half Shell
Dear Turtle Power,
The last caller used "Casey Jonesin" and now you're asking about the Ninja Turtles. Coincidence? Dude, I hope so, because if I'm to trust in the bodacious synchronicity of that juxtaposition of TMNT characters, then I need to jump on eBay to replace the April O'Neill action figure my dog ate. As for bringing you up to speed, you're out of luck, man. I discovered sex, drugs, and rock & roll well before the Turtles finished their first run. Might I suggest this place called the internet for all your mutant needs?
– Cowabunga, Rachel