Ask Rachel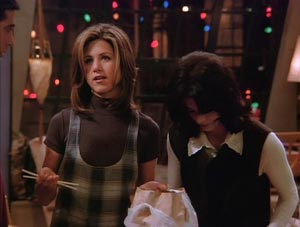 Dear Rachel,
Cell phones are not a new thing. Neither is cell phone etiquette. So how the hell do people still forget to silence their cell phones at appropriate times? I'd get annoyed if someone's phone went off in the movie theater. But I was at the George Winston show, and as the final notes of the final song were ringing out, "DING!" goes some dingbat's phone. How do we change people to be decent, Rachel?
– For Whom the Phone Tolls
Dear Uncommon Decency,
The short answer? You can't change people. You can only incentivize them to change. Which is why I propose a cell phone surcharge for any public venue. You can use your phone, if and only if, you pay a hefty privilege fee that will buy everyone else in the venue an alcoholic beverage. That way, when your phone goes off during the eulogy or the encore or the trailers, everyone else can spill their drink on your head.
– It tolls for thee, Rachel
Dear Rachel,
Here's one that has bugged me forever: the unrealistic sitcom paradox of a fat shlubby husband and a hot, skinny wife. Are we supposed to believe that slovenly, lazy and un-funny Jim Belushi is actually married to that hot chick from "Melrose Place"? OK, I know this is a dated example, but it's just the most egregious case. Typically, in real life, there are trade-offs for such looks disparities, you know, like money, humor or mad skills. But most of these lame TV husbands have none of these as far as I can tell. These poor women – won't someone in TV land release them from these depressing life shackles they're confined to?
– Desperate Housewives
Dear Regina Ebert,
I hear you! Of all the big'n'tall hubbies, John Goodman on "Roseanne" was the cream of the crop. If anyone should have landed a hot blonde whose name you can't remember without going to IMDB, it's him. But, with all these made-for-TV pairings, I think we're supposed to take away that "looks don't matter" and believe that these wives see something true and good in their spouses. Really, though, all I take away is that TV execs are shallow a-holes.
– After these messages, Rachel
Dear Rachel,
There's this idea going around that Millennials are killing everything. Millennials are killing the doorbell. Millennials are killing taxi companies. Millennials are killing processed food. But I have a counterpoint: It's hipsters who are killing everything. I love practically everything hipsters stand for, from vinyl records to handmade craft board games. But put it all together in the hipster package, and it turns into eau de douche. How does this happen?
– My Favorite Things
Dear Raindrops on Roses,
Wax on mustaches and tailor-made work boots, bright copper bicycles and faux retro zoot suits. Too much pretension and "I saw it first." This is why hipsters are always the worst.
– Now I don't feel so bad, Rachel