Murals in action
Local artist, known for public art, gets first gallery show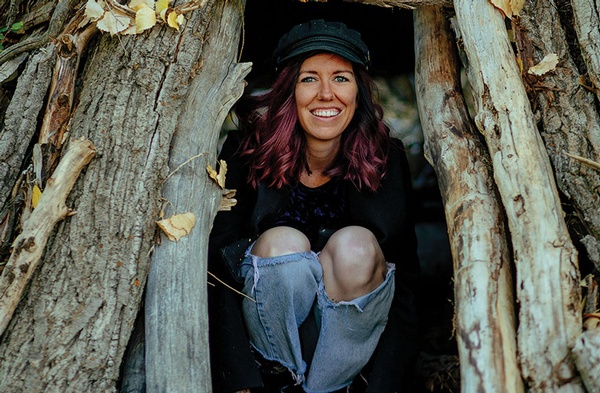 Stephen Sellers - 03/10/2022
I first met Monica McManus outside of Jimmy's Music last summer in between sets of a Six Dollar String Band show. She had graciously accepted one of my former students as an intern to help with a mural, and I wanted to say thank you.
We hit it off. She was bright, colorful, curious and spoke through a disarming smile with authenticity and humility. Monica is one of Durango's most prolific muralists and sign painters, among other talents. You can see her work in the iconic Welcome to Durango Mural on North Main, Switchback's patio, 2nd Ave. Sports and even atop Famburger, just to name a few.
This month, Monica is sharing a more personal and experimental side of her work at Studio &'s Recess Gallery. As such, I sat down with Monica to learn more about her journey to becoming a full-time artist and capture a brief moment in time with one of Durango's most underground, community-driven and badass artists.
So, where did you grow up?
I grew up in Durango. My parents met here in the '70s, because my mom's brothers and my dad were all hang gliders together. Mostly off of Smelter and other places. My mom would drive them all around. And that's how they met. They moved to Phoenix right before I was born. When my mom found out she was pregnant, my dad was like, "We're dirty hippies, and I need a better job. Let's move to Phoenix." And then we moved back to Durango after I was two to be closer to family. I went to middle school in Aztec, but while still living in Durango because of my dad's job.
What was school in Aztec like?
I remember a sheep being born at school. We left class to watch a sheep be born in a field.
How would you describe yourself as a student in high school?
Definitely the art nerd. I was obsessed with it. I basically lived in the Art Hall with all of my art friends. I didn't know what I wanted to do because I wanted to go to school for art, but I didn't believe you could really be an artist. I didn't really want to be an art teacher, even though that's the direction I went in. And I didn't want to do graphic design, because I was gung-ho on tactile art and thought, "Computers are the death of art!" at that point in my life. But, that's just teenage angst. That changed.
What excites you about murals?
It's a community project that tons of people get to see that's huge and colorful. It engages people of all different backgrounds. You can perform them in a way that a lot of people can help, involving kids and the youth. Anyone who walks up really!
You're in the Studio & Recess Gallery this month; congratulations!
Thank you! This is my first gallery show. I think because a lot of my work has been commission-based over the years.
Once I learned how to value myself I realized, "OK, people want to pay you to do this stuff, because they can't do it!" The Recess Gallery was awesome timing. At the time, I started visiting my aunt and uncle in Taos after he was diagnosed with Alzheimer's. He, being an art professor his whole life, has the amazing abstract art brain that I've never really related to. And, he'd ask like, "What are you working on right now?" "Oh, this project for so-and-so." And he's like, "What's the meaning behind it? Why is it special?" And, I'm like, "Uh…It looks cool!"
How many pieces are there in all?
Five. I ended up using gold leaf and enamel on glass for all five. I layered them all in similar ways, but each one has a totally different little statement that I put on the back. If you take apart the frame, there is a deeper thought behind it. They were words that kept coming up in dialogue with friends and internally. I wanted to focus on deeper conversations and the idea that we are deserving despite mistakes we've made. Going deeper into down times. Not feeling stressed to work all the time. Being OK with that. Almost meditating and allowing a deep gaze or stare. Giving more time to hobbies and things you want to do. Finding paths to get you to the places you want to go. I painted the background with real intention. Not just to be pretty. Some are kind of scary-looking. That was kind of part of the whole journey to get to those pieces for me. Not always pretty. Scary sometimes,
---