A higher calling
Climber's Beer Night not just about fun and games, but activism too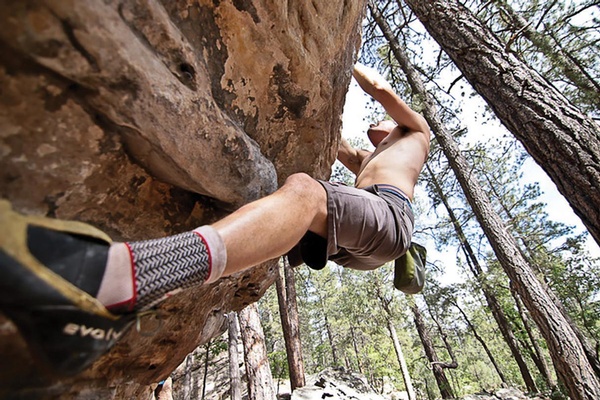 John Rhoades - 06/22/2017
Want to grab a beer and help protect public lands all at the same time? For those that go to the Climbers Beer night at Carver Brewing Co. the questions are one and the same. The quarterly Beer Nights bring together local climbers to talk, drink and form a community that is committed to local causes.
"These people are a little group of climbers that love this little group of rocks," Tim Foulkes, a sometimes MC for the event, said.
The regular gatherings started a few years ago (no one's really sure of the exact date) as a way for climbers to chat, founder and local author (and Telegraph columnist) Luke Mehall said. The nights were originally about getting Durango's community of climbers together under one roof for an evening of camaraderie. "(Beer Night) started with the idea that people need to get together and talk," said Mehall, "There's a lot of local climbers here who don't know each other."
In addition to rock networking, beer nights include competitions, storytelling and movie screenings. But perhaps the most important aspect is the prize drawings and beer sales, which provide donations for causes that are directly important to Durango's climbers. Carvers donates a dollar from each beer sale during the event to an organization picked by the event's organizers. With the success and growth of past beer nights, these evenings have become a bit of a local fundraising phenomenon.
Overall, according to organizers, the nights have raised a few thousand dollars for causes near and dear to local climbers' hearts. "It's a drop in the bucket," said Mehall, "but I think it's important as a gesture as a community."
Proceeds from past beer nights have gone to supporting Utah Open Lands, Friends of Indian Creek, as well as the Access Fund, a national advocacy group for conserving U.S. climbing areas. "We try to find groups that benefit climbers locally," said Mehall.
For the organizers and rock jocks alike, events like Beer Night have become more important than ever. With recent moves by U.S. Secretary of the Interior Ryan Zinke to limit public lands established during the Obama presidency, areas that climbers love may be at risk. "Groups like the Access Fund are more important now that we don't have a leadership that values these areas," said Mehall.
Interior Secretary Zinke made shock-waves earlier this month with his proposal to shrink the size of southeastern Utah's Bears Ears National Monument, which is home to the climbing mecca of Indian Creek.
"Instead of reinforcing America's conservation heritage, Secretary Zinke is recommending President Trump take actions that are both unprecedented and illegal," Jennifer Rokala, executive director of The Center for Western Priorities, said in response to Zinke's proposal.
While the 1906 Antiquities Act gives the president powers to create national monuments, it doesn't allow for the president to eliminate these areas, that power rests with Congress. However, Secretary Zinke wishes to utilize a clause in the Antiquities Act that maintains that protected areas must conform with the "smallest area compatible" to protect that area and the historical and culturally significant objects within. If that argument holds water, much of the land preserved by Obama and other presidents could lose its monument status.
But for organizers of Beer Night, like Brooke Ingle, these threats have only hardened their resolve. Ingle believes that work needs to start at a local level. "We have to work to swing the national vote," she said.
One of the great successes of the beer nights has been its local connections. Ingle remarks fondly that there has been "so much support from the community." Local sponsors like Pine Needle Mountaineering and Mehall's own publication, The Climbing Zine, have consistently helped put the nights together. But other big-name sponsors have also helped out. The next Climbers Beer Night, next Tues., June 27, from 6-8 p.m. at Carvers, will have prizes from Black Diamond, Osprey, Scarpa, Metolius Climbing, Fiveten and others.
But the prizes aren't the only reason to go. The activities at the beer nights are not to be missed. Past evenings have included blindfolded belay competitions, story-telling, writing love letters to climbing, and the upcoming event next week will have a rope coiling competition to see who can coil the fastest. The organizers have also screened movies like "One Year Later," by director Nick Chambers, which followed 23-year-old local climber Rosa Malloy-Post after she suffered a climbing accident that left her paralyzed from the waist down.
"My favorite event has to have been the love letters to climbing," said Foulkes. The love letters were typed on typewriters brought by Mehall.
The beer nights have been so successful in Durango that other climbing communities have been inspired as well. According to Mehall, the Gunnison offshoot broke the Durango branch's fundraising record in one night. A group of climbers in Telluride are rumored to want to start their own as well.