Changing of the guard
Local artist, businesswoman Brenda Macon takes reins at DAC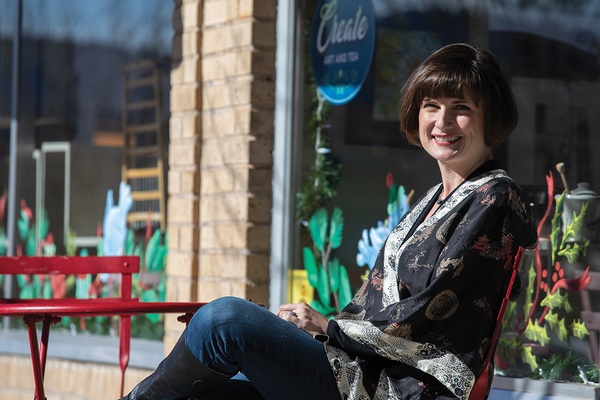 Stew Mosberg - 11/29/2018
With the recent naming of Brenda Macon as executive director of the Durango Arts Center, it might seem as though there is a change in the upper management every couple of years. In fact, in the past 10 years, there have been more than a half dozen interim and full-time directors. Albeit, it is not unusual for small town non-profit arts organizations to experience high turn over, and the DAC fits the profile.
The DAC has always struggled to make ends meet, making it hard to compete with staff salaries and benefits offered at large, big city institutions. That the center continues to function, and indeed grow, is a tribute to its Board of Directors and the previous directors. The director position calls for a hands-on, day-to-day leader who can inspire staff and a cadre of volunteers, interact positively with the board, conduct community outreach, and seek funding from grants and private donations.
The position opening was advertised nationally at the end of May, and by early June the DAC had received 50 replies from seven states, with three coming from Durango and one from Pagosa Springs. According to DAC Board President Kristina T. Fox, qualified candidates met with the interview committee, and the best of them, proceeded to a second interview with the committee, as well as community members, DAC sponsors and donors.
"This is a big job with many moving pieces," Macon admits. "It seems to have taken (the DAC) time to establish just what the executive director position needs to be. There was some discussion that in the past the leader needed to be operations-focused, but now that there is such a strong staff in place, my role is going to be more geared toward visioning work with the community and putting the right resources together to move the organization forward."
A Durango resident since 2005 by way of Ann Arbor, Mich., Macon was prompted by a friend to apply for the position. She met with the board three times and unabashedly admits, "I fell in love with them." She hopes that connection will go a long way in getting things accomplished.
One welcome element is that Macon, among her other attributes, is a working artist with a fine arts background and has taught art since moving here. That will likely please many local artists who have long felt disenfranchised by the DAC.
To subsist as a culturally driven nonprofit in Durango requires appealing to many tastes and agendas. There is an educational aspect, both for adults and school children, a theater and performing arts contingent, plus festivals, and the ubiquitous fundraisers.
Although the job description is a tall order and few are capable of wearing all the hats, it would appear Macon has all the qualifications to expand on the foundation laid by her predecessors, Sherry Rochford-Figgs and Cristie Scott.
Macon expects her expertise as a mediator, educator, painter, businesswoman and grant writer will give her an advantage in the new post. Whereas those skills were employed individually throughout her career, the DAC opportunity offers her the chance to use them all concurrently.
As a mediator she learned to interpret similarities in people's arguments and find common ground. She acknowledges this will come in handy during her first three months, which she plans to spend gathering information and forging relationships with the staff, board and outside influencers.
Another major item on her agenda is to help in establishing Durango as a creative district in what will be a one-to two-year process, she said. Macon along with Monique DiGiorgio, from Local First, as well as other advocates, anticipates becoming a designated creative district will have wide ranging economic and social impact.
Overseen by Colorado Creative Industries (CCI), an arm of the Colorado Office of Economic Development, the program was created in 2011 to foster the arts and bolster local economies. Creative districts are eligible for grant funding, technical assistance, training and advocacy tools. Since 2012, in conjunction with the Boettcher Foundation, CCI has established 23 creative districts around the state, including Crested Butte, Telluride, Mancos and Ridgway.
Looking more short-term, Macon said 2019 could see some other big changes for how people perceive the Arts Center as well. "The (board's) five-year strategic plan has earmarked 2019 as a year for considering a re-brand of the DAC," she said.
Re-branding, as she sees it, will involve surveying stake-holders and conducting a community outreach to determine what will best serve Durango and also set new parameters to make the center more approachable and homogenous. As an example of how the value of art and culture is viewed by other towns, Macon cited the minimal amount per capita spent on art by Durango versus other communities. An extreme illustration of that discrepancy is the difference between the Town of Breckenridge's expenditure of $540 per person, as opposed to $1 per person by the City of Durango. "We need to think bigger. Art is needed now, more than ever," she declared.
In recognizing our area artists, Macon said she wants to address their needs and find ways to help keep them in Durango. "I hope to offer our local talented artists a central hub and gathering place to showcase themselves and advocate for one another," she said.
Daunting as the job may be, Macon views challenge as an opportunity and muses about finding enough hours in the day to do it all. "The stronger our collaboration and commitment to working together to put Durango on the map as a creative and forward-thinking place, the more successful we will all become," she said