Following in the footsteps
Frank Lister carries on family tradition with re-release of Hillerman Indian Country Map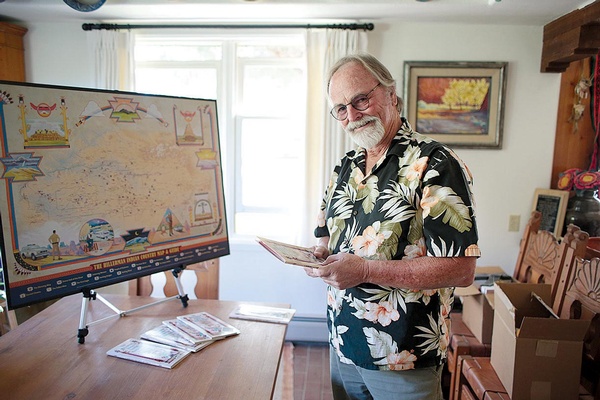 Joy Martin - 09/28/2017
Frank Lister grew up playing among potsherds and Anasazi dust at Mesa Verde National Park.
In the Indiana Jones era of archaeology, he tagged along with his pith-helmeted parents, celebrated archaeologists Bob and Florence Lister, to dig sites across the globe.
His parents' love affair began in Chaco Canyon in the 1930s. Bob was a founder of the anthropology department at the University of Colorado-Boulder, and Florence was a stalwart California girl trying to earn an anthropology degree at a time when women were expected to be in the kitchen.
While Bob, a salvage archaeologist, is remembered for such feats as carefully removing and preserving Ancestral Puebloan artifacts from Glen Canyon before it was flooded, Florence had to work a little harder to earn her legacy in the male-dominated field. She's remembered for saying that the only way for a woman to become an archaeologist in the 1930s was to marry one.
But she wasn't too long in the kitchen. Florence spent hours dusting and classifying potsherds pulled from Bob's sites. While she eventually became a leading expert in ancient pottery, Florence is most praised for her exciting, accessible archaeology writings. Before she passed away at her home in Mancos in 2016, Florence published more than 40 works.
All the while, Frank and his brother, who were raised in Colorado, rode the canvas coattails of these two, their imaginations stretched from the cliff houses of Mesa Verde to the ruins of Mexico. Their father was a mapmaker in World War II, so it was little surprise when Frank started sketching maps at the age of 14. Sometimes, his dig site maps were touched up a bit and used for scientific research in archaeological reports.
At the age of 16, Frank served as a cartographer's assistant at a dig in Northern Africa for a year. When he returned to Southwest Colorado, he honed his skills mapping archaeological sites on the Southern Ute Reservation and at Mesa Verde and the Ute Mountain Tribal Park, which he helped establish in the 1970s. After earning his masters degree in agricultural education from the University of Arizona, Frank was itching for a way to get back to Colorado. He eventually found his golden ticket in mapmaking.
In 1995, the mustachioed motorcycle man moved to Mancos and launched Time Traveler Maps. These "the-matic maps" are so much more than way finders; they're works of fine art, sparks for road trippers and arm chair travelers alike. Frank takes up to three years crafting these colorful masterpieces, partnering with expert illustrators, writers, designers, cartographers, printmakers and others.
"Creating and designing these projects is where I get my jollies," says Frank.
While very few understand prehistoric Puebloan archaeology like the Lister clan, no other contemporary writer knows the Southwest like the late Tony Hillerman. For nearly half a century, Tony's remarkable storytelling has helped shed light on the fascinating culture, haunting landscape and profound history of the American Southwest.
Family friends of the Lister family, Tony worked with Frank to create the Hillerman Indian Country Map & Guide to accompany Tony's beloved mystery series. The first edition came out in 1998, which, by the time it was out of print in the early 2000s, was worth nearly $1,500 a copy.
Alas, Hillerman fans, there's no longer a need to go hunting for the first edition. In August 2017, Frank released an updated Hillerman Indian Country Map & Guide, now featuring the works of both Tony and his daughter, Anne.
After Tony's passing in 2008, Anne picked up the torch and blazed forward with three additions to the chronicles of captivating crime fighters, Jim Chee, Joe Leaphorn and Bernie Manuelito. Anne's pen and prose have proven she's more than capable of continuing the Hillerman heritage with skill and style. The updated Indian Country Map & Guide includes plot locations of her latest release, Song of the Lion.
This fold-out map serves as a guide for readers to follow the crime fighters through the heart of Indian country. Illustrated by Peter Thorpe, the 2017 edition includes more than 80 plot locations from all 20 Hillerman Indian Country mysteries, spanning from the Grand Canyon in the west to Chaco Canyon in the east
and beyond. Most importantly, no secrets are divulged, so readers are invited to tag along as the mysteries unfold.
"The trick is to not give away the story," says Frank.
When readers aren't caught up in the canyons, ruins, towns and dustyscenes of red rock country, they can fold the
map down to a hard-cover booklet and store in the glove box for Four Corners exploration or quick reference and added depth to fictional and real-life adventures on the Colorado Plateau.
The Hillerman map is now on sale for $19.95 and can be bought online at TimeTravelerMaps.com, Amazon and, by request, at your local bookstore. Besides breathing new life into a Southwest classic, Time Traveler Maps also donates a portion of the proceeds from the Hillerman map to the nonprofit Cottonwood Gulch Expeditions, an experiential learning program based out of northwest New Mexico at the base of the Zuni Mountain, that keeps young folks connected to Indian country's cultures and landscapes.
Because, at the end of it all, Frank's greatest passion is to follow in his parents' footsteps, preserving the cultures that came before us. His Navajo Nation maps, in particular, are used to generate conversation between generations and act as a cultural preservation tool. These maps are a way to capture the language and locations that shaped one of America's most fascinating, misunderstood people.
Little did I know that Frank's Colorado Plateau Time Traveler Map has been hanging on my wall for a few years now. This map is a marvelous relief image of more than 40 national monuments, recreation areas and parks around the Four Corners. He updated the map in 2016 to include even more treasured secrets in our back yard.
"There are more public lands on the Colorado Plateau than anywhere else on the planet," Franks says proudly. His favorite spot of all? Muley Point at the top of the Moki
Dugway, west of Mexican Hat. From dust he came, and to dust he shall return, but till then, Frank will keep time traveling. And making sure the rest of us are welcome to the same simple joy.
---