Have smartphone, will hashtag
App-based event the new frontier in multisport adventures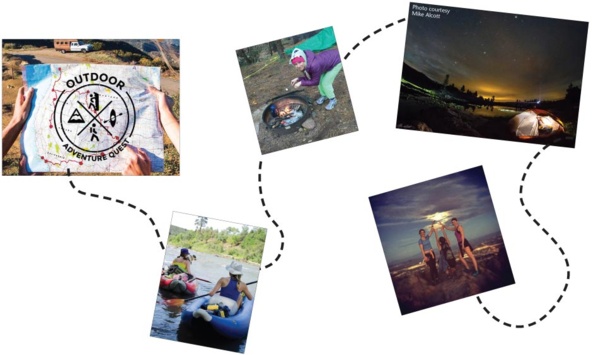 Joy Martin - 08/04/2016
As if we needed another excuse to go outside. But, alas, a new-fangled alfresco craze is sweeping the purple mountains majesty. Cue booming British narrator voice: Outdoor Adventure Quest is coming to a town near you.
Created by 34-year-old entrepreneur Lindsey Beres, Outdoor Adventure Quest (OAQ) is an app-based event, heralded as "an epic three-day, multisport, build-your-own adventure challenge taking you on a statewide journey."
"This kind of event doesn't really exist as of yet," says Beres. "There's not a statewide event that you can start and end anywhere that brings together all different sports."
After scrutinizing market trends, Beres chose Colorado as the debut state when the Colorado Tourism Office (CTO) got word of her novel creation and its potential economic impact. According to the tourism office, OAQ could generate $1.34 million in tourism.
"Colorado jumped on it," says Beres. "Not only do they have the population to support it, but they love the innovation." Besides, touts the OAQ website, "no one does outdoors and adventure like Colorado."
In December 2015, Beres moved to Denver from Flagstaff to work on app construction and partner with organizations to get OAQ dialed.
"I'm kind of a nerd about that local stuff, so I've picked all Colorado-based sponsors," says Beres.
Nearly 25 sponsors are attaching their names, gear and beer to OAQ, including Honeystinger, Big Agnes, Hala, Smartwool, Go Breck, the Durango Area Tourism Office and, of course, Ska Brewing.
"We mostly just want to support the event itself," says Kristen Muraro, Ska's marketing director. "(Beres) has the energy and motivation to make it happen, and her efforts tie in with what we like and why we originally canned our beers ... so you can take 'em hiking, rafting, skiing, whatever the adventure is."
For the inaugural OAQ event in Colorado Aug. 26-28, Beres anticipates at least 5,000 participants, also known as "Questers."
Besides getting in touch with upstanding, reputable local newspapers, Beres isn't using any traditional media, like billboards or radios. Rather she's going totally millennial, relying on the power of social media takeovers and hashtags, namely #QuestWithUs, or, for the brewery sponsors, #DrinkWithUs.
The registration process is painless. Apps, after all, are designed to make our lives easier. Visit outdooradventurequest.com on your mobile device, download the app, and assemble your team of two to six. Anyone 21 or older can sign up – pro athletes, marijuana smokers, Monster-can drinkers, mayors.
"The best team to build would be specialists in different areas so you can share expertise," says Beres. "But it's really an opportunity to get together with a group of friends and share what everyone's good at."
Two days before the event, OAQ will release the challenge list, which showcases over 250 outdoor activities and three skill levels of difficulty. Tasks include hiking, biking, climbing, trail running, camping, fishing, rafting, kayaking, off-roading, horseback riding, archery, parkour, sky diving, sand boarding, rollerblading, skateboarding, yoga, outdoor education and, exclusive to Colorado, hot springs and breweries.
"Get ready for anything," says Beres.
Each task is assigned a point value based on how difficult and accessible the activity. Casual Outdoorsman is a 1, while Adrenaline Junky is a 10. You choose where to go and how hard to push it.
Have a team of kayakers? Crush the entire paddling category. Want to try all things new? Find a pogo stick. Aching to see your fishing friends do yoga while you sling arrows? Also an option. Not sure what an outdoor education challenge is? Me neither. Go get 'em, brainiacs.
"There are random, cool tasks to do, like on Mount Lindsey, which we've named The Founder's Peak because that's my name ... you hike to the top and take an OAQ banner and take an awesome photo. Or hike to Pyramid Point and make a human pyramid on the top."
Another brewery sponsor, Denver Beer Co., has created a five summit challenge where you drink a beer on each peak. But of course you aren't required at any point in the quest to consume alcohol. Especially if you're the DD, duh.
So peruse the challenges, grab your gear and at midnight Aug. 26, off you go. You're now officially a Quester. Time's up at 11:59 p.m. Aug. 28. "We suggest your team piles into one car for maximum road trip fun and environmental friendliness," shares the OAQ FAQ page.
As you knock tasks off the list, log points by uploading pictures or videos of the challenge you've completed. So long as OAQ can access your location, accurate records shouldn't be an issue as each task is assigned a GPS coordinate. "That tells us if someone's actually at that site taking a picture or on the couch trying to use old photos," says Beres.
In the outlandish scenario you experience technical difficulties or don't have service out on the trail, shoot OAQ a message on Facebook and they'll call you ASAP.
And while you hashtag the heck out of your photos on social media, know that victory might be yours.
There are four ways to win: accumulate the points; accomplish at least one task in every single category; win the photo competition; or capture the staff
pick for creativity. Overall winners are announced the Friday after the event.
But the ultimate prize is the journey itself, am I right?
After all, the social component of OAQ is why Beres designed it in the first place. Spurred from her desire to join trail running friends on their athletic pursuits but not wanting to run herself, OAQ was originally fashioned to solve her social problem. She wanted to find an inclusive event that welcomed "outdoor enthusiasts of all levels, from casual camper to extreme athlete."
"I love marketing, and I love the outdoors," says Beres. "When you have a passion for something and you live it every day, why not make that your living?"
A graduate of Northern Arizona University, Beres holds degrees in political science, business and international marketing. In 2007, she founded a digital marketing agency in Phoenix, a profitable venture that is the sole backing of OAQ.
After finalizing a divorce last year, she decided it was time for a change. "(OAQ) was born from a life disaster," says Beres. "I needed to rethink stuff and do something I was uber-passionate about."
So whether you're needing motivation or simply think a road trip to Estes Park or Aspen sounds like the perfect way to send out summer, OAQ might be your hot ticket for building fresh memories with friends.
And if I know Durangoans, someone will figure out how to do OAQ on 100-percent manpower, win the whole thing and get a last-minute invite to the Olympics. If anything, you'll have the opportunity to create new Strava segments.
For more info, go to: www.outdooradventurequest.com. Enter "busqueda" ("quest" in Spanish) at checkout and receive 50 percent off team registration. Or, all Colorado police, fire, EMT and public school teachers can sign up for free by entering "OAQThanksYou."