IT is IN
Coders: the other kind of mountain town server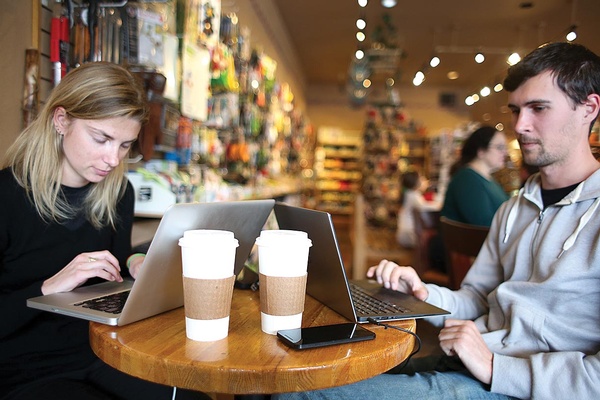 Joy Martin - 03/02/2017
Tired of waiting tables or suffering through a passionless job?
Want to make $$$ and still have plenty of time to ski, bike, watch your children grow, and not be grumpy about cubicle life? While serving pints and pickles is noble, there's another "server" industry that's flooded the Animas Valley: computing.
Research shows that within 10 years, the information technology sector of the U.S. economy is expected to grow 12 percent, including a boost from as many as 25 million software developers world-wide. These IT jobs are well-paying (national average annual income = $80K), intellectually stimulating (duh), famously flexible, and no longer just for Mark Zuckerberg prodigies or Bill Gates savants.
Rather, IT gigs are becoming increasingly accessible to the Average Joe, according to the December 2016 issue of WIRED, which touts coding as the next
blue-collar job. WIRED writer Clive Thompson asks, "What if we regarded code not as a high-stakes, sexy affair, but the equivalent of skilled work at a Chrysler plant?"
For those of you non-nalytical types who go cross-eyed when a computer task requires more than typing into the search bar, a career in coding might not be pulling on the heartstrings. But I've been assured it's really no different from learning a new language or building a house. It's a craft.
"Coding is a creative exercise," Jim Mackay, local entrepreneur and former programmer, says. "Think about it the same way as starting an art piece: begin with a concept, build the framework, and basically hammer through the process of creating. You'll run up against all sorts of road blocks, but in the end, you'll stand back and think how next time you'd do this and that differently."
And forget having to move to the Front Range for this kind of work; there's promising potential right here in Durango's dustier, more fun, adaptation of Silicon Valley. Besides job prospects, Durango's resources abound to help both plebs and wun- derkinds succeed. From a fresh batch of coding courses offered through DurangoLearns to a revamped edi- tion of Fort Lewis College's computer science program coming fall 2017, the tools to cultivate the trade are prevalent.
"If you develop enough talent for yourself, you'll never lack for a job," Daron Clay, a native Durangoan and footloose-and-fancy-freelance software developer, says.
Clay says that, in some ways, learning to code is less sophisticated than learning a new language. The recipe for success is two ingredients: interest and aptitude. To help kids and adults alike discover if their curiosity might uncover a skill, Clay is orchestrating a series of coding courses through DurangoLearns aptly called "DurangoCodes."
"The idea for DurangoCodes has been brewing for a while," Dr. Barb, CEO of DurangoLearns, says. "We aim to fill the need of businesses that need professional and well-trained coders."
The first DurangoCodes course, "Portable Computing for VirtualBox," launches Mon., March 6, with other programming classes and instructors scheduled to enhance the program as the season demands. The only prerequisite for this introductory course is basic desktop computing knowledge.
The ecosystem for Clay's classes is largely Linux-based and designed for the full spectrum of participants, from kids as young as 12 to job hopefuls or folks just wanting to keep up with the latest and greatest in computer technology. DurangoCodes summer camps are also on the horizon beginning in June.
Clay's passion for IT began in the early 1990s when the industry was just taking off. At the time, he'd graduated from Fort Lewis College with a geology degree but couldn't find work in the ever-turbulent oil and gas field. So he switched gears, gravitating toward technology and, ultimately, software development.
His personal journey inspires him to share his 30-years of experience through outlets ranging from DurangoCodes to a home-spun class he conducts for his 13-year-old son and buddies every Friday afternoon.
"Durango is as ideal as any place in Colorado to nurture entrepreneurs," says Clay.
This pro-entrepreneurial mindset reflects in Durango's shiny collection of successful startups, like Vantiv (formerly Mercury), Zuke's and Ska, to name a very few.
Other aids in our flourishing entrepreneurial scene are Durango's many tech pioneers and self-proclaimed nerd groups, like Animas Code Labs, Durango Coders and Durango Tech. For Durango Tech prez Mackay, mentoring is a crucial part to entrepreneurship. To aid early-stage companies, he co-founded SCAPE (Southwest Colorado's Accelerated Program for Entrepreneurs) in 2013. He calls himself a "cheerleader for Durango" when it comes to encouraging local talent.
"We're going for diversification of jobs here in Durango around both entrepreneurial efforts and tech jobs," says Mackay. "We're trying to get away from relying on construction, tourism and oil and gas."
Another way Mackay supports turning projects into profitable businesses is through GoCode Colorado. Brought to fruition by Colorado's Secretary of State, GoCode unites "anyone with a passion for data, development and entrepreneurship."
In 2013, GoCode started the "GoCode Colorado Challenge," which tasks teams across the state with a specific problem to solve. This year's Challenge invites teams to use public data to build an app that'll help Colorado businesses. On the weekend of April 7, teams will gather in Colorado Springs, Denver, Fort Collins, Grand Junction and Durango to present their killer ideas to a panel of judges. The judges will pick the top two regional teams, who will then win a mentoring weekend in Boulder with the other eight teams. The top teams from that weekend compete in a final round, where the three winning teams receive $25,000 each to continue
with their product.
"Think from the perspective of a business decision maker," advises Mackay. "Look at the plethora of publically available data – everything from vehicle and business registrations to survey data – and figure out how to pull that info, combine it and ultimately present an easy way to use it to solve problems, like how to attract more customers, pay taxes, whatever."
Mackay says successful teams will be well-rounded, showcasing not only coding skills but marketing and management expertise. "The doers and the promoters," he calls them. "It's geeky programmers all the way to the folks who can come up with a brand."
The first year of the GoCode Challenge, a Durango-based team came in second overall and took home a cash prize. They were led by Aaron Renner, a local software developer. This year, teams are already forming, and participation is expected from Durango Coders, Fort Lewis College, Durango High School, Tesla (yes, there's a Tesla group based in Durango) and local startup, Git-Prime.
"(The Go Code Challenge) is an exciting opportunity for the West Slope to be recognized for our strong tech scene," Ben Thompson, GitPrime's cofounder and chief customer officer, says.
GitPrime, whose software provides reporting on software developer productivity (kind of meta, right?), is the latest Durango tech success story. Managers of software teams on every continent (except Antarctica) use GitPrime to help lead their teams effectively.
"Basically, any company with a team of 10 or more developers needs GitPrime," says Thompson. "And just about any company is a software company these days – from banking to health care and transportation."
GitPrime launched in 2015 when Thompson was running a web design consultancy from DurangoSpace, a co-working space founded by Jasper Welch. There he met Travis Kimmel, and the two began collaborating on a startup. Currently, GitPrime has 12 employees and is just getting started.
"Customers from all over the world send money right here to Durango because our product fills a big need," says Thompson. "We're not relying on the whims of tourism or the price of oil. Our dream is to keep providing solid opportunities and contribute to a diversified local economy."
Born and raised in Durango, Kimmel remembers the days when Durango was mostly "T-shirt shops and restaurants." There wasn't a lot of opportunities or job diversification. The flexibility of working remotely in IT changed that.
"If you're looking to get into the Durango tech scene, GoCode weekend is a great way to do it," says Thompson. "GoCode is not just for people with coding backgrounds. If you have an inclination for graphic design, branding, or a general business background you should plan to attend."
So while it might not be for those who have strong nostalgia for introductory computer games (Oregon Trail, anyone?), IT might be for analytics out there unsure of their next move. For the rest of us, keep your eyes peeled as the Silicon Valley unfolds along the Animas. And keep tipping your servers; they could be the next hackers.