Puppy love
Durango Animal Connection rescues, rehomes puppies, kittens and their moms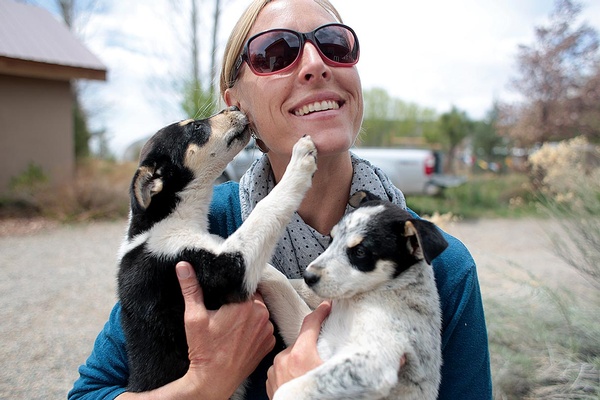 Jen Reeder - 05/10/2018
A little puppy named Timmy faced a rough start in life. When rescuers found him in Arizona, the chain around his neck was so heavy that his skin was raw and blackened. His ears were full of ticks and sores from frostbite – he'd never been inside. He was way too skinny.
Fortunately, Erin Nissen, founder of the newly formed Durango Animal Connection, got wind of Timmy's plight and volunteered to foster him and find him a forever home. She took him to a veterinarian and helped him overcome his fear of going indoors, even training him to sleep in a crate. He blossomed into a friendly "fluffball" and recently was adopted into a loving home.
"He's doing great. They just love him," Nissen said. "They had a steak dinner a couple nights ago."
Timmy is one of hundreds of animals Nissen has fostered and rehomed since 2014 through Durango Animal Connection, which achieved official nonprofit status this February. She specializes in puppies and pregnant or nursing moms. Most of the dogs are transferred to her 3-acre property in Durango from Blackhat Humane Society, which serves the Navajo Nation, and the Humane Society shelter in Gallup, N.M.
"I would say almost every dog I get has had trauma in its past," she said. "I really love caring for them, nurturing them, getting them back to good health and trusting people again."
She also loves checking in with adopters to see how their pet is doing. That follow up was a big reason why Nissen wanted to start her own rescue organization. She was an active foster for the La Plata County Humane Society but found it hard to care for animals and then not get to choose their adopter or learn whether they were thriving in their new home. She received national funding that helped her create Durango Animal Connection: first a $1,000 grant from The Pollination Project, and later that year, $2,500 from The Binky
Foundation to build dog kennels with a concrete pad to prevent the potential spread of disease. Nissen does most of the fostering for her organization, though she has a few trusted people who volunteer to bottle-feed puppies and kittens. She said her husband, Drew Weigner and their children Siri, 9, and Coen, 6, are incredibly supportive. Though it can be challenging to not get too attached to the animals, they all try to remember, "The more you keep, the less you can help."
"We always keep in mind that there are more out there," she said. "We look forward to being able to help them."
One of the benefits for animals fostered by Durango Animal Connection is the chance to spend time with adults and children as well as the family's pet dogs and cats. Early positive exposure to a variety of people and situations, a.k.a. socialization, is key to helping animals become adaptable instead of fearful – and then potentially reactive or aggressive.
Marcy Eckhardt is a Certified Professional Dog Trainer and owner of PranaDOGS, a local business that helps rehab and train rescue and shelter dogs. She said the main reason why dogs are surrendered to shelters is that owners don't socialize them as puppies and they develop "bad behavior." Using positive training methods, she frequently rehabilitates struggling dogs for the La Plata County Humane Society as well as Durango Animal Connection.
"I'm working with a puppy right now who was just so traumatized," she said. "Within three days, I've got him liking people again, and licking people, and feeling, 'Oh, people are safe.' Seeing that is just amazing."
Eckhardt said Nissen "runs one of the best programs in town."
"I've been working in animal shelters for 25 years, and there is always a demand for puppies," she said. "Ten years ago, we were able to turn our population around here in Durango and stop overpopulation. So we've really lessened our puppies at the Humane Society, and we transfer many in, and that's exactly what Erin does ... She makes sure they're all 100 percent – behavior and medical – before she adopts them out, and that's crucial."
Durango resident Rachel Martin agreed that Nissen does a terrific job of getting dogs ready for life in a new home. She and her family adopted a Chihuahua mix named Pito from Durango Animal Connection, and he's fit right in.
"He loves to snuggle and loves to play," she said. "He's basically a cartoon character come to life."
Their experience with Durango Animal Connection was so positive that they fostered an abandoned pit bull puppy named Jingle over the holidays for the organization. She said Nissen did a thorough job of screening potential adopters and that Jingle found a great home.
"She got adopted right in my driveway," she said. "I even still get updated pictures because my kids grew very attached to her. They love to see how she's growing."
Erin McMahon, who worked as a nurse in Shiprock for five years before relocating to Durango, said she and her husband have adopted two mixed-breed dogs from Durango Animal Connection. As a puppy, Crockett was dumped at a spay/neuter clinic; about a year later, Millie Mae had just given birth to six puppies when she and her pups were seized from a serious animal-hoarding situation.
"Millie and Crockett connected right away," she said. "Their love for life and their love for one another is so inspiring and admirable."
One of the hardest parts about working in Shiprock was seeing all the strays, McMahon said. She's grateful to Durango Animal Connection and all the organizations trying to help, and said she hopes Durangoans will consider adopting their next pet.
"There are so many homeless dogs and cats who need homes and make incredible companions for any lifestyle," she said. "Erin's doing as much as she can. I never tire of hearing about what's happening with her dogs."
For more information about Durango Animal Connection, visit: facebook.com/durangoanimalconnection/
---