The original dirtbag
Film takes fascinating look at legendary climber's life on the crag – and the cheap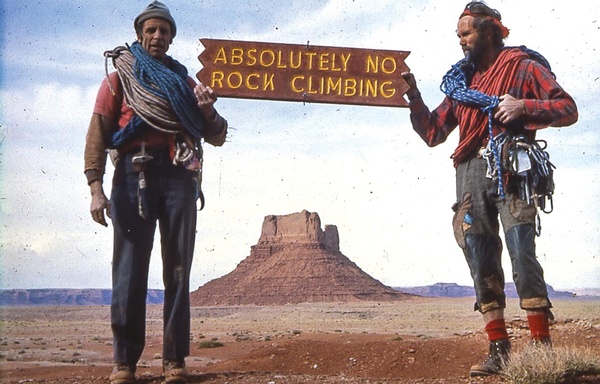 Luke Mehall - 03/22/2018
There are dirtbag climbers, and then there is "The" dirtbag climber, Fred Beckey. They even made a movie about him called "Dirtbag" – and the worldwide tour will be making a stop at the Durango Arts Center this Friday.
Beckey, who died at the age of 94 last October, hailed from a generation of climbers who climbed to get away from people and society. In the process, he tallied up thousands of first ascents all over the world, while seemingly never holding a steady job.
Beckey began his adventures by exploring the North Cascades with his brother Helmy in the 1930s. In 1942, as teen-agers, the duo made the second ascent of Mount Waddington in Canada, which was considered the most difficult climb in North America at the time. Even today, Waddington is rarely successfully climbed.
These exploits are well known amongst mountaineers, but something that wasn't as well known was Beckey's ability to excel at life on the cheap. In fact, he once brought an expired can of rotten beans from the Waddington expedition on a later trip to the Devil's Thumb in Alaska. Now that's a dirtbag!
Legendary exploits like these are brought to the big screen, highlighting a quirky climbing genius, who, even in his 90s, would hold onto a McDonalds coffee cup for weeks on end, just for the free refills.
The "Dirtbag" project began in 2005 when filmmaker Dave O'Leske, of Telluride, wrote Beckey a hand-written letter. "I sent it off and never expected to hear anything back," O'Leske noted. "I just told him I would love to meet him and tell his story."
Beckey, who was known to be a meticulous letter writer and note taker, did get back, and they agreed to meet up at the Alta ski resort in Utah. Beckey was 82 at the time. They did not exactly hit it off upon meeting.
"Isawanoldmanatthebaseofthe mountain with a huge yard sale stack of gear, getting ready to ski," O'Leske noted. "When I approached him and introduced myself he told me 'I'm busy leave me alone, I'll talk to you later.'"
After that introduction, Beckey wouldn't even pick up O'Leske's phone calls. But after a dozen voicemails, they finally connected over coffee. Although he had pioneered climbs for several generations, Beckey didn't think he was worthy of a documentary. "Why would anyone want to see a movie about me?" he asked.
O'Leske took the entire next year to climb with Beckey and get to know him. "I never brought out the camera, and we never talked about the film," he noted. "I slowly built his trust and friendship. He was a very humble person."
Even though he was in his 80s, Beckey was still obsessed with climbing and exploring. He had an unclimbed 19,000-foot peak in China in the back of his mind, and along with O'Leske they formed a team.
"From then on, we were on the Fred Beckey train," O'Leske said. "Though I never expected to, we filmed Fred for over 10 years."
In addition to tagging along with Beckey while he climbed and mountaineered, sometimes failing gloriously, O'Leske and his team compiled interviews with the most important figures of American climbing's golden age. Several of these climbers, such as Layton Kor, Royal Robbins and Eric Bjo?rnstad, died before the film was released. The filmmaker also tracked down several of Beckey's girlfriends over the years. "He was a bit of a Casanova," O'Leske noted. "He would get all dapper and go to the opera. Women who spent a small amount of time with Fred knew him better than his climbing partners that he'd known for years."
Beckey purposely never got married or had children, but at 83 once joked, "I should give that a try."
O'Leske saw that trait in him as one of restraint. "He was selfish, but in a way he wasn't. He knew it wasn't a good idea for him to have a family."
Though "Dirtbag" shows the many layers and climbs of Beckey, some things – like how he earned his living – is still a mystery. Beckey never held a steady job, and although he published over a dozen books, those royalties were never enough to earn a living from. O'Leske likes to believe he scored his money from a famous Canadian plane crash on Mount Sleese, "There's rumors that a guy aboard the plane had a money belt and gold in his suitcase."
The odds are that Beckey was just frugal and good with money (hence the rotten can of beans). O'Leske shared that Beckey never had any credit cards and simply lived by the motto, "Don't spend what you don't have."
"Dirtbag" is being screened in Durango thanks to the American Alpine Club. "When we saw the film was on tour, we knew we had to get it here," the club's local chairman, Mitch Dorsk, said. "It was tough, with most of their showings in larger cities like Denver and Salt Lake City, but eventually we secured it with our very active climbing community."
Beckey lived to see the premier of "Dirtbag" at Telluride Mountainfilm last May. "We purposely never showed him a cut of the movie beforehand," O'Leske said. "I expected nothing from him, but he was absolutely mesmerized, seeing his life unfold before his eyes. He told us we did a good job."
Friedrich Wolfgang Beckey died at the ageof94onOct.30atthehomeofhis friend, Megan Bond, in Seattle.
"Everyone who knew him well thought he would die in the mountains," O'Leske said. "He was super comfortable. It couldn't have really been any better. One day he just didn't wake up."
Local dirtbags will want to save the $5 and get their tickets ahead of time at Pine Needle Mountaineering, Backcountry Experience or the Durango Arts Center for $15. Tickets at the door will be $20. Doors open at 6:30 and show time is 7:30 p.m. The first 50 people to show up will receive swag from the AAC and The Climbing Zine.
---