The Quill is Back! Animas High Journalists Resurrect Student Media
Annabelle Mick - 11/27/2019
In an era of constant turmoil in the political sphere, from the impeachment of a president to foreign interference in our elections, the work of journalists is as crucial as it has ever been. "As they say, journalists write the first draft of history," stated Jessica McCallum, AHS journalism teacher and advisor of The Animas Quill. "There's never been a more important time to be studying journalism in a democratic society. It prepares young people to critically read their world and express the issues important to them. As we all watch the media landscape transform, focusing on the pursuit of truth and clear communication is of paramount importance."
The Quill originally started in the Spring of 2011 and was published monthly for ve years until the Spring of 2016. That next school year, Jessica turned her attention from teaching journalism to Spanish, at which time the Quill went on hiatus. When asked what inspired her to revive the newspaper, she said, "Quite simply, I wanted to bring it back because it was missing. At a project-based high school rooted in adult world connections and engaged learning, the lack of a student media organization left a hole in our programming."
Thanks to the benevolent collaboration of The Durango Telegraph, the Quill will be featured as a periodic insert in everyone's favorite local indie paper. When we asked editor Missy Votel what motivated her to work with the Quill, she said "I think it's important to give budding young writers a taste of the exciting world of journalism! Even though the means of delivering news is changing, news gathering, uncovering the truth and telling the often-neglected side of the story are more important now than ever. And who better to give a voice to than teens, who will (hopefully) grow up to be the vanguards of the so-called Fifth Estate."
The student news organization has rebranded itself Quill Media in an effort to branch out to various platforms. The reboot of the Quill will not be simply focused on print journalism because as Jessica explained, "the media landscape in the world has changed, and so must we." In addition to the insert in the Telegraph, Quill Media will deliver multimedia content via social media platforms and its website: animasquill.org.
Additionally, Quill Media has absorbed the broadcast news program formerly known as the "Friday Show." Senior Robbie Patla is leading the effort to integrate more video journalism into the fold. Patla, who is also an intern at Durango TV, said, "It's very important to convey information through visual storytelling, and in this day and age video journalism has the power to inspire others and create change."
Despite the diversi cation of media, print journalism will still be a focus of Quill Media. Beyond the newspaper, the Quill's editors are looking at more creative ways to get student voice out to the general public through small paper magazine features called "zines."
Just as national journalists are taking advantage of writing an important part of our country's history, so will the "Quillspreys," as Jessica affectionately calls them, a play on the AHS mascot, the osprey. "The Quillspreys are contributing to the documentation of our school's history and evolution: this is the real work of journalism," Jessica reflected.
Keep an eye out in The Durango Telegraph and check animasquill.org regularly for new stories about our school, our community, our nation, and our world. You can also follow Quill Media on Twitter (@animasquill), Instagram (@animasquillmedia), and Snapchat (@animas_quill).
---
December Exhibition Preview
Advanced Digital Arts
What: Noel Night Graphic Design Expo and Holiday Market
When: December 6th, 4-6pm
Where: The Good Fight gym, Main Mall
Students in Roxy McKnight's Advanced Digital Arts elective will host an art opening and holiday market featuring original designs printed on a variety of items ranging from stickers to t-shirts. Pick up some holiday gifts and support student art!
Original Art by Joe Rioux
11th Grade Humanities
What: Rhetoric, Ideology, and the Future of Work
When: December 9th, 5:30-7:30pm
Where: Fort Lewis College Ballroom
Juniors Trevor Harms, Nicholas Gilmore, and Abbey Shepard record a podcast about how automation might impact the job market in America. The 11th graders will exhibit original student discourse in a variety of genres exploring some of America's most pressing political and social issues.
Photo by Ava-Kadence Jennings
11th Grade Humanities
What: Socialization and Identity Project
When: December 12th, 5:00-7:00pm
Where: Durango Coffee Company
Freshman Za Barrett puts the finnishing touches on her mask in Stephen Sellers' Humanities class. Join the freshpeople as they present their hand-crafted masks and personal essays that reflect what they've learned about the powerful forces of socialization on the formation of their identities.
Photo by Mya Oyler
---
Welcome to the Renaissance!
by the Editorial Staff

Editorial Triumvirate Ava-Kadence Jennings, Billie Brand, and Mya Oyler
Greetings, dear readers! The Animas Quill has arisen from hibernation to deliver you the content that really matters: horoscopes by our illustrious star-gazing Chemistry teacher and ongoing coverage of the teacher-student meme wars. We, the triumvirate of editors, are thrilled to stuff you like a turkey with our journalistic prowess and pun power.
Animas High School values real-world application and community connections. On behalf of the Quillspreys, we would like to express profound gratitude for the opportunity to collaborate with The Durango Telegraph; we are honored to be a part of their out-of-the-box print journalism empire.
We are also thankful for our incredible Tech Goddess, OG Quill editor and Animas alum, Jamie Wanzek, who showed up to lead us out of the darkness that is Adobe InDesign. We are also vehemently grateful to Jessica for fussing hard over everything we write. We graciously look forward to the celebratory editors' feast we will be having after this issue is published.
We hope everyone has a safe and yummy holiday! Give thanks for the little things: coffee, snow, and the First Amendment.
Take it in, kids!
---
World News Haikus
By Bryan Gnehm
Trump is in trouble
Impeachment is moving fast
White House clapping back
Chile in chaos
Bolivian president ousted
Governments will fall
Climate change is real
It will kill us very soon
But oil is money
Israeli crisis
Netanyahu indicted
Vultures are circling
Biden in first place
Warren is right on his heels
Who will face Donald?
---
Roses and Thorns
---
Ospreys in the Wild: AHS Students Break in New Gear
By Diego Pagan

Senior Sierra Holiday catches some shade under the new canopy during her paddleboarding X-block. Photo courtesy of Roxy McKnight
AHS Ospreys love it when their curriculum takes them outside into the wilderness. And thanks to the generous sponsorship of Colorado-based recreation company Kelty, our outdoor experiences are now supported by state-of-the-art camping gear.
Kelty, a company based out of Boulder, has donated over $3000 worth of tents, sleeping bags, canopies, and camping chairs to help Ospreys get outside in style.
This partnership was orchestrated by Digital Arts teacher and outdoor enthusiast Roxy McKnight, who first reached out to Kelty in 2018 when the freshman class took a three-day eld trip to Biosphere 2 in Oracle, Arizona. While planning the excursion, Roxy realized that not all kids have camping equipment of their own. She was motivated to collaborate with an organization that could ll this gap. According to Roxy, "Kelty was stoked to be able to sponsor a small town rural school like Animas. Their mission aligns pretty well with our vision of getting kids out of the classroom and into nature as often as possible to fully take it in!"
Kelty rep Melissa Clymer shared, "Kelty chose to partner with AHS because we feel that your goal to get out and enjoy our beautiful wilderness is important." Kelty started an initiative called Cure for the Common Kid that seeks to expand access to outdoor recreation to people who may otherwise lack opportunity. "As a team, we spent a lot of time debating what Kelty's cause should be. In the end, we agreed that it starts with the youth.
We want to help families, kids, schools, and organizations get outside for any kind of adventure, breathing in the fresh air, and grow up appreciating the outdoors," Clymer explained. "The fact that you live in Colorado, and [did] not have the assets to comfortably get outside for day trips, overnights, or more, hit home for us. Our world is a playground and everyone deserves to get out there."
Ospreys have already put the equipment to great use during fall semester. The sophomores broke in the gear during their camping trip to Junction Creek in September. This experience gave students an opportunity to get to know each other better and bond with their teachers through fun activities such as rappelling, fly fishing, and mindfulness art.
Beyond just fun in the woods, teachers often like to connect their project-based curriculum to outdoor experiences. Advanced Digital Arts students used the gear to camp in the fall colors of the Santa Fe Mountains while exploring the art scene, including Meow Wolf and a variety of other graphic design exhibits. In October, seniors went to Chaco Canyon to learn more about the effects of fracking on the land and the people as a part of their Environmental Justice project. The Kelty gear makes trips like this easier to plan and execute, giving teachers and students more equitable access to outdoor experiences.
On behalf of the Animas community, the Quill extends an enormous thank you to Kelty for their sponsorship and support. We look forward to many more amazing recreational and educational experiences in Colorado's natural beauty.

Seniors Sarah Voss, Toby Aten, and Clara Wolf stay warm in the Santa Fe Mountains on the Advanced Digital Arts eld trip.
Photo courtesy of Roxy McKnight

Sophomores Elliot Smith, Sophia Flannery, Kenzie Galloway, and Sam Sturm bond and relax during the sophomore camping trip in September.
Photo by Jacob Pinkerton
---
Animas Teacher Wins Best Educator
By Billie Brand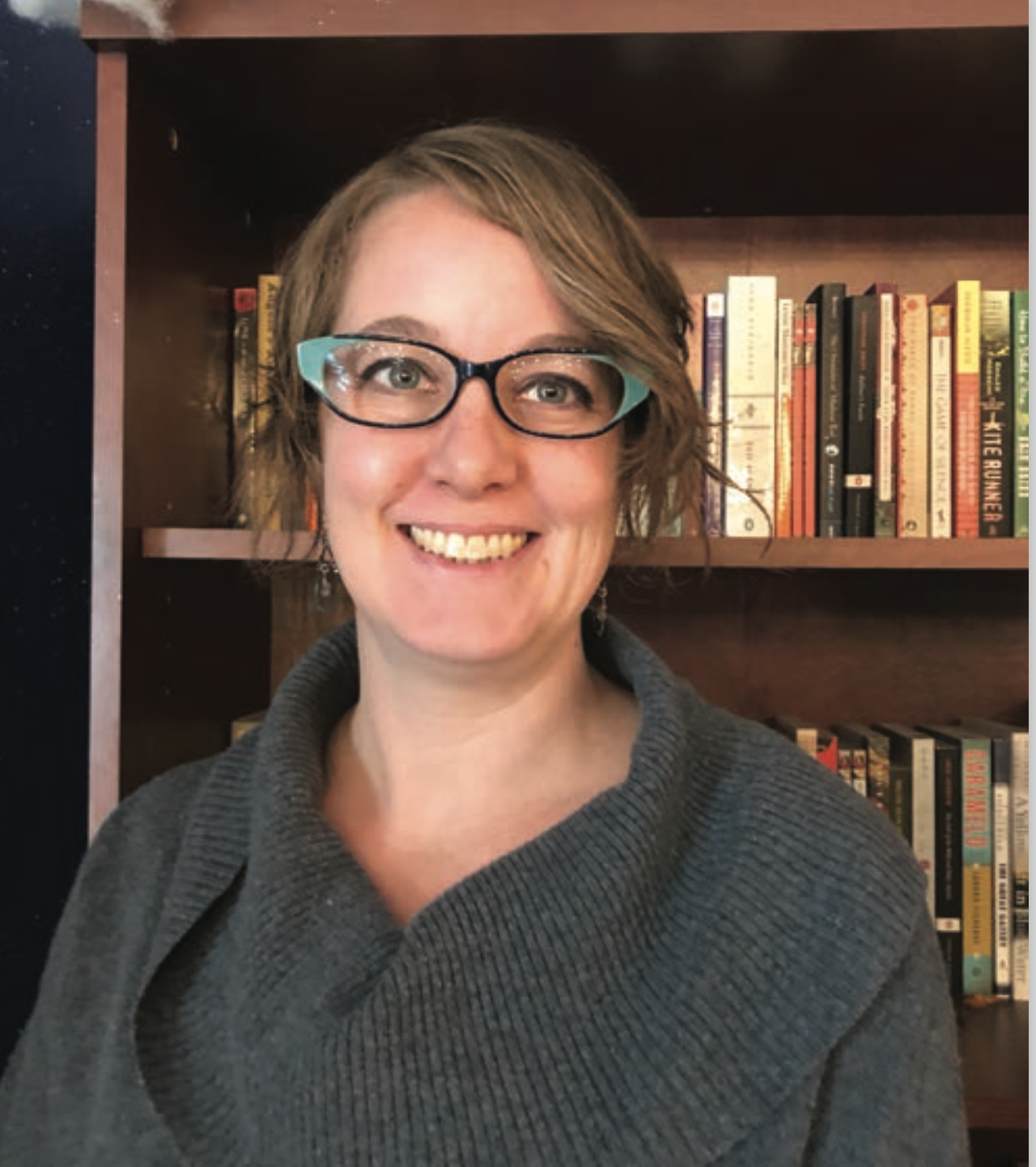 The legendary Lori Fisher, founding AHS Humanities teacher
Photo by Jacob Pinkerton
Lori Fisher is among the best and brightest of the human species, so it was no surprise to the Animas High School community when she won the award for Best Educator in the 2019 Best of Durango awards.
Lori felt humbly honored by the recognition. "To win that, people had to vote for me," she commented. "To get recognized as a teacher is rare."
She has been with Animas from the beginning, even counting the heads of the rst graduating class of 2013 when they were freshmen to make sure they had enough funding to be a school. She found our wonderful teaching community in a Google search of "project-based charter schools Colorado." She felt the forces align when she found Animas, which was closely modeled upon the school where she was working at the time, High Tech High in San Diego.
Lori started her journey when she was growing up in Homer, Alaska, and she had to create fun with her friends by going to abandoned factories and sliding down wood chip piles or by rappelling down water towers.
She left her small town in order to pursue her BA in Peace and Con ict Studies from the University of California, Berkeley. After graduation, she found a job as a fundraiser and lobbyist for YouthBuild USA. There she discovered she did not like writing grants at all, so she broke up with her boyfriend of six years and went on a trip to Nepal by herself. After exploring Southeast Asia, she found herself in Thailand and became a divemaster.
Lori planned to live in Thailand inde nitely to revel in her love of water and Thai food, but falling in love with one John Fisher threw a wrench into her plans.
She had traveled back to the U.S. to sell all of her belongings but found herself applying to graduate school at the Stanford Teacher Education Program and pursuing love instead. Although her favorite activity back then was wearing her Berkeley shirt on the Stanford Campus, she claims that the biggest in uences to her teaching methods were her mentors at Stanford.
Sam Wineburg, Stanford professor of Education and History, responded to Lori's talent and success:
"From the moment I met Lori, I knew she was going to be a superstar teacher. She was open-minded and understood the Social Studies curriculum in a global context, at a time when many still did not. It is no surprise to me that she is being recognized for her talents. It's about time!"
Lori commented on the effectiveness of her teaching: "The rst thing you have to do is know your students. If you don't do that you're flying blind. Support comes with experience and time. A lot of times what you're doing for struggling students is helping everybody."
Lori has been cracking the code of teaching since 2006, and many will forever be better writers and humans because of her. It isn't hard to see how many of her students have dubbed her an 'iconic teacher.' She has found a way to bring fun and engagement into her classroom while balancing the core con icts of teaching. Lori started her career thinking that she "could be an okay teacher." She has shown all of us that she's not just "okay." She's the best.
---
Reduce, Reuse, Rethink
By Mya Oyler

Juniors Riley Douglas, Darby Voorhees, and Lindsay Levine tour the Durango Recycling Center on a Chemistry eld trip. 11th graders are tracking the different pathways our waste takes as part of their study of plastics.
Photo courtesy of Jessica McCallum
The Paci c Ocean, once lled with thriving marine life and crystal clear water, is now home to a garbage patch twice the size of Texas. It weighs an outstanding total of 80,000 tons, which is equivalent to the weight of 500 commercial jets.
Within this mass, there are roughly 3.6 trillion pieces of trash with 1.8 trillion of these being various types of plastics. This would average out to 250 pieces of plastic for every human on Earth.
Humans' crippling dependence on plastic is overtaking not only our everyday lives, but also our beaches, oceans, and cities. Plastic takes roughly 1000 years to decompose, meaning it will remain on Earth long after us.
Animas High School juniors are taking a deeper look at plastic by learning about the journey our waste goes through. Chemistry teacher Steve Smith said, "I hope [my students] want to create a large scale exhibition where people come and learn about the single-use materials (mainly plastics) in their lives and where all of that ends up."
Although some types of plastic are recyclable, only 20% of that is actually recycled. The majority of it is ultimately discarded because of contamination.
Steve explained, "Aluminum is very easy to break down back into its original components which is why it's mostly recycled. Plastic is not as easy to break down into its original pieces so it is less likely to be recycled even if it is put in the recycling bin."
The types of plastic that are not recyclable are often single-use plastics. This includes plastic grocery bags, plastic straws, food packaging, and plastic lids. Alongside these single-use materials, there are single-use recyclable plastics that are often not recycled like water bottles and coffee cups.
These items have become incredibly convenient for us, and we are highly dependent on them for the ease of our day. I encourage you to look at your own consumption of these items and try to switch these out for more eco-friendly alternatives.
Instead of imsy plastic bags at the store, buy a few cloth bags that can be kept in your car and used at any time. Instead of a single-use plastic bottle, buy a reusable water bottle that you can bring with you everywhere and re ll it when you're thirsty. This will actually be cheaper over time because you're not constantly having to buy water. On average, an individual American will spend $100 per year on plastic water bottles which could so easily be cut down.
Instead of your plastic coffee cup, lid, and straw, invest in a portable mug. This one comes with a few added bene ts: One being they often keep your drink hot or cold for longer. You can also save money in the long run. A lot of coffee shops even offer a discount for having your own cup.
One of the hardest things to combat is food packaging waste. This one is often out of our control as our favorite foods have already been wrapped in plastic. Although it's not always as convenient or inexpensive, try to buy from sustainable sources, take advantage of bulk foods and go to a farmers' market.
As our world is facing catastrophic changes, it is important that we re ect upon our own actions so we can preserve the beauty of our earth. Steve expressed, "Climate change is one of the most, if not the most pressing issue of our time and it will continue to be so. I can't control this directly unless I can afford to put solar panels on my roof. But, I can decide not to use single-use plastics and make more conscious decisions of where I buy my food from."
If we all begin to make these seemingly inconsequential decisions, our ocean, land, and cities will greatly bene t, and we will be able to preserve their beauty for years to come.
---