Thinking outside the Zoom box
Merely Players presents 'Zoom Alice,' a trip down the cyber rabbit hole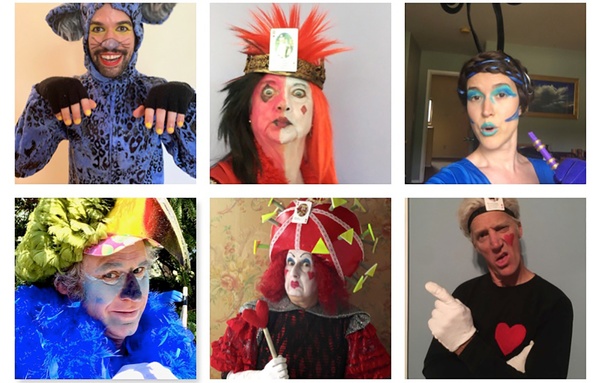 Missy Votel - 06/11/2020
When the Goo Goo Dolls sang "Broadway is dark tonight" in 2013, little did they know how true their words would ring seven years later. From the Big Apple to the little D-Town, stages have gone dark thanks to the coronavirus. And there's no telling just how long the curtain will be down on live theatre.
"Theatre is going to be one of the last things to come back," Mona Wood Patterson, director of Durango's Merely Players theatre troupe, said Monday. "Not only do you have people sitting next to each other in the audience, but actors are very close as well. We're putting droplets all over each other."
Perhaps not the best visual, but can you imagine Roald Dahl's "Matilda" done in facemasks? Which, among other reasons, is why the troupe brokenheartedly was forced to cancel the musical, slated for May.
But just because the stage lights have gone off, doesn't mean the lightbulb upstairs has, too.
"As things evolved, we realized, 'oh, this is going to be months, if not years,'" Wood Patterson said. "I decided it would be better to do something to keep ourselves creative. It feels different if you can't practice your art."
The quarantine-weary wheels roared back to life in Wood Patterson's head: she had to do something, but what? "We have a world that doesn't make sense and everything's upside down," she said.
And that's when it came to her: a modern twist on Lewis Carroll's classic surreal fever dream of a world gone mad, "Alice in Wonderland." Best of all, she could have free rein on the script.
"It's in the public domain now, so I could do whatever I want," she said. "I started adapting the Alice stories into a mashup tale for modern times."
She also quickly fired off an email to cast members to gauge interest. She was blown away to find, like her, they were chomping at the bit to scratch the acting itch.
"We have 38 actors from four time zones," she said.4
From there, she set about imagining just what such a production would look like. Sure, other troupes had been doing plays on Zoom, but that was before "Zoom fatigue" had set in, she said.
As a result, the troupe decided to riff on the Zoom format, using the standard boxes, but with a twist or two (and minus the Zoom bombers and boring boss.) The actors would film themselves in their own spaces, and upload the footage to Drop Box. Then, through the magic of video editing, they would be spliced together to appear to be talking to each other. Puppetry, animation, props, background images and special effects would be added to spice things up, courtesy of set director Charles Ford, Wood Patterson's husband.
"I haven't seen another company do it like this," she said.
In addition, costumes were either picked up from a table in Wood Patterson's driveway or mailed out, and, oh, there was an original soundtrack to add, as well.
The organizing alone was a monumental task. But not as monumental as finding a way to out all together into a visually cohesive, entertaining story.
Enter stage right DHS Troupe 1096 alum, Merely Players regular and master film editor, Adam Fontana. Although he now calls Seattle home, he and his wife, Erika Vetter (who plays the lead role of Alice), return often in the summer to perform in MP productions.
"Adam is a genius," Wood Patterson said.
However, she admits, it took a few days for the play's form to emerge from the proverbial hookah smoke.
"It was a little disconcerting at first," she said. "Everyone's trying to explore this new format. What is it? What does it look like?"
Unlike live performances, remote video offers a distinct set of challenges, namely that actors can't be in contact and play off each other. Then there is the issue of timing and little things, like making sure actors are facing each other during dialogue. Needless to say, the nagging clouds of self-doubt started to hover. "We began to ask ourselves, what are we doing? And why are we doing it?"
In the classic case of art imitating life, Wood Patterson found herself going down the rabbit hole. That's when she knew she had to let go and trust in the creative process.
"There's not a lot of control," she said. "It's been quite an adventure. As it shapes up, we're really excited. It's colorful and magical. I think people will be really tickled to see the array of characters."
Of course, it wasn't all a struggle. Since many of the characters in Alice only have one scene, the play lent itself to the Zoom-like format – popping in and out as needed. Plus, there was no need for elaborate sets, or – as some Zoom veterans know – elaborate costuming. "We only needed costumes from the waist up," Wood Patterson said.
And much like Alice's trip, the entire thing has been a bit of a whirlwind, taking just 3½ weeks from start to finish. But Wood Patterson said she felt a sense of urgency in getting the play out sooner than later, given the rapid-fire speed of the news cycle. For example, when she started writing, we were still under stay-at-home orders and the George Floyd protests hadn't started.
"Things keep changing so fast and are so upside down," she said. "But that's what 'Alice' is all about. The play is a dream – Alice falls asleep – and I think we've all had the dream where we wake up and wish all this was a dream."
But, as Alice once said, it's no use going back to yesterday, because I was a different person then. However, if you find yourself feeling curiouser and curiouser, be sure to check out the play June 12-20 at www.merelyplayers.us.
"We're not sure if we'll ever do this again, but it sure has been good for the soul," Wood Patterson said. n
---