Tumbleweeds to take-out
How Durango's restaurants got creative to survive the COVID-19 shutdowns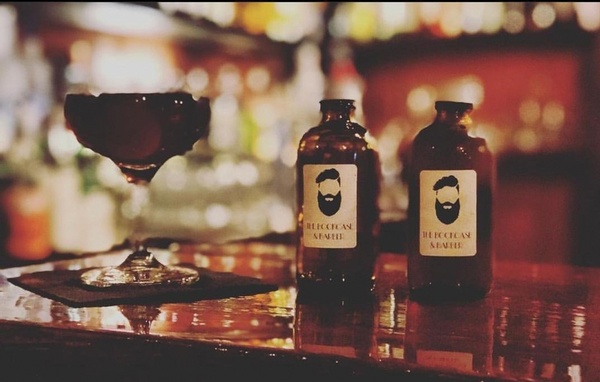 Sinjin Eberle - 11/11/2021
Reflect back to March 4, 2020, for a second. While that date may not seem remarkable to you, it is for me. My girlfriend and I were flying home from Oaxaca, Mexico, where we had been vacationing, which means touring mezcal micro-distilleries, eating and drinking at fabulous restaurants, and wandering sandy beaches for two glorious weeks. We flew through Mexico City the day before, noticing more travelers than normal wearing masks, but didn't think much of it. Nothing seemed out of the ordinary as we traversed the Dallas International Terminal and through a completely vacant customs area. Little did we know that two weeks later, when COVID shutdowns began, international terminals would be flooded with people rushing back to a world very different from the one they left.
For the restaurant industry, the pandemic has been especially brutal, hammered in the early months as public health and government officials grappled with the situation. Shutdowns were abrupt, to say the least, and just as we were gearing up for Durango's spring tourist season, doors were locked, staff were furloughed and uncertainty about how long this would last consumed our community. April and May turned Durango into a ghost town as everyone scrambled to guess what would come next and how long people would have to wait to welcome customers and their dollars back into our town.
Weeks became months, and while regulations to protect both the public and staff became clearer, many restaurants were forced to get creative to trickle any revenue back onto the books. For some, take-out became a logical first choice, but because most restaurants weren't really set up for take-out, the process and what they could realistically offer with a skeleton staff and limited supplies, was limited at best.
Imagine a common mid-scale or fine dining experience – when enjoying a sit-down meal, you get a hot, fresh plate right as it comes out of the kitchen. Then at the end of your meal, you accept that if you get a doggie bag to go, it will be a bit different when you get home.
But when take-out becomes the only method of service, it is an entirely different process for restaurants that don't traditionally focus on that model to keep quality and freshness high – much of it depending on how far away you live. Or what if you use a service like Uber Eats or Door Dash? Are they as committed to freshness or simply focused on speed of delivery? As consumers we are used to pizza and fast-casual for take-out, but not fine dining. These restaurants had to quickly adapt to a new style while keeping customers happy and willing to spend money as their normal business model was literally off the table.
I spoke with Dave Woodruff, President of the Colorado Restaurant Association Durango Chapter and General Manager of El Moro, about ways area restaurants adjusted to the massive amount of uncertainty caused by the virus. Around Durango, the most visible adaptation we saw, especially along Main Avenue, were added bump outs. These were a boon for many businesses, restaurants especially, since they could generate significant revenue outside while public health restrictions reduced capacity inside – sometimes up to 50% less, if at all, most of last year. As the weather got cold, these patio spaces had to be removed, but when they returned last spring, it showed a resilience and responsiveness the industry and city made the norm.
There are many examples of what restaurants and taverns tried in the scramble to stay afloat in the early days of the shutdowns. El Moro and Sunnyside Market both floated "provisions kits," where they would assemble a shopping bag with products from their menu to take home – some fully cooked and ready to eat, others with detailed instructions about how to prepare. PRIMI Pasta & Wine Bar made its handmade pasta and sauces to go by the pound. Ore House developed Thanksgiving and Christmas boxes, with a fully assembled, complete family meal, which may be offered again this season. The Ore House also ran a highly successful series of fixed-price outdoor garden dinners at The Rochester Hotel, with a completely unique, creative menu every week over the course of three months.
Maybe the biggest shift in offerings was on the boozy side. With the shutdown abruptly curtailing bar revenues, the ability to offer pre-made cocktails, beer and wine, and even bottles of spirits to-go, became an unexpected and previously unavailable income stream. The Bookcase & Barber, El Moro and others were all able to execute on this. While the legislation that authorized this change expires in 2025, it's hard to imagine it being revoked entirely, as the industry and consumers have grown to enjoy the convenience and income stream it created.
With all these examples of how the industry shifted to stay alive, it would be a mistake to assume they did it in a vacuum. Scott Shine, Durango's Assistant Director of Community Development, told me how the City leaned in to help businesses respond to the dramatic change in conditions. By expediting building permits to allow bump-outs and outdoor areas in required parking spaces, coordinating local and federal grant and loan programs with the La Plata Economic Recovery Task Force, and temporary deferring sales tax and utility payments, the city provided additional, flexible pathways for businesses to adapt.
But one negative aspect that cannot be overlooked (and will be explored more deeply in a future column) is the permanent carnage wrought to the industry and its people. Restaurant workers were especially devastated, with many being forced to shift careers entirely to stay afloat. The impacts still are being felt across every establishment and patron in town. Some businesses closed down for good down entirely, like the Irish Embassy and Palace Restaurant. Others, like Cantera, changed their concept, reopening as Taco Libre. And restaurants like PRIMI, Eolus and Chimayo shifted hours or days open due to staffing. Every restaurant is still experiencing a severe shortage of labor – a pain that lingers, and will linger, far into the future.
While these changes all happened on the business side, consumers, too, have adapted to this new era of dining out. When you consider all the benefits that bars and restaurants provide the community, it's no surprise that diners chose to adjust rather than abandon ship. As Woodruff told me, "Restaurants provide places to mourn, places to celebrate, places to relax and enjoy, and places to do business." I commonly use bars and restaurants for business meetings, and during the shutdown, that loss of connection was difficult to deal with. It's worth remembering those times, and thinking about – with staffing shortages and increased prices for products – how bars and restaurants, and the City, are doing their best to keep us all gathering, dining and enjoying the diverse culinary scene this community has to offer. ?