Summer a bummer?
Two books to lift your spirits – or at least make you feel better about your life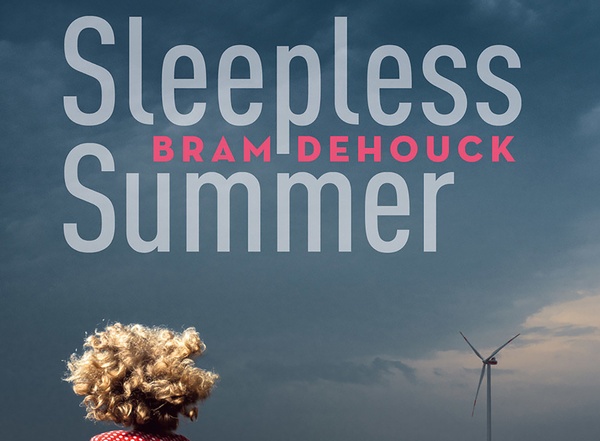 Jeffrey Mannix - 06/04/2020
During these times of chaos, disintegration and foreboding, you may be able to avoid the ennui by immersing yourself in solitary frivolities, booze or drugs, or ignorance. But as your trust in the flashing reset button fades while watching cities burn and people die, and fixers seek shelter below ground and behind ranks of polymer-encased space cadets with vicious dogs and ominous weapons, you may need more support.

I can't help you make sense of it all – perhaps there's no understanding to be had. But before it all bursts into flames or everyone exercises their right to die instead of being told how to survive, I have two appropriate books written by talented Scandinavian novelists. They won't cheer you up, but they will focus your anxiety on deeper, existential doom that may devolve current events as simply life-ending instead of a more fatal erosion of the soul.
The torchbearer of this duo is Dutch writer Bram Dehouck with his undulating Sleepless Summer, a clinically perfect development of mania from annoyance published by the exclusive World Editions and translated insightfully by Jonathan Reeder.

Sleepless Summer is the creation of imaginative fiction from a competent Flemish writer seemingly uninfluenced by standard American theatrical aspirations. Dehouck is writing literature with weight that can be measured in carats: literary standing, peer recognition and a reading experience that is visceral to write and read. Sleepless Summer is a humble and appreciated softcover of 175 pages at a price below the cost of unsheltering with a friend on bad wine in big glasses. And it will, I promise, upgrade present chaos to a level of theater.

Belgium's first wind farm was inaugurated on the outskirts of the small town of Blaashoek. Ten wind turbines were being erected along the Blaashoek Canal, and this is where the trouble begins and why it ends so wretchedly for local butcher Herman Bracke.

Herman and his wife, Claire, were conspicuously prominent in Blaashoek primarily for Herman's famous pâté. Herman was hardworking, professionally grouchy in the way of master craftsmen and honest to a fault – his eponymously named pâté carries a reputation region wide, and Claire drives a swanky Audi. They take vacations in Spain, and the hamlet of Blaashoek would be bereft for the want of Brake's Blaashoek Pâté.

After the installation of the closest wind turbine, Herman becomes more and more agitated hearing the humming of the turbine blades that soon escalates to the sound of a constantly idling truck. He's jarred awake sweaty most nights and goes to the shop downstairs to check if there's something wrong with his refrigeration. Herman becomes sleep deprived, then forgetful from being so disquieted by the noise and palpable fear that one of the giant blades will break off and whirl through his shop.

Herman Brake's life becomes chaotic with annoyances: His teen-age son Wesley declares he's now a vegan; Walter the postman spreads news of Herman's instability; the pharmacist, Ivan Camerlynck, is peeping on the young farm girl Siskia Maes, who moved into number 27 above his clinic; Bienvenue, an African asylum seeker, is having a lurid affair with the veterinarian's wife Catherine. Meanwhile, the blades spin round and round. Herman forgets to cover his leftover pâté one night, and in two days, everyone in town is horribly sick. Herman sees his life's work ruined with the arrival of a provincial health inspector.

Dram Dehouck has written a gem of a book, in the rigorous form of Scandinavian noir fiction. Sleepless Summer of course doesn't end triumphantly, as you might have guessed. But, by comparison, it will make June 2020 feel like the vacation you've known you always needed, and you'll lend and recommend this book.

The Summer of Kim Novak, releasing in the US this week, is another extraordinary tale of intrigue from Sweden's preeminent crime writer Håkan Nesser. The book is a first-person account by 14-year-old Erik Wassman of a summer at the lake with schoolmate Edmund Wester and chaperoned by Erik's older brother Henry. Henry is taking the summer off from beat reporting for the hometown paper to write a novel. He pays little attention to much else except Ms. Ewa Kaludis, the spitting image of Kim Novak to the young, horny, bored teens, and the fiancee of star handball legend Berra Albertsson.

It turns into an adventurous summer for Erik, Edmund and Henry. Nesser's writing is alive with summer heat and the buzzing of cicadas, the whiff of perfume unexplained, and the storm clouds of trouble growing darker as the days and buggy nights fade into one another and somebody is killed.

Again, The Summer of Kim Novak is a considerate 224 pages paperbound, and the cost of lunch in town you haven't been having.
Remind Maria's Bookshop of your 15 percent Murder Ink discount, and now we're down to the price of lunch with a glass of bad wine in a big glass for two books that will improve your mood by comparison.