About face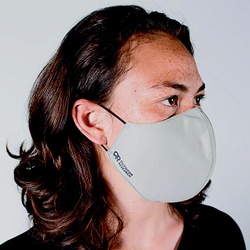 Skis, boots, poles … mask? Yep, PPE has now been added to the outdoor gear checklist, at least for the foreseeable future. But some of the big outdoors companies don't want to send you out there with any old Walmart bandana. Which is why many have shifted gears to add technical – and arguably more stylish – face­masks to their quiver.
Outdoor Research and KEEN are just two of the heavy hitters cranking out face masks for the discerning outdoorsperson. The Seattle-based OR expects to start churning out 200,000 reusable, nonmedical masks a day by early summer.
But Liz Wilson, VP of product at OR, insists it's not about jumping on the pandemic profiteering bandwagon. "Rather than approach this opportunistically by asking what we had lying around that we could make into masks, we set about making a really great new product," Wilson told SNEWS outdoors, a trade news site. "What happens when people go back to work, back to gyms? They're going to want something that fits really well, that they can exercise in, that they barely realize is there."
To meet that demand, OR is launching its Essential Face Mask, an adjustable, microbe- and germ-resistant washable mask, which comes with 3 filters and a protective storage pouch. OR was supposed to start selling the $25 masks on its website June 1, but as of this week, they were still out of stock. By fall, the company plans to expand its offering to gloves, balaclavas and face shields designed for high-output aerobic activities. And the packaging will be thoughtfully designed as well: the plastic sleeves will act as reusable sterilizing devices that harnesses UV light to kill viruses and bacteria.
"This isn't a one-hit wonder for us. People are going to be concerned about safety for at least a year," Wilson said. "In this, you're either the ostrich sticking your head in the sand, you go into panic mode, or you adapt. We are adapting."
As for footwear maker KEEN, it expects to debut washable cloth masks, in seven different colors, on its website starting mid-June. And despite the range of fashionable colors, there is plenty for the tech weenie to geek out on. OR's masks are treated with the Swiss HeiQ antiviral textile technology. Meanwhile, KEEN's cotton version is "consciously created" with BCI-certified canvas. The company is also making a "Hyperlite" version ($20 for five) that, like the OR version, is billed as durable, breathable and water-repellent. Both brands come with adjustable ear loops as well.
"We're not looking to make a huge profit, we're just looking to make a great product at a fair price," OR's wilson said.
No word from Patagonia on its facemasks but we wouldn't be surprised if a synchilla one is in the works.
06/30/2022

"No shoes, no shirt, no problem" is not typically the mindset when preparing for a camping trip in Colorado.
06/23/2022

Durango's Buzz Bus is back, offering free rides to the inebriated on Friday and Saturday nights in an attempt to cut down on drunk driving.
06/16/2022

Here's a Public Service Announcement we never thought we'd have to write: When you relieve yourself in the woods, don't set the toilet paper on fire afterward, especially when the entire West is burning,
06/09/2022

Recently, NOAA's Climate Prediction Center said there is about a 65% likelihood we will stay in the La Niña weather pattern this upcoming winter.
Read All Stories in the Pole