Bang, bang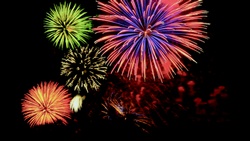 If you just can't go another Fourth of July without fireworks, you have options.
Across Southwest Colorado, communities such as Durango, Silverton and Telluride have canceled July 4 fireworks because of high fire danger, a seemingly yearly necessity. And despite the welcomed sight of rain this week, that risk remains high, with Stage 1 fire restrictions still in place.
But you can still get your firework fix if you're willing to drive for it.
The Ute Mountain Ute Casino announced it's hosting the "largest fireworks display in the Four Corners" on July 3. The Telegraph's investigative reporting team was unable to confirm such claims, but given the lack of shows across the region, we'll take their word for it. The show starts just after dusk.
In that same neck of the woods, the City of Cortez is moving forward with plans to put on a fireworks display July 4 in Parque De Vida, around 9:15 p.m. "The area around the Cortez Recreation Center is a secure place … for a celebration for our community," Fire Chief Jay Balfour said.
And, our neighbors to the east in Pagosa Springs will also be setting off a show July 4 around dusk. A town employee said the fireworks will be launched from the Pagosa Springs High School but should be viewable from anywhere in town.
05/19/2022

Haviland Lake, which was drained in 2019 for repairs on the dam and outlet structure, is now open and back to normal.
05/19/2022

E-bikes are now permanently allowed on the Twin Buttes trail system, but a final decision on whether riders can go out on other city-wide trails has yet to be determined.
05/12/2022

To say America is divided at the current moment is, well, an understatement
05/12/2022

The petition for more public process in fire and police stations needed 768 signatures, and all tallied up, received 771 valid signatures.
Read All Stories in the Pole