Charge it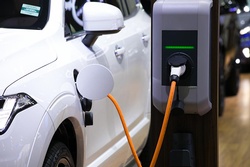 Two electric vehicle charging stations are the latest green initiative to sprout at Fort Lewis College. The stations, which are located next to Sitter Family Hall, will accommodate up to four electric vehicles at once. The stations were spearheaded by the Campus Sustainability Council, which received an $18,000 grant from the state Energy Office's "Charge Ahead Colorado" program.

The stations support the CSC's Sustainable Action Plan, which has a goal of reaching carbon neutrality at FLC by 2050. Since 2011, the baseline year for campus emissions, FLC has seen a 62 percent reduction in its carbon footprint.

"Commuting is a substantial part of our carbon footprint and the hardest to tackle because it's decentralized," Kathy Hilimire, associate professor of Environment & Sustainability and campus sustainability coordinator, said.

The multitude of ways people arrive to campus make it harder to widely apply sustainable solutions, she said. With electric vehicles becoming increasingly affordable, the charge stations are a critical piece to the clean commute puzzle.

Plugging in will be free, but commuters will still need a day or annual pass to park at the charge station. A full charge will take about six to eight hours. Depending on the amount of use the stations get, time limits and a waiting list could be implemented. More stations are a possibility if there is enough demand.

In addition to the Charge Ahead grant, the CSC received funding through the Green Fund, donations to FLC reserved for sustainability initiatives, and La Plata Electric Association.


09/17/2020

Needing a festival fix? Pour your favorite microbrew and settle into the camp chair for four days of virtual Telluride Blues & Brews, Sept. 17-20. Each day, the festival features archived sets streamed on KOTO radio from noon – 5 p.m. followed by video sets from 5-9 p.m. on www.tellurideblues.com. The evening schedule includes:
09/17/2020

Patagonia, the outspoken climate change warrior, is at it again – albeit a bit more subtly this time. The interweb is abuzz this week with photos of a Patagonia label whose underside discreetly reminds the wearer to, "Vote the assholes out."
09/10/2020
08/27/2020
Read All Stories in the Pole