Charge it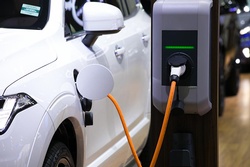 Two electric vehicle charging stations are the latest green initiative to sprout at Fort Lewis College. The stations, which are located next to Sitter Family Hall, will accommodate up to four electric vehicles at once. The stations were spearheaded by the Campus Sustainability Council, which received an $18,000 grant from the state Energy Office's "Charge Ahead Colorado" program.

The stations support the CSC's Sustainable Action Plan, which has a goal of reaching carbon neutrality at FLC by 2050. Since 2011, the baseline year for campus emissions, FLC has seen a 62 percent reduction in its carbon footprint.

"Commuting is a substantial part of our carbon footprint and the hardest to tackle because it's decentralized," Kathy Hilimire, associate professor of Environment & Sustainability and campus sustainability coordinator, said.

The multitude of ways people arrive to campus make it harder to widely apply sustainable solutions, she said. With electric vehicles becoming increasingly affordable, the charge stations are a critical piece to the clean commute puzzle.

Plugging in will be free, but commuters will still need a day or annual pass to park at the charge station. A full charge will take about six to eight hours. Depending on the amount of use the stations get, time limits and a waiting list could be implemented. More stations are a possibility if there is enough demand.

In addition to the Charge Ahead grant, the CSC received funding through the Green Fund, donations to FLC reserved for sustainability initiatives, and La Plata Electric Association.


02/25/2021

Durango School District 9-R is getting on the bus – the electric bus, that is. Last week, 9-R announced it won a $328,803 grant for a fully electric school bus and charging infrastructure. The 81-seat bus is expected to be operational by next fall.
02/18/2021

The days of scrawling your name and phone number with a Sharpie on your gear are over. A Boise-based company has come up with a tech-age solution to the age-old problem of lost or yard-saled gear.

For $3.99, Karmik Outdoors will send you a QR code decal for all your most precious toys. The unique code will trace you gear back to you, all with a simple smart phone scan (provided, of course, that whomever finds your flotsam, jetsam and improperly secured roof items is a believer in gear karma in the first place.)
02/11/2021

Adding to an already grim year of statistics, last week was the deadliest week of avalanches in the U.S. in more than a century. At least 15 people were killed in avalanches in six states between Jan. 31 – Feb. 6, including three in the San Juans alone.

To help folks better contend with this season's treacherous and unprecedented conditions, Friends of the San Juans wants to equip them the best tool possible: knowledge.
02/11/2021

Early in the morning of Feb. 6, local chef Seanan Culloty narrowly escaped an apartment fire with his life and his faithful dog, Bubba. However, Culloty, the head chef at Manna, escaped with little else. To help Culloty get back on his feet, friends and co-workers are hosting a GuFundMe page. The money will be used to help Culloty replace his belonging as well as with a deposit and first month's rent on a new apartment.
Read All Stories in the Pole