Chew on this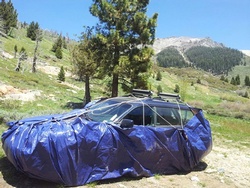 Sure, those whistling marmots are cute on the trail. But while you're dipping your toes into a clear alpine lake, those furry buggers just may be wreaking havoc on your car's electrical system back at the trailhead.
As it turns out, in the past decade or so, vehicle manufacturers have begun using soy-based coatings on wires, which rodents and other razor-toothed critters seem to find irresistible. Many a hiker has returned to his or her vehicle after some time on the trail only to discover their getaway car ain't going anywhere.
Writing in the latest edition of the Adventure Journal, writer Justin Houseman recounts a recent episode in California's Sierra – where it's commonplace for people to wrap their cars in tarps – where rodents gnawed $4,500 in damage to his engine. Thankfully, it was covered by his insurance, but we all may not be so lucky. If, like most of us, you venture into the high country to escape the heat, consider these simple tips to keep the varmints from snacking on your Suby:
Believe it or not, there is a little electronic sonic-wave emitting, rodent-repelling device you can install under your hood that hooks up to your car battery. Available on Amazon for $35.
Stuff a nylon stocking filled with mothballs or fabric softener sheets into a safe spot in the engine compartment.
Wipe kerosene on the tires to keep rodents from climbing them
Travel with a cat (we're pretty sure this is a joke, but if you do, please, don't leave it in the car.) • If parked for a long time, the tarp is a must. Drive onto the trap and wrap it under the car's undercarriage, where rodents enter, securing it over the top of the car with ropes or cam straps.
05/19/2022

Haviland Lake, which was drained in 2019 for repairs on the dam and outlet structure, is now open and back to normal.
05/19/2022

E-bikes are now permanently allowed on the Twin Buttes trail system, but a final decision on whether riders can go out on other city-wide trails has yet to be determined.
05/12/2022

To say America is divided at the current moment is, well, an understatement
05/12/2022

The petition for more public process in fire and police stations needed 768 signatures, and all tallied up, received 771 valid signatures.
Read All Stories in the Pole