Earthly pleasures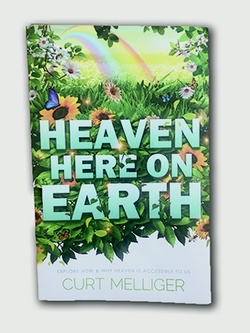 Looking for a book to cozy up to the fire with? Cortez-based writer and occasional Telegraph contributor, Curt Melliger has just released a book, Heaven Here on Earth. After years of freelance writing, this is Melliger's first book and a new take on an ancient, archaic, almost forgotten subject: access to the divine while still breathing.
Down through the ages, a number of sages have suggested that heaven is actually on earth, or at least available here by way of various means. However, most modern religions have strayed from that message, advising us to repent our wicked nature and reject pleasures of the flesh.
Well, they've got it all wrong, according to Melliger.
"We don't have to wait to experience heaven. Indeed, heaven is waiting for us," he writes in book's intro. "It lurks behind bushes, below bridges and inside abandoned buildings. It hides on top of high mountains, in deep cool canyons, and at the bottom of the lake. It resides within storm clouds, bolts of lightning, and the colors of a rainbow."
The book explores how, where and why heaven is accessible right here on Earth – and best of all, it's totally free.
Heaven Here on Earth is available online at ozarkmt.com, amazon.com or barnesand noble.com. It is also available in e-book from Kindle. For more info, visit curtmelliger.com.
02/13/2020

Want to feel and see the Bern? Jump in the car and head to the Mile High City this weekend,

where the Vermont senator will be paying a visit.
02/13/2020

This Valentine's Day green is the new sexy, so why not impress that special

someone by showing your more environmentally sensitive side?
02/06/2020

The Bluebird is about to take flight. Billing itself as the world's first "human-powered" ski area, Bluebird Backcountry plans to fire up the, uh, climbing skins Sat., Feb. 15.
02/06/2020

Love to rip the 'roy or carve the cord before most folks have even pulled out of town? Well, if you're a Purg season pass holder, you're in luck.
Read All Stories in the Pole