Fire & ice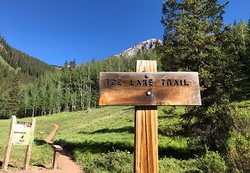 The Ice Lakes Trail is remaining on ice for the summer. Last week, the San Juan National Forest's Columbine Ranger District announced it is extending the closure of the popular area northwest of Silverton until Sept. 15. The closure was put in place after last year's Ice Fire. In addition to the Ice Lakes Trail, the closure applies to the South Mineral Campground as well as lower Clear Lake Road (FR 815) and South Mineral Road (FR 585) from a new gate past the Goldenhorn camping area.
According to forest officials, numerous safety hazards still exist in the area, including falling trees, rocks and boulders. In addition, burnt soils devoid of vegetation and saturated by rain and snow are loose, unstable and prone to erosion, and mud- and rockslides. Summer monsoons are expected to only add to the instability.
The closure applies to all public users, including hikers, mountain bikers, snowshoers, skiers and OHVers. Violations of the closure is punishable with a fine of up to $5,000
For more information about this closure, call the Columbine Ranger District at 970-884-2512. A map of the closure area is available at: tinyurl.com/y8wr9huy
And speaking of fire and popular trails, some of the city's outdoor recreation areas will be undergoing fire mitigation work starting Mon., June 7.
The work will take place on city-owned lands in the so-called "Durango Wildland Urban Interface," including Overend Mountain Park, Dalla Mountain Park and Horse Gulch. Work will start on the Crestview Ditch, in the Mountain Park, where crews will thin vegetation.
"Reducing risk of fire in the Durango WUI is a high priority for our community," Amy Schwarzbach, the city's natural resources manager, said. "The Parks and Recreation Department has worked closely with fire experts to plan this work."
The efforts are being planned by Fire Adapted Durango, a partnership between the City Parks and Recreation Department and fire experts. The thinning will be done by contracted sawyer crews and will follow Colorado State Forest Service guidelines. This latest round of thinning is the continuation of a multi-phase project focused on mitigating fire risk along the outskirts of town.
Trails and trailheads will remain open, but users should be aware that crews and vehicles will be in the vicinity. Signage will be in place to notify trail users that work is being done. For more information, contact the Parks and Recreation Department at 970-375-7321 or go to: DurangoGov.org/FireMitigation.
05/19/2022

Haviland Lake, which was drained in 2019 for repairs on the dam and outlet structure, is now open and back to normal.
05/19/2022

E-bikes are now permanently allowed on the Twin Buttes trail system, but a final decision on whether riders can go out on other city-wide trails has yet to be determined.
05/12/2022

To say America is divided at the current moment is, well, an understatement
05/12/2022

The petition for more public process in fire and police stations needed 768 signatures, and all tallied up, received 771 valid signatures.
Read All Stories in the Pole