Get meow of here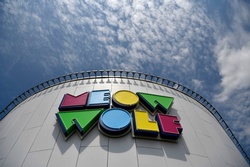 In other news, Meow Wolf announced the long-awaited opening date of its new Denver location – Sept. 17 – which will go under the name of "Convergence Station."
Meow Wolf was first established as an arts and entertainment group in 2008, and then blew up on the mainstream in 2016 soon after it opened its "immersive art" installation "House of Eternal Return" in Santa Fe, where one can fall through the proverbial rabbit hole (with an entrance fee) and be transported into an Alice in Wonderland-like world, albeit with more children running around.
Meow Wolf opened another art space, Omega Mart, in Las Vegas earlier this year, too. Its Denver location will employ more than 150 workers and includes a 450-person music venue and café, according to The Denver Post. It will also be the largest of Meow Wolf's art spaces at 90,000 square feet.
Speculation still remains, however, over the theme at Meow Wolf's Denver location. Our suggestion? Pick and choose (or feel free to make your own!):
• An upside down Colorado with no drought or wildfire smoke and affordable housing for normal people.
• The Bezos' Solar System, a planetarium experience where you can also get screwed by a weird rich guy.
• Class War Simulation. It will be sad, sure, but they'll also serve alcohol, the great unifier.
• A giant Coors can.
05/19/2022

Haviland Lake, which was drained in 2019 for repairs on the dam and outlet structure, is now open and back to normal.
05/19/2022

E-bikes are now permanently allowed on the Twin Buttes trail system, but a final decision on whether riders can go out on other city-wide trails has yet to be determined.
05/12/2022

To say America is divided at the current moment is, well, an understatement
05/12/2022

The petition for more public process in fire and police stations needed 768 signatures, and all tallied up, received 771 valid signatures.
Read All Stories in the Pole