Get meow of here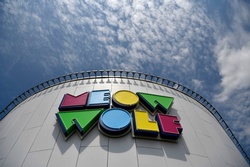 In other news, Meow Wolf announced the long-awaited opening date of its new Denver location – Sept. 17 – which will go under the name of "Convergence Station."
Meow Wolf was first established as an arts and entertainment group in 2008, and then blew up on the mainstream in 2016 soon after it opened its "immersive art" installation "House of Eternal Return" in Santa Fe, where one can fall through the proverbial rabbit hole (with an entrance fee) and be transported into an Alice in Wonderland-like world, albeit with more children running around.
Meow Wolf opened another art space, Omega Mart, in Las Vegas earlier this year, too. Its Denver location will employ more than 150 workers and includes a 450-person music venue and café, according to The Denver Post. It will also be the largest of Meow Wolf's art spaces at 90,000 square feet.
Speculation still remains, however, over the theme at Meow Wolf's Denver location. Our suggestion? Pick and choose (or feel free to make your own!):
• An upside down Colorado with no drought or wildfire smoke and affordable housing for normal people.
• The Bezos' Solar System, a planetarium experience where you can also get screwed by a weird rich guy.
• Class War Simulation. It will be sad, sure, but they'll also serve alcohol, the great unifier.
• A giant Coors can.
09/16/2021

When Afghanistan once again fell into Taliban hands last month, Animas High School junior Maddy Glotfelty did not take the news sitting down. Glotfelty, a junior who is active with DEVO as well as Durango youth hockey, set about organizing a GoFundMe site to raise money to help women and girls under the oppressive regime, known for barring girls from attending school.
09/16/2021

Over a decade ago, Luke Mehall drove The Freedom Mobile, a tattered and graffitied 1988 Mazda, to Durango with hopes of making a fresh start. His only "professional" contact were the editors of this fine newspaper, who offered a hundred bucks for a freelance story.
09/09/2021

In honor of its 25th year in business, Steamworks Brewing Co. said it's going to donate $1,000 to 25 different local nonprofits.

Steamworks opened its doors Sept. 14, 1996, and remains one of Durango's most popular brewpubs in a town that loves its beer. As a way to mark its milestone, the Steamworks brass asked its employees to submit the names of some nonprofits they valued and wanted to donate to.
09/09/2021

If you're thinking of driving over Highway 550 between Silverton and Ouray in the next few weeks, you're gonna want to find a new route. Between Sept. 13-24, Red Mountain Pass will experience lengthy closures to allow for San Miguel Power Association to clear trees and vegetation around its power lines to reduce the potential of wildfires.
Read All Stories in the Pole