Hello, kitty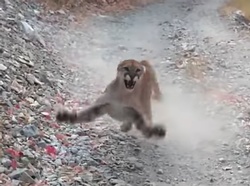 Be on the lookout! Wildlife officials are urging people to use some extra caution after a mountain lion charged a hiker early one morning last week in Overend Mountain Park, on the west side of Durango.
According to Colorado Parks and Wildlife spokesman John Livingston, a hiker was walking his two dogs at the top of Ned's Hill by the meadow when he encountered a mountain lion on the trail.
The mountain lion started coming at the hiker, throwing its paws in the air, much like the terrifying, six-minute encounter that went viral in October 2020 between a jogger and lion in Utah.
Livingston said the Durango hiker did everything right: he made himself big, got loud, and threw rocks and sticks while slowly walking backward. Still, the mountain lion kept charging until another hiker showed up and helped scare it off.
There hasn't been any other sightings or incidents in the area since, Livingston said.
"We did go up and post more signs in the area, just to make sure people are aware," he said. "It's just important to remember Durango is in the mountains, and we are in prime mountain lion habitat."
Mountain lion sightings, while not unheard of, are rather uncommon. Encounters and attacks, however, are extremely rare. In Colorado, for instance, there have been just 25 reported mountain lion attacks on humans since 1990, and just four since 2019. And fewer than 20 fatal mountain lion attacks have been reported in North America over the last century, according to CPW.
The last reported attack in Durango was in 2005, when a woman sitting on her back porch overlooking the Animas River was pounced on from behind. The woman suffered several puncture wounds, but survived.
Still, as humans encroach ever further into wildlife habitat, encounters with mountain lions are sure to increase.
The incident between the Durango hiker and lion was not an instance of stalking (if a lion wants to hunt and getcha, it probably can and will). Instead, it's likely the lion had a food cache somewhere nearby, or perhaps a litter of kittens it was trying to protect, which likely resulted in the cat snarling and lunging to warn off a creature it saw as a threat.
Still, CPW recommends being aware in the backcountry, and if you run into a lion, make yourself appear large and make plenty of noise, stay calm (good luck with that), move slowly and don't run. It's also a good idea to keep dogs on leash (we know, you're rolling your eyes). And, if the lion starts to appear more aggressive, throw sticks and stones or disperse bear spray or an air horn if you have it.
Or, remember that guy who killed a mountain lion with his bare hands while being attacked near Fort Collins? You could also do that.
05/19/2022

Haviland Lake, which was drained in 2019 for repairs on the dam and outlet structure, is now open and back to normal.
05/19/2022

E-bikes are now permanently allowed on the Twin Buttes trail system, but a final decision on whether riders can go out on other city-wide trails has yet to be determined.
05/12/2022

To say America is divided at the current moment is, well, an understatement
05/12/2022

The petition for more public process in fire and police stations needed 768 signatures, and all tallied up, received 771 valid signatures.
Read All Stories in the Pole