Nice cans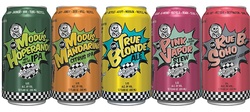 Some of your favorite beers may be getting a makeover. After 25 years, Ska Brewing has announced an exterior refresh to its line of canned beer, including Modus Hoperandi, Modus Mandarina, True Blonde, Rue B. Soho and Pink Vapor Stew.
Reflecting the brand's comic book roots, the new cans will be in line with current designs for Ska's newer flavors, including its Hazy IPA and hard seltzers (Ska Claws? Skaltzer?) While retaining the signature comic book skeleton of yore, the new designs will also feature bright colors; popping artwork, like the "blamo" (just like it sounds); and Ska's signature black-and-white checkerboard stripe.
The Bodo beer overlords hope the new designs will help create a more consistent and identifiable look across all its beloved brands.
The brewery will announce more new can artwork updates in coming months.
02/27/2020

Need help launching your great American masterpiece? Durango's newly minted Creative District can help fuel your creative spark.
02/27/2020

It's a debate for the ages. Not since college classroom discussions over the proper name for a resident of this state – Coloradoan or Coloradan – has the Centennial State been so divided.
02/20/2020

Sometimes in the throes of ski season, it's easy to forget about Durango's other winter sport. No, not road riding – ice hockey.
02/20/2020

Well, it's taken more than 10 years, but the Telegraph finally got Rickrolled.
Read All Stories in the Pole