Nice cans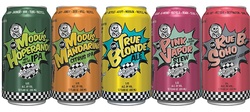 Some of your favorite beers may be getting a makeover. After 25 years, Ska Brewing has announced an exterior refresh to its line of canned beer, including Modus Hoperandi, Modus Mandarina, True Blonde, Rue B. Soho and Pink Vapor Stew.
Reflecting the brand's comic book roots, the new cans will be in line with current designs for Ska's newer flavors, including its Hazy IPA and hard seltzers (Ska Claws? Skaltzer?) While retaining the signature comic book skeleton of yore, the new designs will also feature bright colors; popping artwork, like the "blamo" (just like it sounds); and Ska's signature black-and-white checkerboard stripe.
The Bodo beer overlords hope the new designs will help create a more consistent and identifiable look across all its beloved brands.
The brewery will announce more new can artwork updates in coming months.
02/25/2021

Durango School District 9-R is getting on the bus – the electric bus, that is. Last week, 9-R announced it won a $328,803 grant for a fully electric school bus and charging infrastructure. The 81-seat bus is expected to be operational by next fall.
02/18/2021

The days of scrawling your name and phone number with a Sharpie on your gear are over. A Boise-based company has come up with a tech-age solution to the age-old problem of lost or yard-saled gear.

For $3.99, Karmik Outdoors will send you a QR code decal for all your most precious toys. The unique code will trace you gear back to you, all with a simple smart phone scan (provided, of course, that whomever finds your flotsam, jetsam and improperly secured roof items is a believer in gear karma in the first place.)
02/11/2021

Adding to an already grim year of statistics, last week was the deadliest week of avalanches in the U.S. in more than a century. At least 15 people were killed in avalanches in six states between Jan. 31 – Feb. 6, including three in the San Juans alone.

To help folks better contend with this season's treacherous and unprecedented conditions, Friends of the San Juans wants to equip them the best tool possible: knowledge.
02/11/2021

Early in the morning of Feb. 6, local chef Seanan Culloty narrowly escaped an apartment fire with his life and his faithful dog, Bubba. However, Culloty, the head chef at Manna, escaped with little else. To help Culloty get back on his feet, friends and co-workers are hosting a GuFundMe page. The money will be used to help Culloty replace his belonging as well as with a deposit and first month's rent on a new apartment.
Read All Stories in the Pole