Adopt a dirtbag 
And other novel approaches to Durango's housing crisis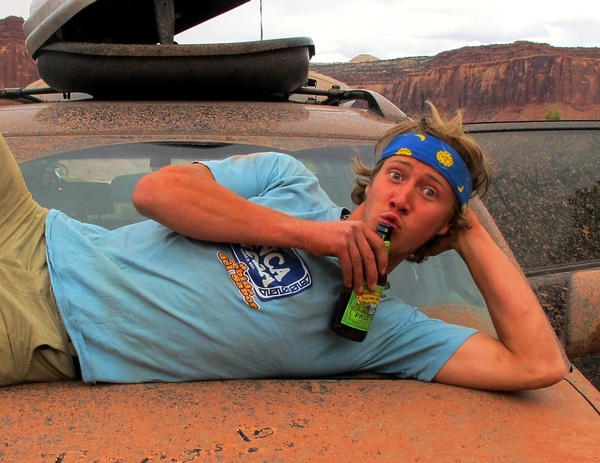 Luke Mehall - 09/30/2021
It's fall again, the leaves are changing, and the mornings and evenings are cool. I've made my early season trips out to the desert, with the opportunity to unplug and get offline for a few days.
I love getting away from cell service, even if only for a day or two. I feel like we're currently operating in a world that wasn't well thought out or planned. When I see young kids that can't be more than 10 years old clutching their iPhones, it makes me happy I didn't grow up this way, and it also breaks my heart to know what young people have access to these days.
The effect of the internet and our phone addictions is something we seem to know very little about. All I know is that one day my phone made calls and texts, and the next phone I had (my hand brain) made me a complete addict toward it; and the only solution I've found is to go where it doesn't work.
This is only going to last for so long, because I know, soon, the internet will be everywhere. And that scares the shit out of me. I think that just as we preserve nature, we also need to think about preserving these minds and souls of ours. Where will we go to unplug when we can plug in everywhere?
I think the solution to this is advocating for areas that don't have internet or cell service, a national park like system of sorts. I've had this idea for a while now, but I've yet to act upon it. So, if you want it, it's yours. Plus, the next idea that comes up in my mind is when AI really takes off, and robots have more rights than we do. I can imagine a future that doesn't freak me out, but that future doesn't exist in my mind when I think of the current trajectory that the human race is on now.
Any time I get freaked out about big things, I try to focus on the little things, the tiny positive changes I can make for myself and within our community. One of the major topics of conversation I've noticed this summer is the price of housing in Durango and adjacent mountain towns.
I'm in my early 40s, and my friend group is quite diverse in its economic status: ranging from friends who have successful businesses and own multiple properties, to those who are living paycheck to paycheck, and not entirely sure where their future lies in these towns.
I am somewhere in the middle, but I've lived hand to mouth in mountain towns for years. When I did so I was usually either camping on public lands or house sitting. But these glory days are mostly gone: camping is scarce, and most people will typically rent their house out these days rather than find a house sitter.
I often think back to what I brought to the table in these years, and how I spent my time. I know I wasted a lot of time – living's mostly wasting time, Townes Van Zandt once said – but I also know I contributed something as an artist.
When I was living hand to mouth, I spent much of my free time writing and telling stories. And I like to believe the stories and poetry that I wrote benefitted people. The poet is the person who expresses something that other people cannot. I'd say the same goes for the painter, the musician, the comedian; we need what these people have to offer because they have a unique skill that most people aren't equipped with.
But what happens when mountain town communities start losing these people? I can't say that I would have stayed in Durango during my dirtbag days if the rent was as high as it is now. So, here's what I propose: the "Adopt a Dirtbag" program.
We all know there's more and more wealthy people moving to Durango, so why not pair these folks with a friendly neighborhood dirtbag? I mean dirtbags don't want much other than a place to park their vans, use some WiFi, and maybe take a shower now and again.
And as a former real dirtbag who is now a work-bag, I could be the middle man; match-making yuppies and dirtbags to find the perfect situation. Say for example you just moved here from Austin, Texas, and your net worth is $25 million. You need friends, and I just happen to know someone who has lived here for 20 years and their net worth is $25.
Bam! Not only do you have a new friend who will legitimize your presence in Durango, but a community member who might have been forced out now has some prime real estate in your driveway!
For a modest consulting fee, I can make this magic happen. Affordable housing meets mountain town ingenuity; upper class meets classy dirtbags. And for a limited time, I'm accepting applications. Of course, all the money I make will go toward a down payment on a 400-square-foot condo for a half a million. If there's any room, a small dirtbag might be able to live in my closet!
Inquire within.
– Luke Mehall earns his real living as the publisher of The Climbing Zine, and host of the Dirtbag State of Mind podcast. More work can be found at climbingzine.com.
08/11/2022

By

Kirbie Bennett

New journalism project seeks to give voice to communities in the shadows
08/04/2022

By

Zach Hively

The journey to six-pack abs begins with one step
Read All in La Vida Local