Who you calling an old rag?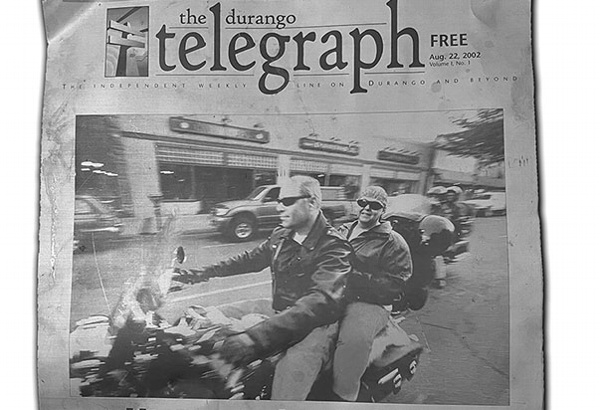 Missy Votel - 08/18/2022
"Do you own the Telegraph?"
It's a question I hear surprisingly often – said with a mix of incredulousness, confusion and pity.
"It owns me," is often my refrain.
Judging by the looks, I'm not sure if this does much to clear up the mystery. After all, as people come and go – as they tend to do in this town – origin stories can get lost in the recycling heap of history.
So what better time than the occasion of the 20th anniversary of this fine publication to revisit its humble beginnings.
Those of you who are good with Roman numerals or Super Bowls, may note that our masthead clearly states "XXI" – 21. This was the result of a possibly short-sighted decision in our first year to sync our volume number with the beginning of the year. As such, we flipped to "II" in January, only a few months after we began publishing. Maybe we thought it would make us look older or that nobody would notice. Whatever the reason, it seemed like a good idea at the time.
What also seemed like a good idea was a free weekly paper, started by yours truly and co-founding father, Will Sands. We knew just enough to be dangerous and had the youthful audacity to give it a shot (much to the chagrin of our spouses who would have preferred we kept our day jobs).
Thus, with the help of a few brave advertisers, on Aug. 22, 2002, out of the ashes of the Missionary Ridge Fire, stumbled the first issue of The Durango Telegraph. Note I did not use the "phoenix rising from the ashes" metaphor, because, well, everyone thought we were gonna flop. And with good reason – up until then, weeklies had a track record like "Spinal Tap" drummers.
At the time, Durango had a K-Mart and bowling alley, Hogan's sold Western wear on Main, Purgatory was called "DMR" and mountain bikes had these horrible contraptions called bar ends. The burgeoning micropolis grappled with growth, low wages, an influx of newbies and soaring housing prices – proving the old adage that the more things change, the more they stay the same.
Today, blue light specials, Wrangler snap shirts and bowling are left to our memories, bar ends luckily phased out before most of us could impale ourselves, and Will has moved on to the greener coasts of Maui. But somehow, miraculously, the Telegraph has survived – despite recessions, pandemics, fires and the infamous Martinigate.
Unfortunately, what didn't survive is an actual hard copy of that first edition, which contained a story on the return of the Iron Horse Motorcycle Rally (which elicited a less-than-cordial visit from one of its organizers), the short-lived mountain bike trail at Silverton Mountain (which almost killed us) and the even shorter-lived "Fashion Police" (which almost got us sued).
Fortunately, a somewhat complete digital copy lives on. So, to all those who weren't around, here's the first words that ever appeared on this page – written by Will, all those starry-eyed years ago. And to those who were around, supporting us, reading us, greeting us on Thursday – we thank you, from the bottom of our ink-stained hearts.
– Missy Votel
And we're off (reprinted from Aug. 22, 2002)
"So you guys are really going through with this, huh?" a friend chuckled a few weeks and what seemed a lifetime ago. Our answer came in the form of two sheepish nods and a pair of stupid grins as we unpacked nearly 10 grand in hardware and prepared to hit the streets and try to sell something that did not exist.
And yes, we've been chuckled at, eyed with suspicion and heard several different versions of our own impending bankruptcy. Doubtless, we've done a fair amount of upstream swimming since we hatched this idea. But now that the paper is out of the bag, times seem to be changing. We're beginning to hear excited voices up and down Main Avenue like "That's just what Durango needs." And above all, a number of local businesses have put their faith in our vision and helped get this first issue on the streets. For that, we're especially grateful.
Aside from overcoming the baggage of past Durango weeklies, one of our trickiest charges was selecting an identity for this new animal. Over several late nights and more than a few beers, we jumped between options like "The Durango Rag," "The Free Radical" and, believe it or not, "the Durango Nad" as well as the more traditional tags like "The Durangoan' sand "The Durango Press."
When "The Durango Telegraph" finally sounded, it hit like a breath of fresh air. Several people have praised us for being "old-fashionedy," and a few have actually blasted us for stealing the name of London's blessed publication. However, our decision was partly rooted in reverence to local history but mainly driven by a passion for the trails of Horse Gulch and the local monument that is our telegraph line. So many of us at this paper and in Durango have been renewed by the Telegraph Trail. My fellow editor/publisher even went so far as to accept a proposal to take the plunge – as in marriage – from her now-spousal unit atop the lung-busting climb. And the greater Horse Gulch area is one of our town's great assets. We're hopeful that over time this paper will become another.
We understand that the track record for weeklies in Durango has not been strong. But if there's anything we're sure of, it's that there's room for a fresh voice in this community. While the Durango Herald has done an admirable job of covering the community, there's clearly room for a new and independent voice. We look forward to a competitive spirit that's grounded in sportsmanship and mutual respect.
As you will see, our take on newspapering goes well beyond the cold, hard facts. However, facts dominate the majority of this publication, and we take the integrity of our news and feature coverage seriously. We also know that it's OK to crack a smile, and that life in towns such as Durango demands a sense of humor.
We're sorry, but the name choice was not an effort to be "old-fashionedy," and our content might seem a little contrary to this notion. You also won't read about easy ways to get into the high country in these pages. And we would recommend those hungry for world news hit up the Cable News Network. Because, above all, we endeavor to provide a weekly snapshot of the life and times of Durango and its community. So go ahead and turn the page, take a load off, enjoy the read and we'll see you bright and early next Thursday.
– Will Sands
09/22/2022

By

Doug Gonzalez

Finding a way to honor your late father, while still honoring yourself
09/15/2022

By

Kirbie Bennett

Durango can make up for sins of the past with how it treats homeless
Read All in La Vida Local